by Heather Glock
Basically: A rough around the edges parody of the Medieval Ages with the potential to follow its Simpsons and Futurama predecessors.
If you are still wallowing in despair about the end of Futurama after all these years, Matt Groening (Simpsons, Futurama creator) has a treat just for you. Groening's newest creation, Disenchantment, takes a stab at the same boldness as previous series in the fantasy realm of Dreamland. The first seven episodes offer some chuckles, some cheeky episode headings, and clever blink-and-you-miss-it background references, but while the visuals and voice acting are strong, nothing makes the series standout on its own…yet.
The plot unfolds when our heroine Princess Bean (Abbie Jacobson) stands up for female independence and defies an arranged marriage…which of course leads her into trouble. Bean's rebellion against social norms is accompanied by new friends, Elfo (Nat Faxon), a green Keebler looking elf who doesn't want to wallow in permanent cheeriness of his homeland, and Luci (Eric Andre), a literal personal demon given to Bean as a wedding present in disguise. In a way, Elfo and Luci become the metaphorical angel and demon on Bean's shoulder by offering sometimes enthusiastic advice / sometimes not so straight and narrow. The disruptions of her moral compass are Bean's own doing but the smooth talking Luci lends a hand. He hilariously persuades the already rowdy princess into less than royal behavior.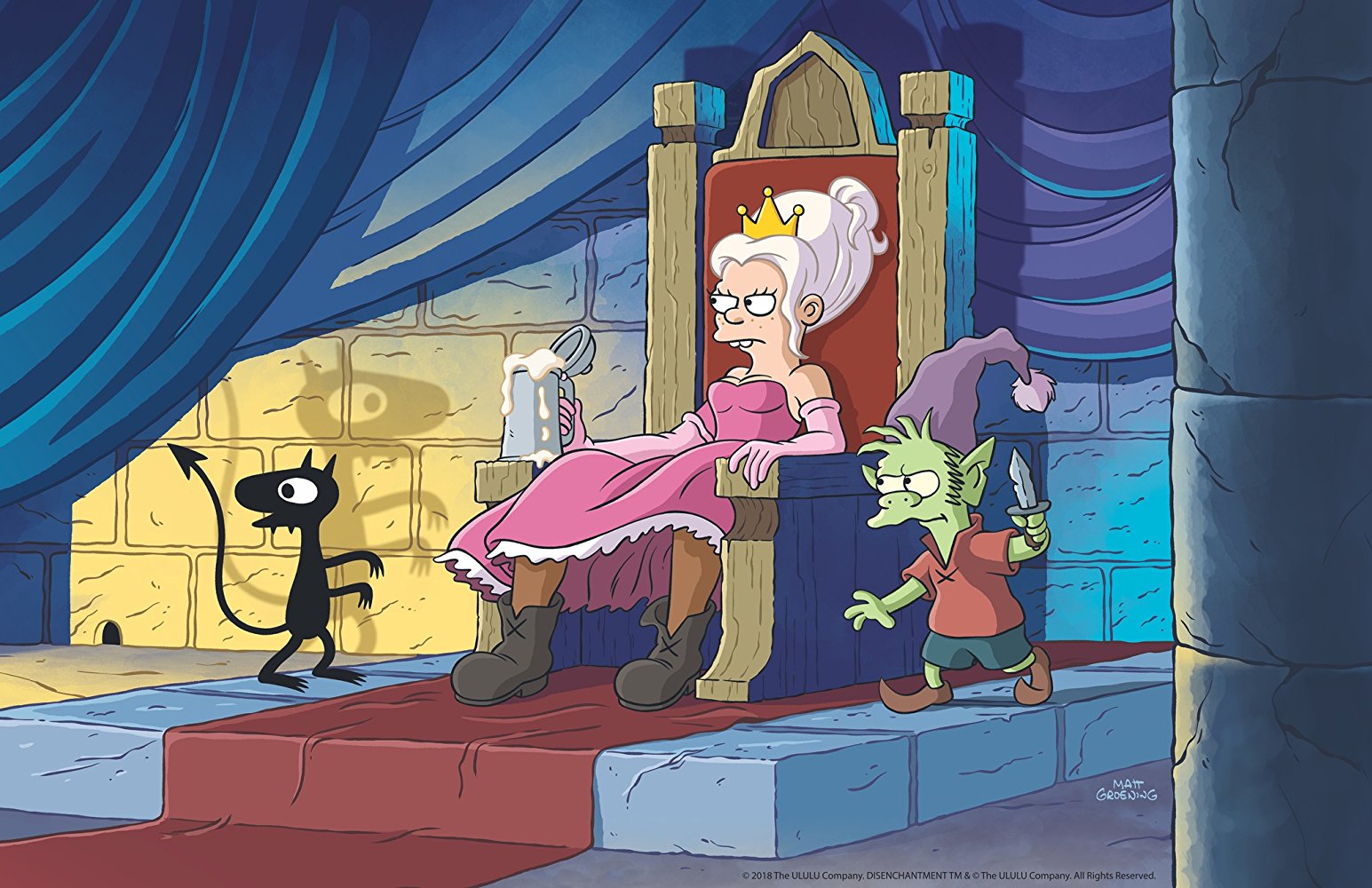 Photo: The Ululu Company
Groening always takes his time to establish his worlds before they zoom off into hysterical and, at times, truly heartfelt. "Jurassic Bark" of Futurama and "And Maggie Makes Three" from The Simpsons are perfect examples. Disenchantment is on its way there. The writers just need to find their footing with these new characters and establish a firmer ground for the story. While the show's first few episodes feel a bit bloated in the worldbuilding, the camaraderie between our dysfunctional trio keeps the story afloat with sharp wit. We follow Bean and her misfit tagalongs on a journey of self discovery through a chaotic world but, as in traditional folklore, self discovery doesn't always lead down a cheerful path. Some of the trio's pilgrimages are portrayed hilariously, such as confusing a pet shop for a butcher's shop, or Bean searching for a vocation not normally fit for a woman—such as an executioner.
Despite the hilarity Princess Bean's personal quest to break gender roles doesn't really stick. In fact, that theme is quickly forgotten after a few episodes. Although the show is mainly focused around Bean, she doesn't quite come off as the main protagonist. It's Luci and Elfo who get the spotlight and the best punchlines, as does Bean's father, Zog (voiced by John DiMaggio). In fact, Bean's mission statement almost comes off like a temporary interjection rather than a movement for feminism.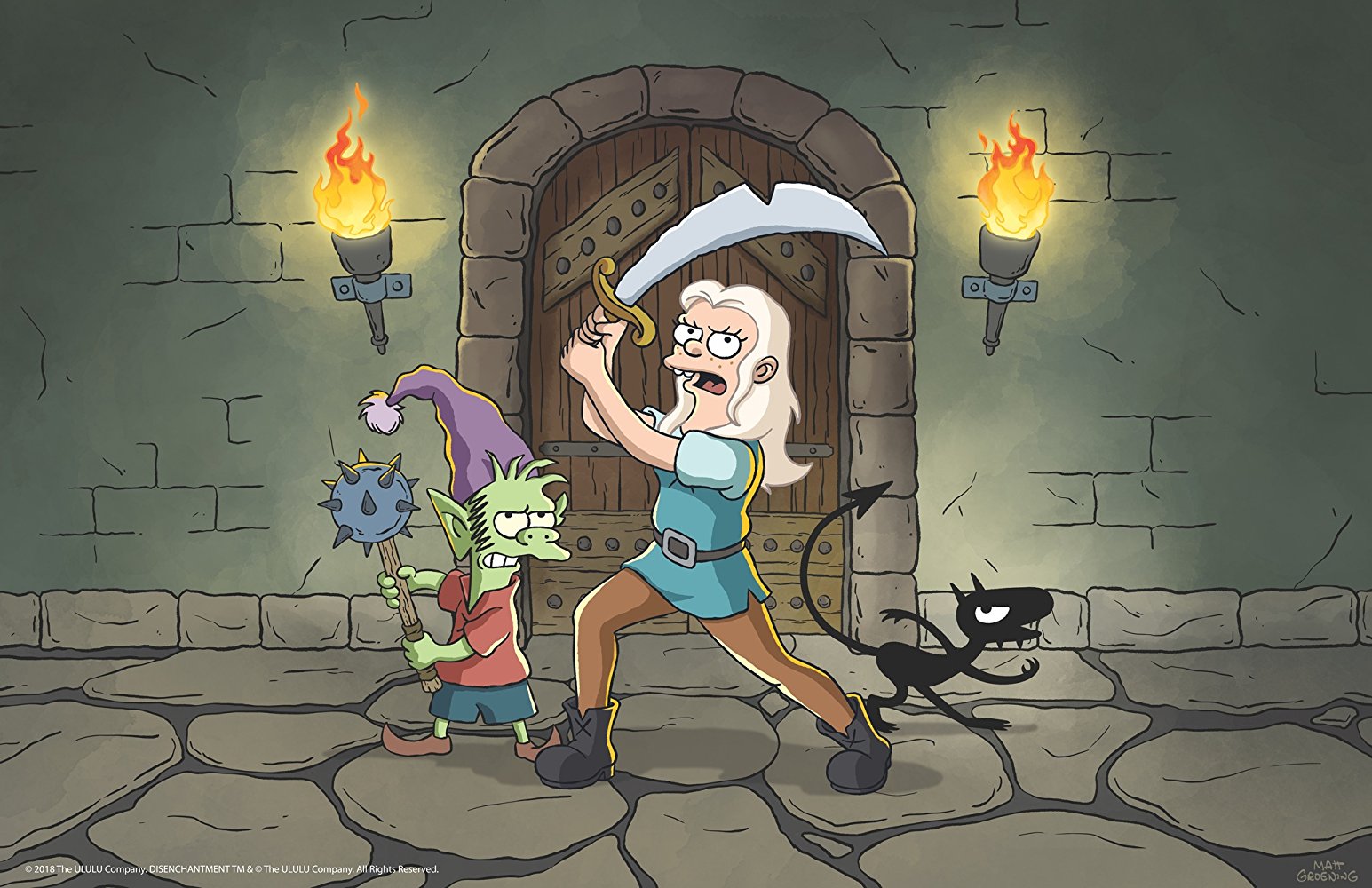 Photo: The Ululu Company
The show may be a parody of epic fantasy but it's self-aware enough not to overstay its welcome with the references. My personal favorite is when one character questions the impossible logic of the mixing of ancient history, Grimm fairy tales, and typical fantasy writing—he is written out of the show by a flying arrow. Ouch. Disenchantment succeeds when it doesn't take itself too seriously and focuses on turning what we expect into something offbeat. When the trio takes their own dark spin on Hansel and Gretel, we are introduced to all hell breaking loose à la Cabin in the Woods. In this way, the show tries for the same vein as comedic/emotional shows like Rick and Morty and Bojack Horseman—which isn't a bad thing.
Amongst the roster of talent is Groening favorites: Billy West, John DiMaggio and Maurice LaMarche, which helps round out the already stellar casting. The series works hard at blending dark humor, existentialism, personal and family values, while it caricatures silly fantasy tropes and it does succeed to a point. Side plots, such as Bean traveling to her stepmother's world of Dankmire, open the writers up to spill fresh satire blood. There really is only so many parodies of medieval/fantasy one can make before it becomes stale.
In The End: Disenchantment is a fun charming watch. Keep an open mind that this is just the beginning of a much bigger story that will take time to unfold.