Actually 7.5 or a B+
Basically: Dirk Gently absolutely believes six impossible things before breakfast. Afterwards he spends the day getting them done. "Space Rabbit", S2 E01, is down-the-rabbit hole-through-the-looking-glass Douglas Adams inspired but Max Landis written madness. And we savor the insanity.
The second storyline of the BBC America series begins with a swashbuckling fairy tale straight out of the Princess Bride…actually the Prince Groom, but you get the reference because you're just as geeky as we are. Where season 1 dealt with time jumping, Season 2 deals with dimension hopping. And it's so much fun.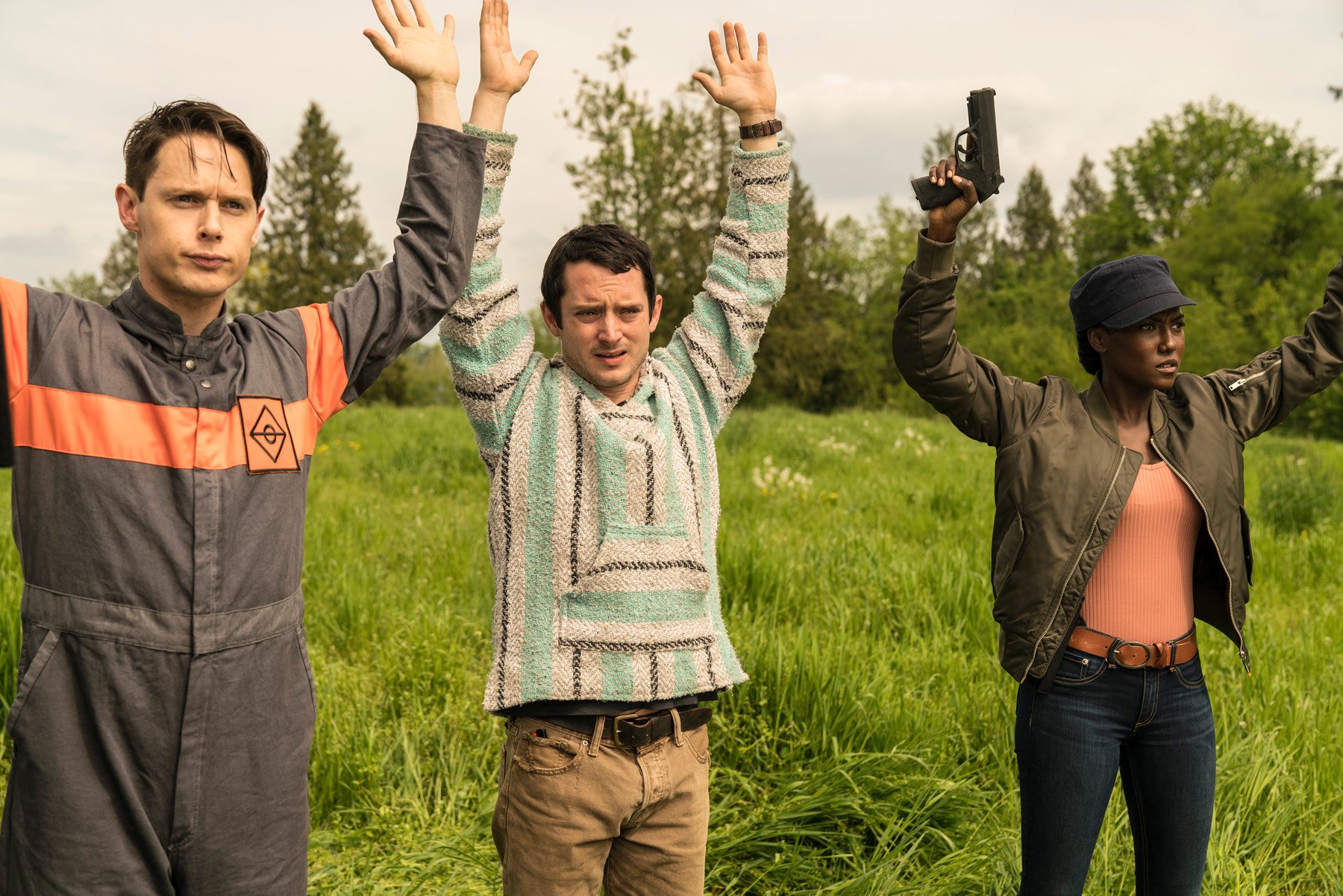 Our holistic detectives are separated. Dirk is in a clandestine facility with punk rock vampires, Amanda is now the boss and fifth member of the Rowdy Three (the math works, don't question it), Bart is questioning when to kill, Ken is in a cab with a corgi, and Todd and Farrah are traveling together (oh my gosh, please let them kiss because that would definitely inspire world peace or at least get someone impeached—we're saying it'd be the good kind of magic).
John Hannah and Alan Tudyk show up in roles as antagonists. The first one is magically batshit, the other is military guano. Yes! It's wonderful. We can't forget about the quirky duo of Sheriff Hobbs aka Sherlock Hobbs (Tyler Labine) who likes to keep it "cool" and Deputy Tevetino (Izzie Steele) who likes to stay "high". How could we possibly love the creative team behind Dirk Gently's Holistic Detective Agency more? We can't but we're going to spend the entire second season trying.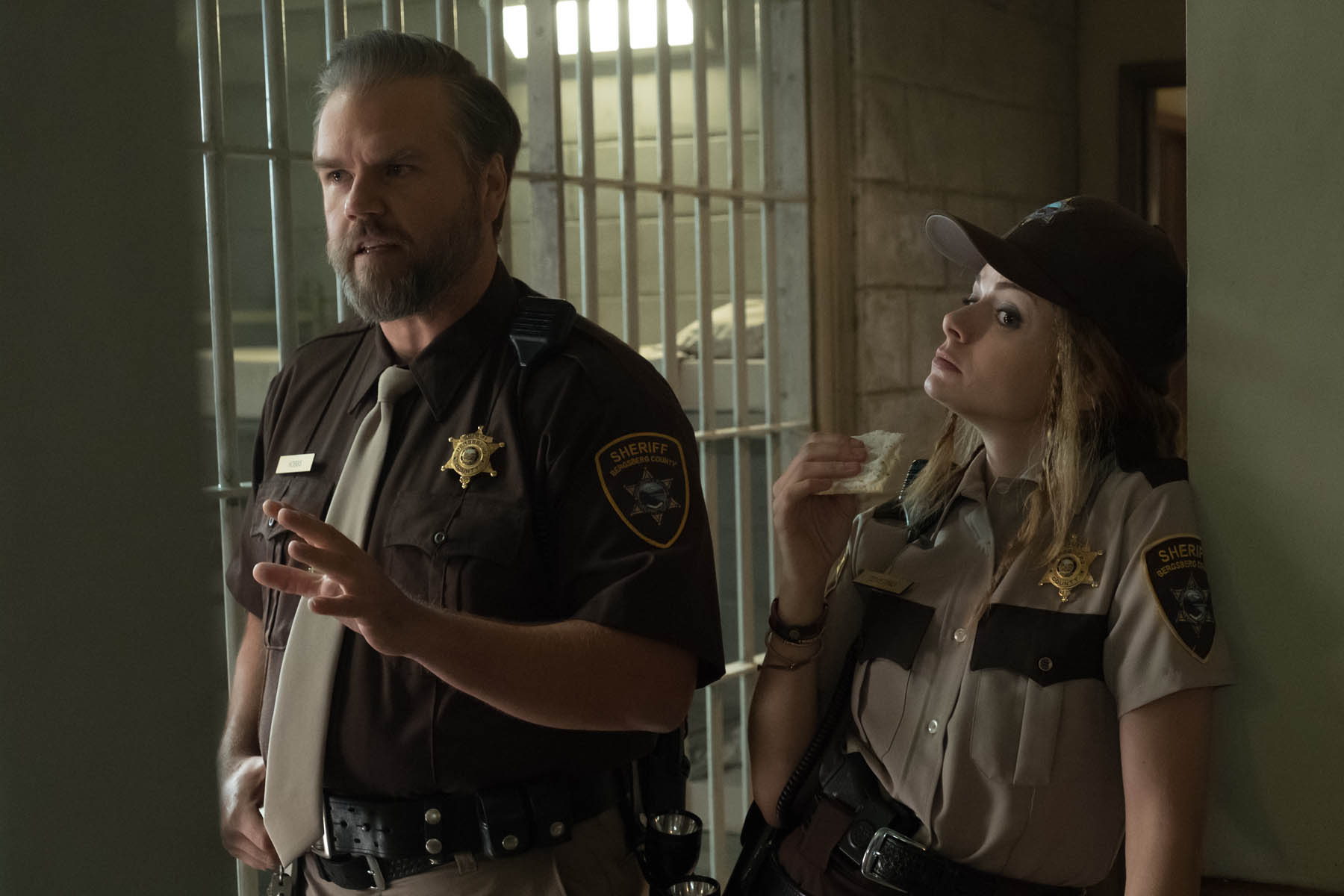 Ooh, and look out for the clever recap of season 1 in a conversation between Dirk and Sheriff Sherlock in "Fans Of Wet Circles"—they get each other—it's totally love. Then again, the Sheriff seems to connect with everyone. Could he be too good to be true? Or too true to be good? Or maybe he's just a lovely ole bearded teddy bear. We dunno. Let's find out.
Where the show excels is in its emotionally honest absurdity—the characters are flawed and ridiculous yet somehow real. They grow though their fantastical adventures and the darkness of their quest somehow guides them (and us) to revelations about human nature. Dirk Gently is like a unicorn with a poison horn who's conflicted about when to use it. Um…yeah…that'll make more sense when you watch the show and you should be watching it.
That's really all we can say without spoiling it for you. But you could check out the BBC America descriptions below. Or how about this? Close your eyes, grab our hands, and leap…whatever happens will be totally holistic and that means it's good for you.
SYNOPSES:
EPISODE ONE – "Space Rabbit"
SATURDAY OCTOBER 14, 9/8c
Todd and Farah are on the run from the law, heading to small town Bergsberg, Montana in search of Dirk. Mysteriously, Bart's search for Ken takes her to the same small town, where odd, unexplainable events are starting to take place.
idobi rating: ★★★☆☆½ 
EPISODE TWO – "Fans Of Wet Circles"
SATURDAY, OCTOBER 21, 9/8c
Dirk, Todd, and Farah are happily reunited and begin to investigate what Dirk believes is the case. They follow strange clues and discover the body in the car that fell out of the tree connects to one of Sheriff Hobbs' cold cases, which concerns a missing couple and their missing son.
idobi rating: ★★★★☆
—
We'll be back with weekly previews in our Watch This Week series. In the meantime, here's a Friday Flashback of that time we chatted with Dirk Gently's Holistic Detective Agency producer Arvind Ethan David.