Actually: 6.5
Basically: If you walk the line between good and evil you're going to end up with red bottoms…we mean, bloody shoes.
Before we begin, we have a gentle entreaty for the makers of CAoS: When it comes to the multitudinous Satanic references and the bizarro flipping of religion colloquialism (oh, hell no) into their equal but opposites (oh, heaven no)…RELAX. We get it. The characters worship the Dark Lord and their religion is a dark reversal of Christianity. Got it. We heard you the first time.
With that out of the way, Chilling Adventures of Sabrina goes even deeper into dismantling the patriarchy by making it much more obvious. High Priest, Father Blackwood (Richard Coyle) is an absolute dumpster fire of chauvinism and misogyny with fingernails straight out of a YouTube tutorial…but 'make it pointy'. You're meant to hate him. And you will. He puts Sabrina (Kiernan Shipka), her family, her friends, even her anti-friends (hey, Weird Sisters) through a gauntlet of deadly roadblocks. All with the hope of breaking their spirits and bending him to bastardy.
The so-called Dark Lord is working his slimy machinations as well and he and Blackwood seemed to be at odds…but the character design of Satyr Satan (huge goat head, long wet fingers) isn't very effective. I mean…yawn…but thank the showrunners we're in for a transformative Part 2  (season) and old Morningstar is about to get much more interesting.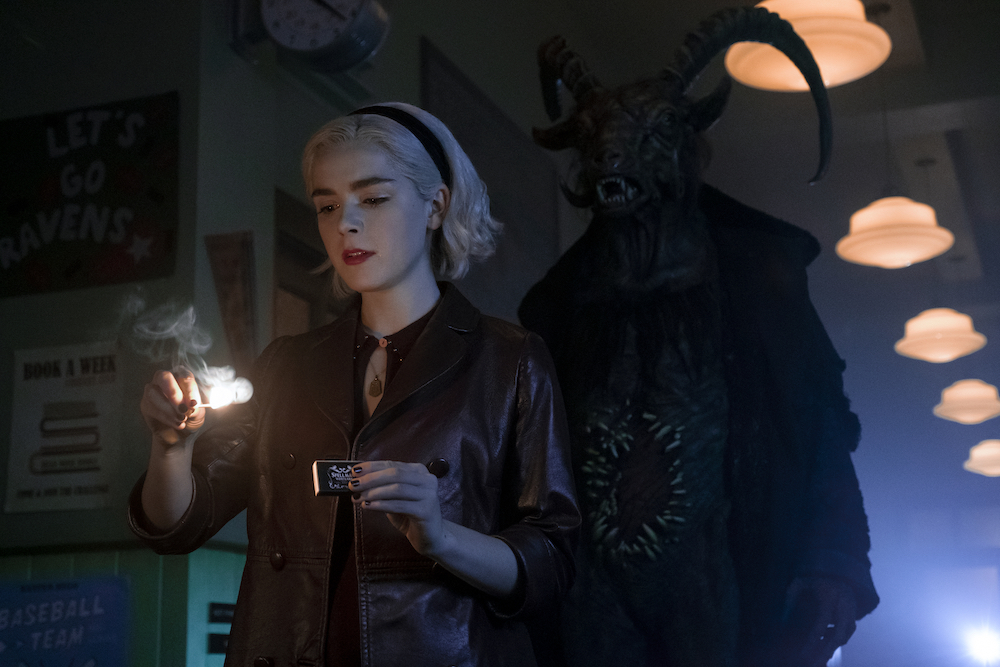 Photo: Jeff Weddell/Netflix
Lillith, our sweetly terrifying and beguiling Lillith (Michelle Gomez). She is a woman scorned by the Prince of Hell, the freaking Prince of Hell. No wonder she's a little murdery. Lillith does a lot of breaking and getting broken…because misogyny and bad ex-boyfriends…but it is so much fun to watch. Why? Because Michelle Gomez is a supernova. You won't know whether to cheer for Lillith or shoot her full of silver and run.
All of these challenges make for a fairly dark, sometimes uncomfortable, but still engaging Part 2. Kelly Clarkson says what doesn't kill you makes you stronger and the tug-o-war between Father Blackwood, the "Dark Lord", and Lillith seems to boost the entire CAoS gang into beast mode. The character development is strong, and each of them has a revelation about who they are and the power inside them—whether for good or for bastardy.
Which is very cool because Aunt Hilda (Lucy Davis), Prudence (Tati Gabrielle), and our beloved Ambrose (Chance Perdomo) remain the highlights of the show. We need more. (whispers: Come closer, so no one else can hear. Judging by the ending—that shall not be spoiled—we just might be getting more badassery from our biases, but you didn't hear that from me). Oh, and Susie (Lachlan Watson). Yes! Just Yes! Their transformation is the highlight of the season. #Brava, Lachlan. You did that.
Photo: Diyah Pera/Netflix
Now, for some hones-tea, I've been hesitant to draw parallels between Sabrina and Buffy but, with all the lovelines (ooh, girl) and the hell-raising in Part 2, it has to be said: There is some very Buffy the Vampire Slayer-ish storytelling here and, honestly, I don't mind because it works (even when I'm forced to roll my eyes a little).
If you're into dark paranormal with lots of laughs, blood, sexy-ness-ocity, and a few great surprises… sup, Shapeshifting… then CAoS is still fun. We just wish someone would sit Sabrina and Aunt Zelda (Miranda Otto) down and pour them a few cups of tea…because, more than anyone else on the show, those two dimbulbs need Jesus (and a sassy friend like Cardi B). Then again maybe I'm misleading you and they do wise up. [insert maniacal laughter here] I guess you'll just have to binge the second season to find out. In Part 2, Sabrina walks the line between good and evil and she's having a hard time keeping her red bottoms, um, I meant, shoes from getting bloody…
In the End: Part 2 of Chilling Adventures of Sabrina culminates into one pulse-pounding but inescapable truth: Girl, the devil is a liar.
Stream Chilling Adventures of Sabrina Part 2 on Netflix now.