idobi Votes: 8/10 – Sherin Nicole | 8/10 – Alex Bear
For years we've been asking for, searching for, and hoping for something that felt like reading a romance novel (on our screens, that is). No, not a rom-com, not a romantic drama, but a chapter by chapter trope by trope romance with all the feels of the genre. That's why we have to ask: Where has this series been all our lives? 
SHONDALAND works some magic with Bridgerton, the love-story period drama of 1800s high society based on the historical romance series by author Julia Quinn. Of course, no happily ever after (HEA)—especially not one set in the Charlottian era (see what we did there?)—could ever be complete without plenty of delicious scandal, turnabouts, and anonymous gossip. This time fueled by the mysterious columnist Lady Whistledown. Voiced by none other than the duchess of delight, Julie Andrews, Lady Whistledown narrates the series with such wry wit you can't help but hold out your cup for all the tea she spills. Oh goodness, it's so divine.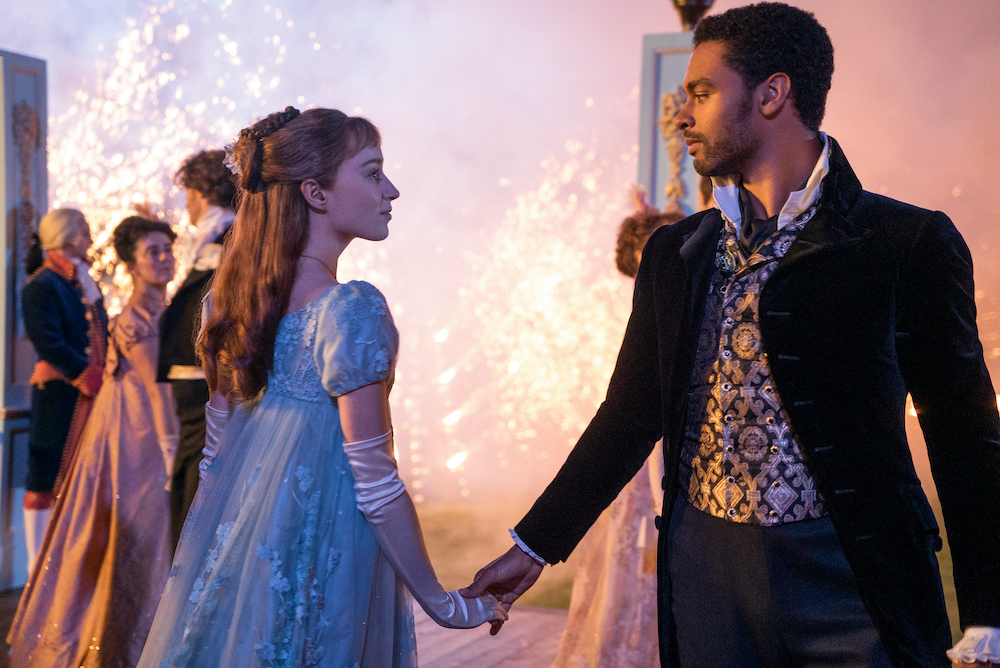 Photo: Liam Daniel / Netflix © 2020
Imagine a frothy cocktail of Jane Austen's characters, Oscar Wilde's witty antics, and a touch of Little Women. Got it? Now turn up the sizzle and the romance and prepare to be swept away by Bridgerton.
The first season focuses on Daphne (Phoebe Dynevor), the eldest daughter of the Bridgerton family. She wants more than her family's expectation of a good husband. Oh yes, Daphne wants true love (and will stop at nothing less). She soon finds herself orbiting a most eligible bachelor, the Duke of Hastings (Regé-Jean Page), who also happens to be her brother's best friend and completely unavailable. What to do? Of course, the two join forces for a fake courtship. A classic! The sparks are so fiery you'll feel the heat on your face. Whew! (And that's just ONE of the romances to swoon over.)
Bridgerton has all the tropes you love from historical romance and your favorite period dramas, which makes it extra satisfying. But this is SHONDALAND—the company and showrunner Chris Van Dusen also accurately present so much inclusion (who knew people of color existed in Britain before 1900? Well, everyone who has actually bothered to read history, of course). Queen Charlotte (Golda Rosheuvel) is embodied in her truth and it is gloriously saucy, but the true queen of the series is Adjoa Andoh as Lady Danbury, a wickedly jaunty and wise grand dame who we hope will return for every season.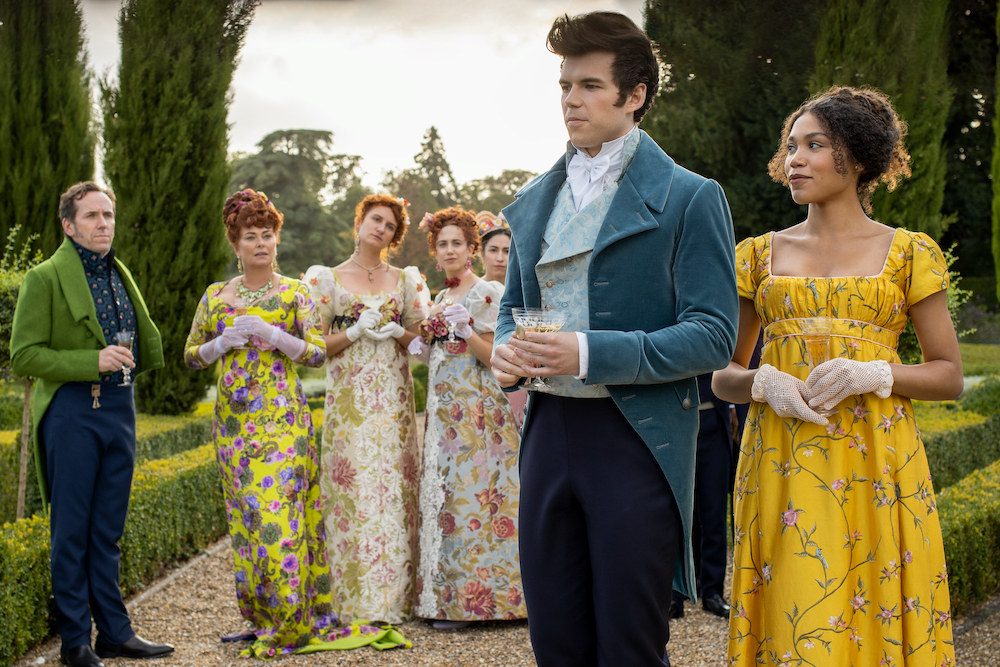 Photo: Liam Daniel / Netflix © 2020
The costumes, the love stories, the set pieces, and the scandals are all squeal worthy viewing. And the addition of modern pop classics reimagined as Chamber music is refreshing. You might have to text someone to ask: What song is that in Ep 2 at the party? 
By the end of eight episodes you'll be in love AND wondering who the next couple, for a whole new season, might be. We certainly hope for more romantic romps in the world of Bridgerton—after all, there are so many stories left to be told in this delightful universe (and neither Austen nor Wilde are writing anything new). *wink*
If it seems like we've told you nothing, that's by design. We'll leave you to discover the mischievous madness and mercurial machinations of love in 1800s high society for yourself. And you're welcome…
…Cuddle up with your favorite cuppa tea and enjoy this splendid dish full of scandalous romance.