idobi Votes: 7/10 – Sherin Nicole | 7/10 – Philip Jean-Pierre | 7/10 – Alex Bear
They say you either end up exactly like your parents…or the complete opposite. The Good Cop is a surprisingly charming headbutt between a brand new odd couple. Tony Danza plays Big Tony, an ex-cop with a criminal record, who's forced to move in with his son and fellow cop, TJ (Josh Groban). TJ follows the rules to the letter and probably measures them to make sure they're regulation height. The dude even keeps a swear jar in the squad room. Big Tony's dodgy experiences and TJ's sharp mind for evidence makes them a duo that's hard to beat—and the bad guys are learning that from the wrong side of the bulletproof glass.
This series is a mashup of classic cop/detective shows like the original Law & Order, NYPD Blue, The Rockford Files, and Barney Miller, with a 2018 spin; although many of our colleagues say it reminds them of Monk. We get it and we don't get it. The series do have the same creator, Andy Breckman, and damn both are funny ones. The Good Cop balances crime and humor with ease—some of the jokes will have you chuckling and slapping your couch mate. The two Tonys are two ends of the moral spectrum and therefore primed to drive each other insane. Especially when broken traffic lights are involved (we're team Dad on this one). When they team up to solve cases they fuse into one fantastic cop (and they look pretty good in their boxer shorts too).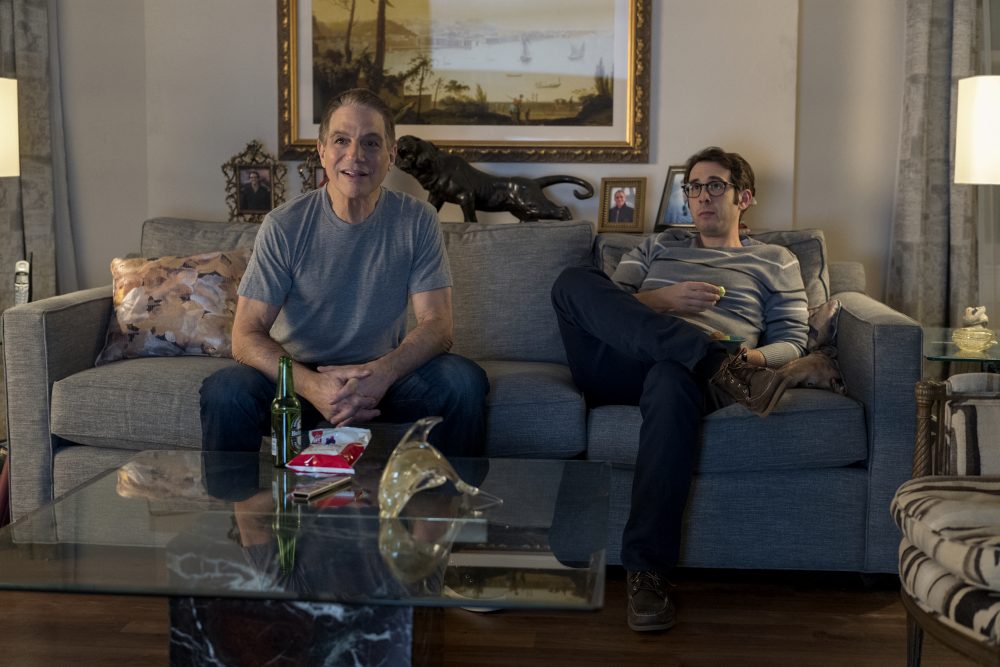 Photo: Michele K Short/Netflix
The Good Cop may be repetitive at times but that's because the set up is very much like a cozy mystery novel. Cozies are lighthearted fun whodunits that play out in small towns (in this case precincts). The same tropes come back again and again and that's why they're so comforting. You don't want your vanilla ice cream to change spoon by spoon. That's what's so nice about The Good Cop, it's totally easy to swallow because you know exactly what you're going to get. That doesn't work for everything but it's nicely done here.
It's good to have Danza back as the rough, ready, and randy "bad cop" dad with toughness and comedic levity. Groban comes through as the frustrating yet unexpectedly endearing "good cop" son (or "Nancy Drew"…or "choir boy" depending on who's making fun of him at the time). Together the Tonys are a refreshing take on the usual buddy cop formula because, when family's involved, nothing's ever simple.
Stream the series premiere of The Good Cop on Netflix from Friday.
From Netflix:
In The Good Cop, Tony Danza plays Big Tony, a lovable yet not exactly honorable, former NYPD officer who never followed the rules. He lives with his son, TJ, Josh Groban, a brilliant, straight-laced NYPD detective who makes a point of always following the rules while solving Brooklyn's toughest cases. This "odd couple" become unofficial partners as Tony Sr. offers his overly-cautious son blunt, street-wise advice. Also joining the cast are Monica Barbaro, Isiah Whitlock, Jr and Bill Kottkamp.