idobi Votes: 7/10 – Sherin Nicole | 7/10 – Alex Bear
It's hard to talk about Next In Fashion without mentioning the iconic fashion design competition series you're thinking of. It must've been harder for the executive producers, Robin Ashbrook and Yasmin Shackleton with co-EP Adam Cooper, to come up with a fresh take that doesn't break the mold but certainly brings its own flavor. It must've been a challenge on par with the unconventional materials challenge, but they did it. And I like it.
Tan France and Alexa Chung are that cool pair at work—the ones you dream of being invited to coffee with—and they bring a more inviting and playful style to the hosting role. The warmth and support they give the designers coupled with honest impressions will remind you a bit of The Great British Bake Off. No one is being awful to each other but the contestants cannot escape the truth of a discerning professional opinion.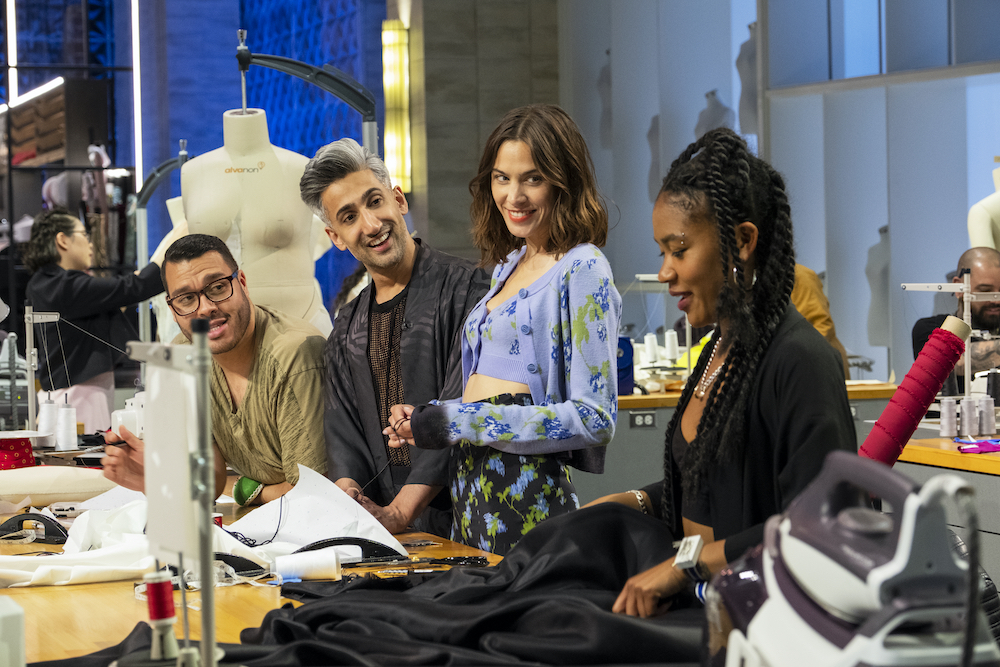 Photo: Lara Solanki/Netflix
Here's the set up: Eighteen fashion designers are initially paired up to compete as teams for $250,000 and the opportunity to debut their collection on Net-a-Porter. Rather than face challenges that seem more about creating drama and meltdowns, these contestants get any fabric they want and the freedom to go wild with their designs. As long as those designs fit within the category of the episode and please any number of fabulously appointed guest judges like: Eva Chen, Elizabeth Stewart, Monique Lhuillier, Elizabeth von der Goltz, Prabal Gurung, Phillip Lim, Jason Bolden, Kerby Jean-Raymond, Adriana Lima, Christopher Kane, Beth Ditto, Josefine Aberg, "Dao"- Yi Chow, Maxwell Osborne, and Tommy Hilfiger.
Creating whatever they want should be easy for these professional designers, who've worked in major houses or have dressed major names, but the teams also face the challenge of learning when to push forward with their ideas versus when to defer to the expertise of their teammates. Beyond that, the statement "get out of
your comfort zone" should be a mantra for this show because there's no challenge in designing only in your own aesthetic. And these judges do love to see the designs push themselves.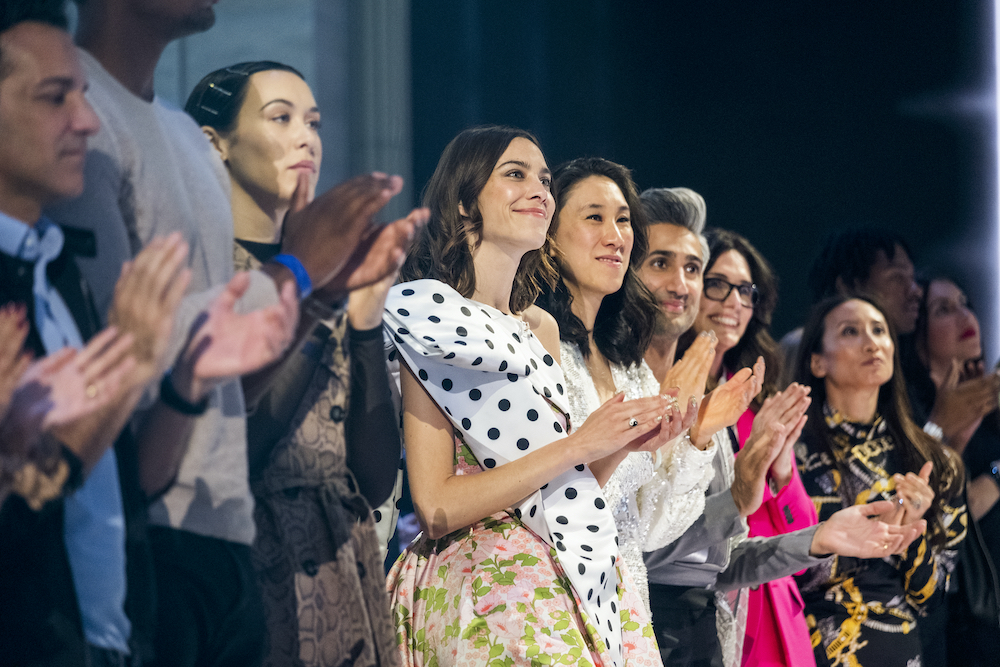 Photo: Adam Rose/Netflix
Years ago there was a hit book called All I Really Need to Know I Learned in Kindergarten that talked about the life lessons we learned in early education and how they apply to every stage of our lives. Well, lovelies, let us tell you that everything you need to know about succeeding in your career can be learned from the winners and losers on each episode of Next In Fashion: cooperation, listening, taking risks, standing up for yourself, creative problem solving, getting out of your own head, having a seat—it's all there and it's as fun to watch as the absolutely decadent runway themes that the production team blesses us with from challenge
to challenge.
Oh and the drama does arrive (but it comes from the judges' side of the runway in episode 4), Wait for it. And enjoy all the pretty on the way to a final contestant who truly deserves the cheers.
Contestants: Adolfo Sanchez, Claire Davis, Angel Chen, Minju Kim, Ashton Hirota, Marco Morante, Charles Lu, Angelo Cruciani, Daniel Fletcher, Carli Pearson, Hayley Scanlan, Julian Woodhouse, Isaac Saqib, Nasheli Ortiz-Gonzalez, Kianga "KiKi" Peterson, Farai Simoyi-Agbede, Lorena Saravia Butcher, Narresh Kukreja