Grade: B
Basically: This kid is about to press fast forward on the mixed(up) tape of his life, let's hope the tape rocks before the tape pops. 
There is a moment during The King of Staten Island when you suddenly realize: Oh, this is real. This actually happened. Prior to that, there are moments when you wonder if you are in fact high. That turns out to be a very good combination, in which the truth hurts but is also funny because it's true. 
The painfully funny truth is no surprise, when you're watching the results of a Judd Apatow x Pete Davidson team up with Dave Sirus making it a trio. No surprises there but while we might know what to expect from them individually, The King of Staten Island hits like a suckerpunch.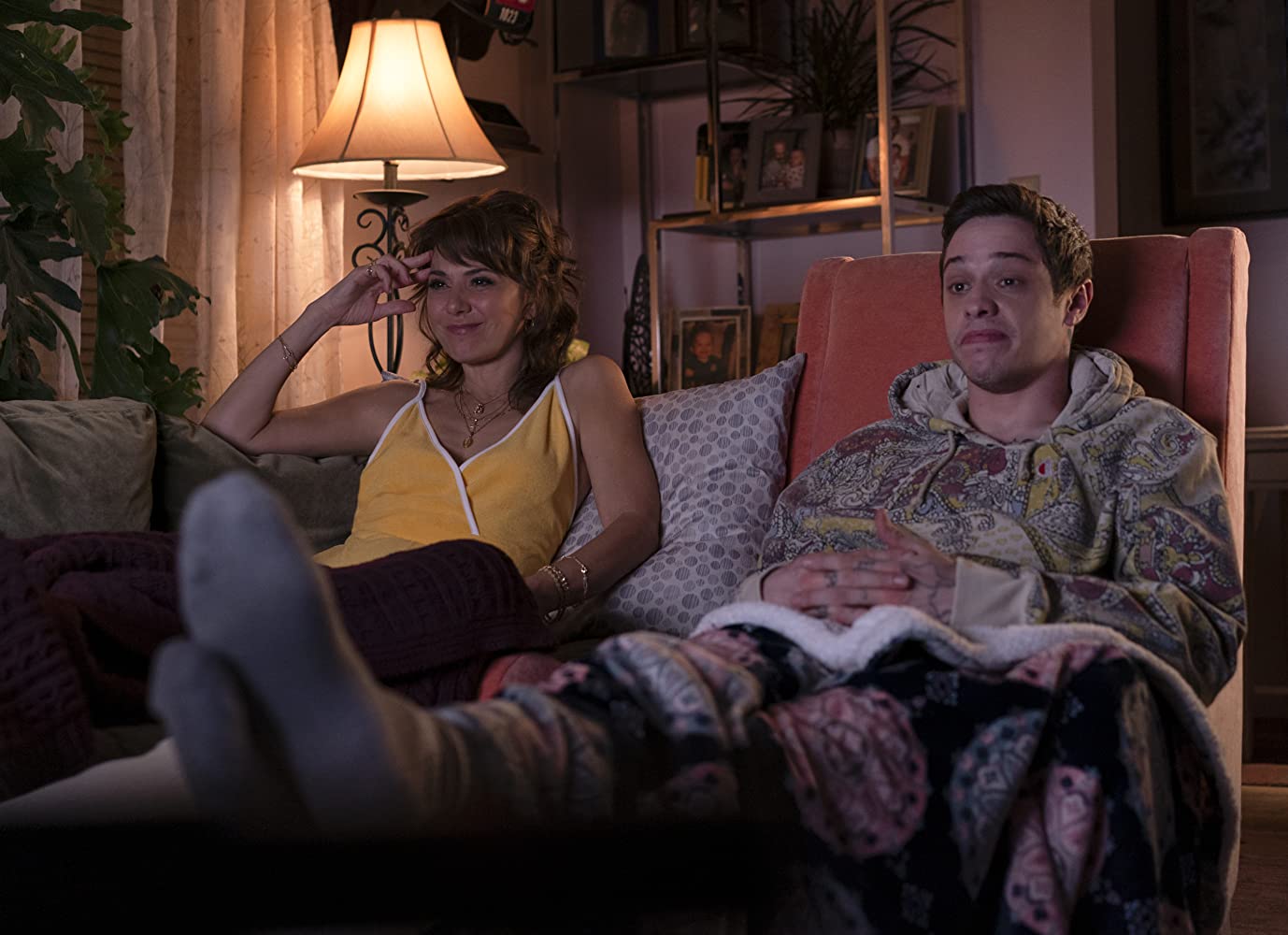 Photo by Mary Cybulski © 2020 Universal Pictures
"The King" in the title is never actually confirmed but the prime candidate is 24-year-old Scott (Davidson). His mother describes him as "a tattoo artist with A.D.D." Accurate. Although the "artist" in that statement is questionable. You also question Scott's apparent chill when his friends mock the death of his fire-fighter father. Scott is not okay. He's struggling with grief, Crohn's Disease, mental health challenges and the subsequent "self-medicating" that often comes with it. And he has NO FILTER. Scott is weirdly transparent about everything he's thinking and everything he feels is wrong with him. It's awe inspiring and uncomfortable in the extreme. Oddly, Scott's honesty about his perpetual state of 'not okay' is a giant PAUSE button on the forward momentum of life. He still lives with his mom, he still argues with his younger sister like he's twelve, and his friends seem to be stuck on WTF as well.
Like many of the best coming-of-age stories, there isn't a single inciting incident that pushes Scott into flux. There is a series of them. And he takes his mom, Margie (Marisa Tomei), along for the ride. Or maybe she takes him. Either way, when you have Tomei in your movie, it's smart to let her do her thing. Actually director Apatow lets the entire cast do their thing. Davidson brings clarity to the persona he developed on Saturday Night Live, adding a pathos that's sharpened by the comedy. Bill Burr plays Ray, an agitator for Scott and Margie and sometimes for us too. And then there's Bel Powley as Kelsey. Her earnest attempts to make Staten Island (and Scott) great…again…balance out with a perfect amount of cluelessness and ride-or-die dignity. Kelsey is down for Scott but she's not down for whatever, she holds him accountable. Mixed in among these solidly enthralling performances are a series of cameos (oh hey, Steve Buscemi) that will leave you howling. I won't spoil any more of them but the cameo with the knife/bullet wound is a highlight. What? He "fell in a
thorn bush."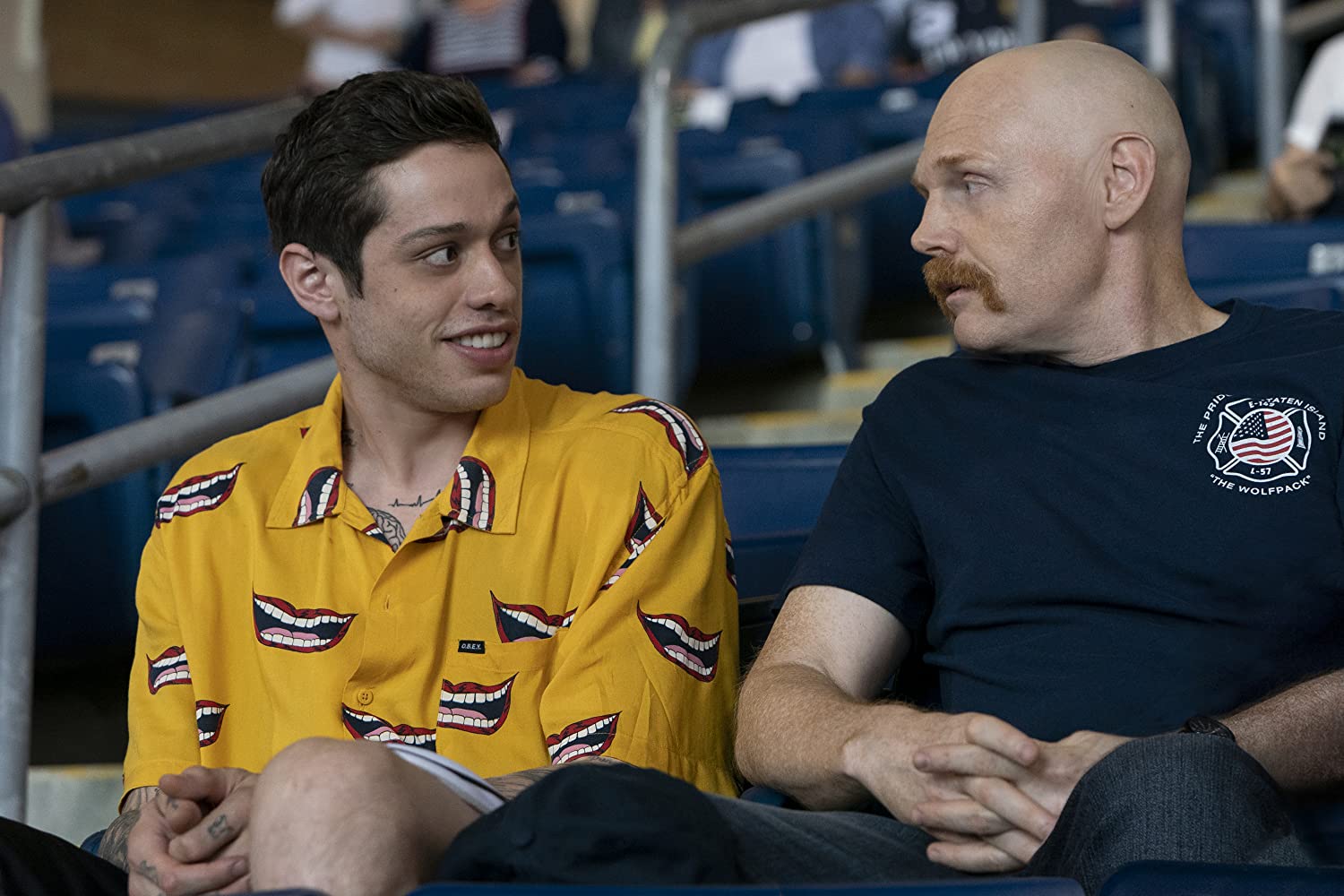 Photo by Mary Cybulski © 2020 Universal Pictures
My colleague Juilan Lytle wrote that The King of Staten Island is Pete Davidson's 8 Mile. Truth. The movie is dedicated to Davidson's father Scott, a New York firefighter who died in the Twin Towers on 9/11. Our King also shares many of the challenges Davidson has spoken about in his own life. And there are moments in this movie that are so ridiculously painful in their hilarity, so strangely off the wall, so improbable and yet so relatable that you immediately recognize them for reality.* When I say this movie is a suckerpunch it's because I enjoyed being punchdrunk (even though sometimes it hurt).
You're going to laugh, for sure, but you're also going to feel the ache of pushing through every obstacle, into somehow creating your own "messed up" kind of art.
In the End: I like movies about people. The King of Staten Island is a good one—and it never lies.
---
* It is an absolute fact that no one knows the words to "One Headlight".