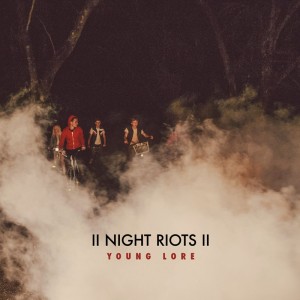 What do you call a five-piece, unsigned, alternative rock band from coastal California? Night Riots is what you would call them now, but until this past spring you would've called them PK. You also might be inclined to call them an "indie" band, but vocalist Travis Hawley would rather you didn't. "We're not a folky, wimpy band," Hawley told RedBullUSA.com in 2012, "so we hate the term 'indie'… We don't make punk music, but we all have punk roots, so we love scrappy music and aggressive live shows with lots of energy." They've been called one of "The Most Critically Overlooked Artists of 2012" by MTV, Rolling Stone Magazine featured them as one of the top unsigned bands in North America, and they've opened for Aerosmith. Not to mention the music they make is catchy as hell. Seriously, what's not to like?
The $11,842 needed to fund Young Lore was gleaned via the crowd-funding site IndieGoGo, meaning it is another record made for the fans, and more or less by the fans. The six-song EP is full of introspective lyrics sung against a (mostly) lively beat, anthemic vocals, and a 1980's-inspired electric feel. This '80's vibe is especially pronounced in the first track, "Back To Your Love," which sounds like a song pulled directly out of The Smiths' library. Even the lyrics are shrouded in dark, doleful negativity about a love lost. "Take me back to your love, I never say it loud enough for you," Hawley sings against an energetic, electronic-driven beat.
"Remedy," the following track on the record, has a similar upbeat feel but updated with its vocal harmonies and choruses of whoa-oh-oh's — think The Killers mixed with a bit of Vampire Weekend. There is even a point towards the end of the song where Hawley's vocals sound almost identical to Brandon Flowers'. The following song "Spiders" keeps up this Killers-esque sound, but is a bit more subdued than the first two tracks.
The fourth song on Young Lore is "Masks," and it is much too big a song to be on such a small EP. The song starts quietly, with just a repeated synthesized loop before Hawley and drummer Rico Rodriguez join in. Hawley's simple vocals with this pounding beat sound like a chant aiming to stir something up inside you. Then the chorus hits — no, I'm sorry, explodes with Hawley's voice taking off to question, "Does holy water leave you pure of heart?"
However anthemic "Masks" feels, it's nothing compared to the last song on the EP, which just so happens to be the album's namesake track. The song's humble, piano-driven opening is reminiscent of Queen, especially as the song builds and builds before lifting off with a chorus of "Live now while you're young / We live like we're dying." The palpitating electronic beat is terrifyingly hard to resist dancing like a fool to, but that's probably the point. It's hard to describe this song as anything other than joyful.
Young Lore as a whole is a prolific example of what a band can do when they stop trying to be perfect and just try to write music that represents them as people. As Hawley told ArtistDirect.com, "These songs represent who and what we are," and it is magical. And if you think the '80's feel is a turn off, remember that the EP ends with one kick-ass guitar solo.
Rating: 4.5/5