Basically: Ant-Man and the Wasp leapfrogs the original into a greatness of its own.
Hank Pym (Michael Douglas) thinks there's a chance that his long-missing wife Janet van Dyne (Michelle Pfeiffer) could be alive down in the subatomic Quantum Realm. His daughter Hope (Evangeline Lilly) thinks so too, but they lack a way to find her.
Enter Scott Lang (Paul Rudd). After going rogue in Germany by fighting the Avengers (back in Captain America: Civil War), Scott is under house arrest, with his ties to Hank and Hope severed. He has mere days left to his sentence, a better-than-ever relationship with his daughter Cassie (Abby Ryder Fortson), ex-wife Maggie (Judy Greer), and even his former antagonist Paxton (Bobby Cannavale)…and zero incentive to rock the boat by taking chances. However, a bizarre flash pushes him to reach out—and that's when the story starts to take off.
It's going to take more than a little courage and ingenuity to solve this one.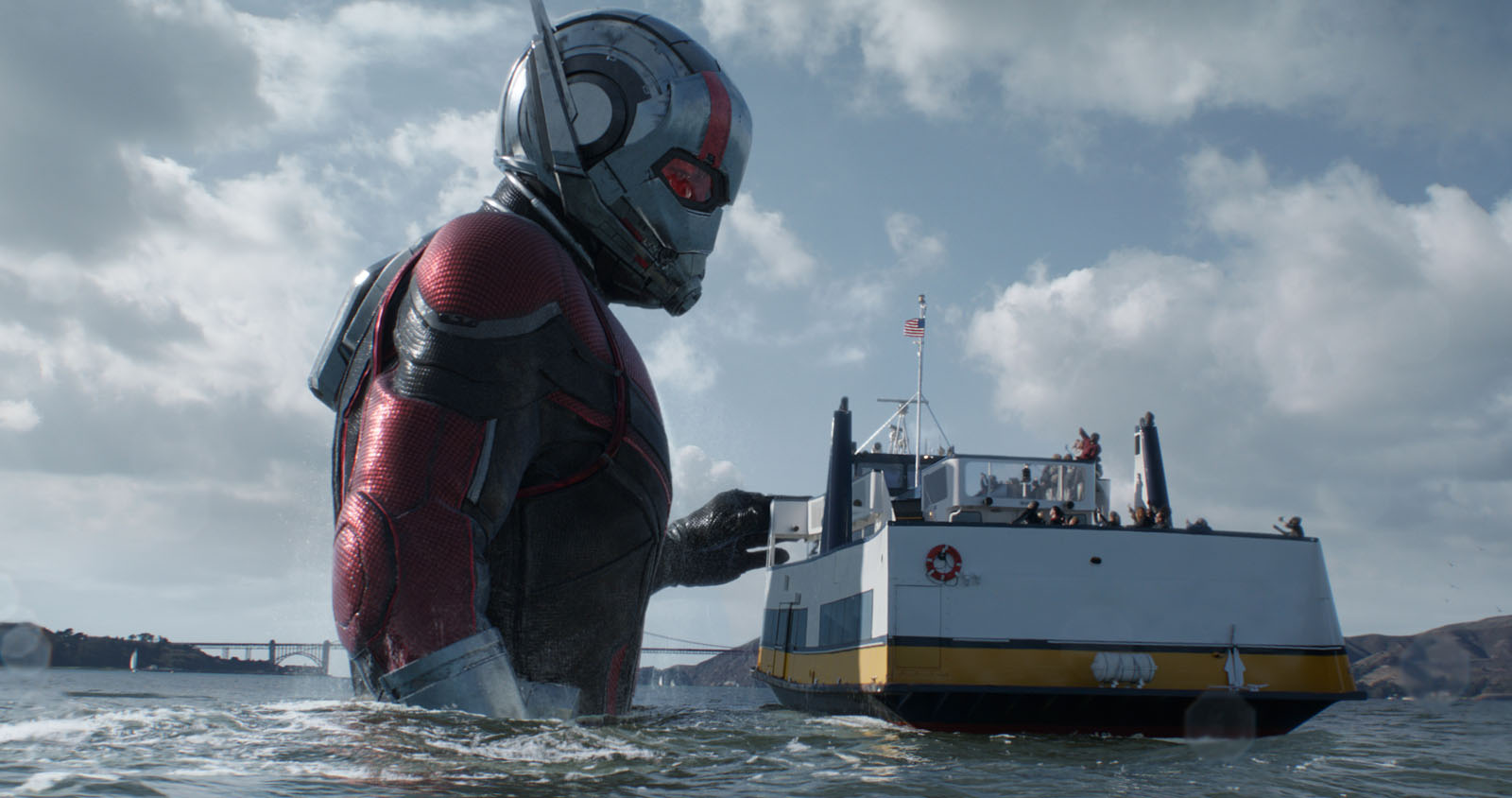 Photo: Marvel
For all its action and urgency and emotion, Ant-Man and the Wasp is an upbeat, happy movie that wears its silliness on its sleeve. There's abundant humor, even in the worst moments, and bigger roles for virtually all of the supporting cast this time around.
Director Peyton Reed and the five screenwriters (including Rudd) have a field day with all of the intrinsic goofiness that can be made from a size-changing hero. From a suit on the fritz to the most unconventional auto chase ever filmed, there's little time to catch one's breath (in a good way). Rudd manages the silly and serious sides of Scott even more skillfully than his previous outing, with Lilly getting to show far more heart as Hope. Both take the roles and boost them into orbit, backed by strong writing and a great story that extends the last film's extended meditation about fathers, daughters, and family.
Douglas gets even more to do as Hank this time around, with some poor decisions coming back to haunt him, and Pfeiffer is terrific as the returned Janet, the original Wasp, who proves her own brilliance in neat, highly unorthodox ways.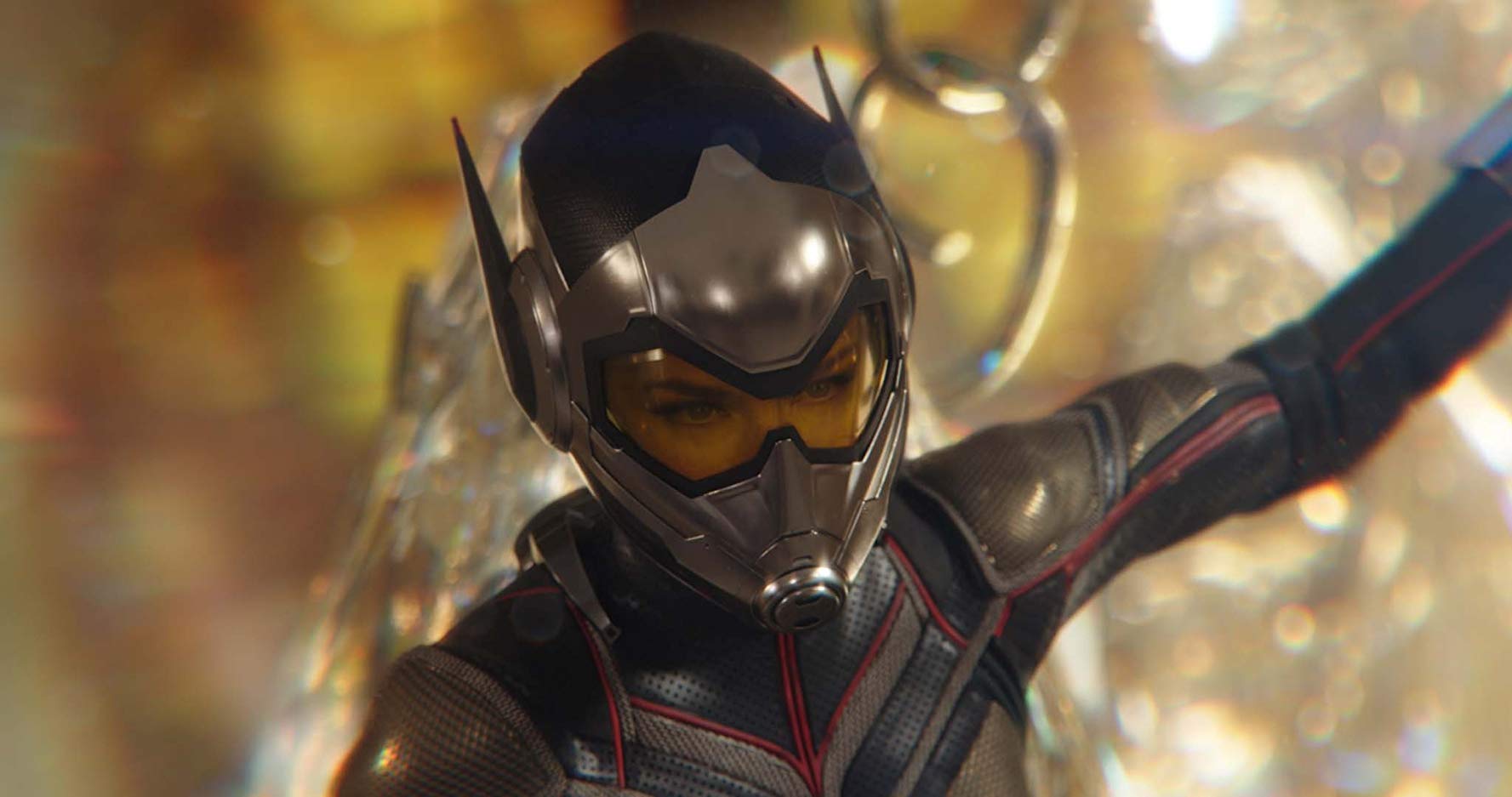 Photo: Marvel
As for the bad guys, Hannah John-Kamen is a true standout as The Ghost, giving the latest in a recent string of sympathetic "villains" who are the tragic heroes of their own stories. She has a good reason for all that she does but (like the other villains) is willing to cross major ethical lines to get what she needs. She is well matched by Walter Goggins, who invests the secondary baddie Sonny Burch with his trademark wit and intensity. He also sets off one of the funniest scenes in the movie, inadvertently triggering one of Luis's (Michael Peña) infamous flashback-monologues, where just about everybody is able to get in on the fun.
Ant-Man and the Wasp, much like Captain America: Winter Soldier, is a sequel that leapfrogs the original, using it as a springboard to achieve greatness of its own. It's also a film that will certainly reward multiple rewatchings (I know I'll have to see it again, as the audience was laughing loudly at the press screening I attended).
Stay for the post-credits scenes, they link the movie to the events of Infinity War in the most foreboding way.
In the end: See it. Ant-Man and the Wasp is a fun, fast-paced palate cleanser after the last film's heaviness, with lots of heart and humor.