Rating: 5/10 as in 50%
There are people out there, on this plane of existence, who think The Beatles aren't that great. I've watched them shrug and say things like, "I don't get it" or "it was all marketing". I do not understand these people but I respect their right to be purveyors of very fine WTFery. Apparently, director Danny Boyle (Slumdog Millionaire) and writer Richard Curtis (Notting Hill) have no respect for those people. They've even made a movie to prove them wrong. (Which is a stance that I, as a person who will crowdsource which way up the forks go in the dishwasher, and then do a victory dance when proven right, will also not argue with).
Unfortunately, YESTERDAY is not going to earn the—typically winning—pairing of Boyle and Curtis any real bragging rights. Which is a shame because the setup is so dang cute:
Himesh Patel is Jack Malik, an amateur singer/songwriter who can't get a bar full of drunks to sing-a-long. His buddies do show up for him, but the only person who actually likes his music is his lifelong friend and manager Ellie Appleton (Lily James). After a rousingly sub-average performance at LATITUDE Festival, Jack decides he's done. It's over. Ellie protests but Jack never listens to her anyway.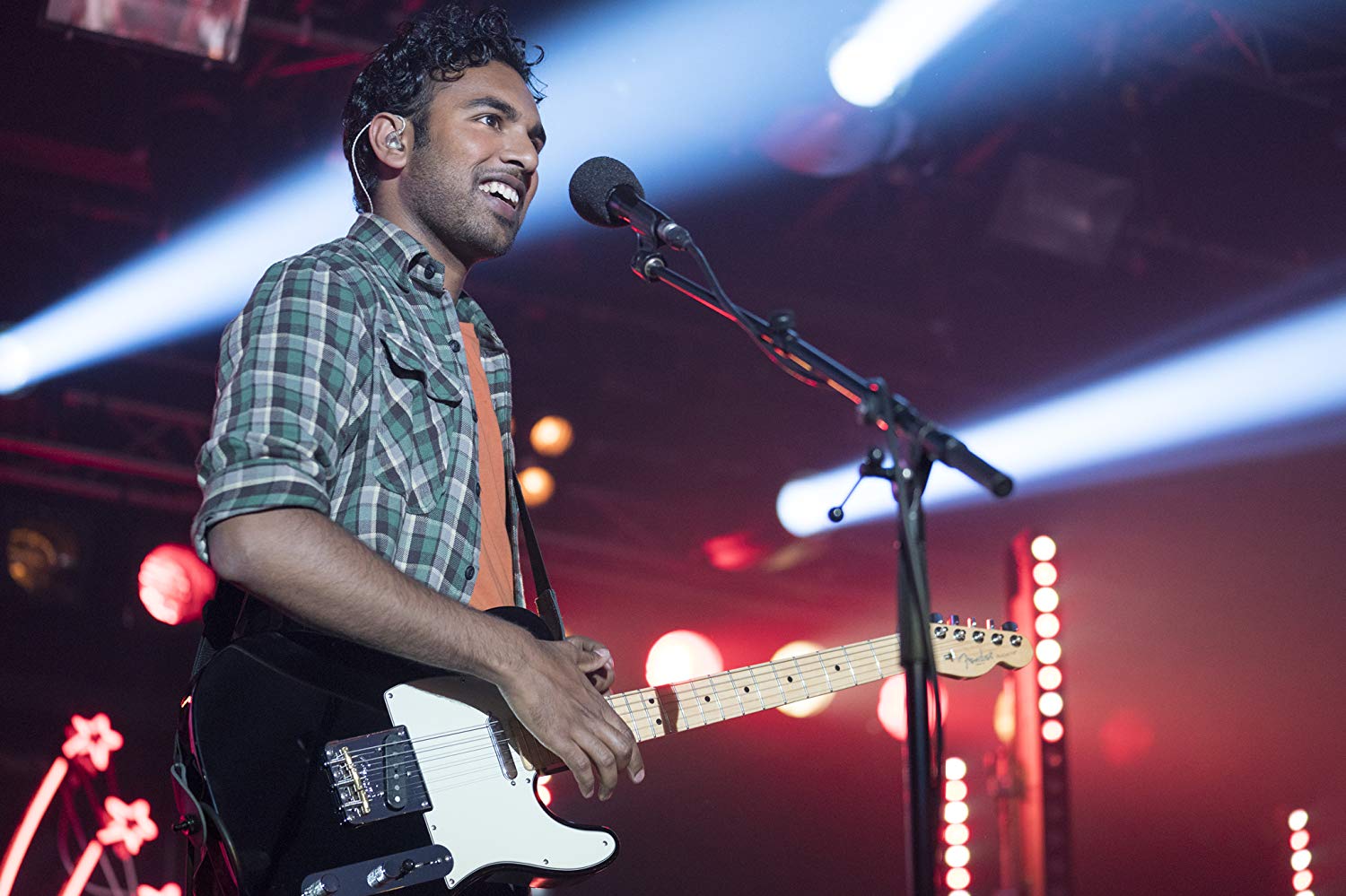 Photo by Jonathan Prime - © Universal Pictures
While Jack is biking home, there is a total eclipse of the world (by that I mean there's a global power outage and I wanted to make it feel as dramatic on the page as it was on the screen). All the lights go out, babe. And since Jack is riding into an intersection at the exact moment…he totally gets hit by a bus. And two of his front teeth get knocked out. After this he refers to himself as a "kind of reverse rabbit" which everyone in the theater enjoyed. We also enjoyed discovering that the blackout completely erased The Beatles. The British Invasion never happened, there wasn't a hard day's night and therefore no working dogs either. Dang. That's bad enough but we also lost "Wonderwall" by Oasis. 
As you might suspect from that description, the first half of the movie is charming and funny and so very Richard Curtis that I secretly called it Strawberry Hills Forever, Actually. It's seriously that charming. There's even a new version of Spike from Notting Hill (Rhys Ifans) but this time he's called Rocky (Joel Fry) and he's just as socially ridiculous. See what I mean? Watching Mr. Hard-Luck Jack get kicked in the shins by his boss at the big box store, by the audiences who don't mean to be at his shows, and inadvertently by his friends and family is delightful. Ellie is also absolutely dripping with love, which is sweet…at first.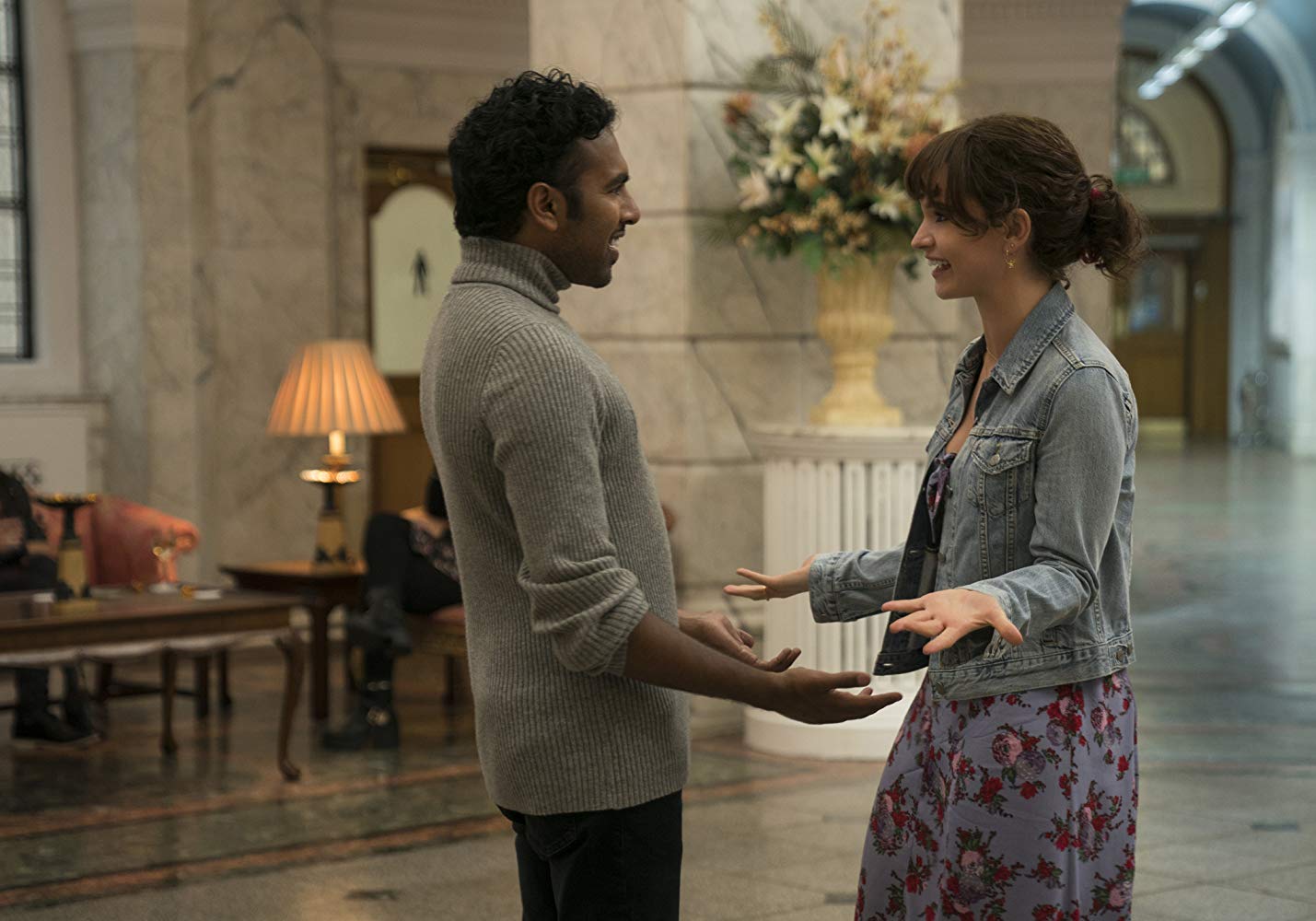 Photo by Jonathan Prime - © Universal Pictures
Then Jack starts playing Beatles classics and passing them off as his own. Everyone still loves those tunes, no matter who's singing them, and Jack starts to get famous. Ed Sheeran shows up as Ed Sheeran and so does Kate McKinnon (as Ed Sheeran's brutally honest + slightly creepy manager). They're great. So are Patel and James. BUT THEN the second half of the movie happens and it liquefies into sappy drivel. A full half of YESTERDAY turns out to be the longest, most underwhelming method of saying "All You Need Is Love" you will ever be forced to sit through. I'm not joking. Not even John Lennon could save Act 2.
What went wrong? The filmmakers, as my Aunty Mona would say, lost the plot. Where YESTERDAY should've ramped up on whimsy and wonder it instead becomes an utterly dissatisfying love story. One you won't care about because it wasn't what you loved about this story in the first place. Give me more about these songs, and the effect they have on the world, and why losing them is its own sort of disaster. 
Sidebar: Dearest Ellie, as the heroine of the film, we know you love him and all you need is love but do shut it, darling, you're annoying us.
In the End: If you're going to preach at me it better be from the pulpit on Sunday while I'm having my nap, because YESTERDAY should've been a Saturday night and a lot more fun when it ended.