Basically: These Widows came to set it off and nobody or their cash is safe.
The Atlantic Festival was fabulous this year—great insight, panels, food, and people—but my favorite moment was the last minute addition of a Widows screening. This latest film by Steve McQueen, stars Viola Davis, Michelle Rodriguez, Cynthia Erivo, Elizabeth Debicki, and some pretty stunning dudes too. *wink*
The screening kicked off with a panel moderated by Michele Norris (Founder of The Race Card Project) with Hannah Giorgis (The Atlantic), and Bob Mondello (NPR, All Things Considered). The panelists dove into the beauty and pith of McQueen's filmmaking (my words but we share the sentiment), along with the ways he flips the typical heist film. They also spoke of the performances (many of which deserve ovations). The women in Widows are enthralling, the dudes are too—Liam Neeson, Brian Tyree Henry, Daniel Kaluuya, Robert Duvall, Colin Farrell, they're all ravishing and devious. To quote Bob Mondello, "Listen, you guys are going to have such a good time." Here's why: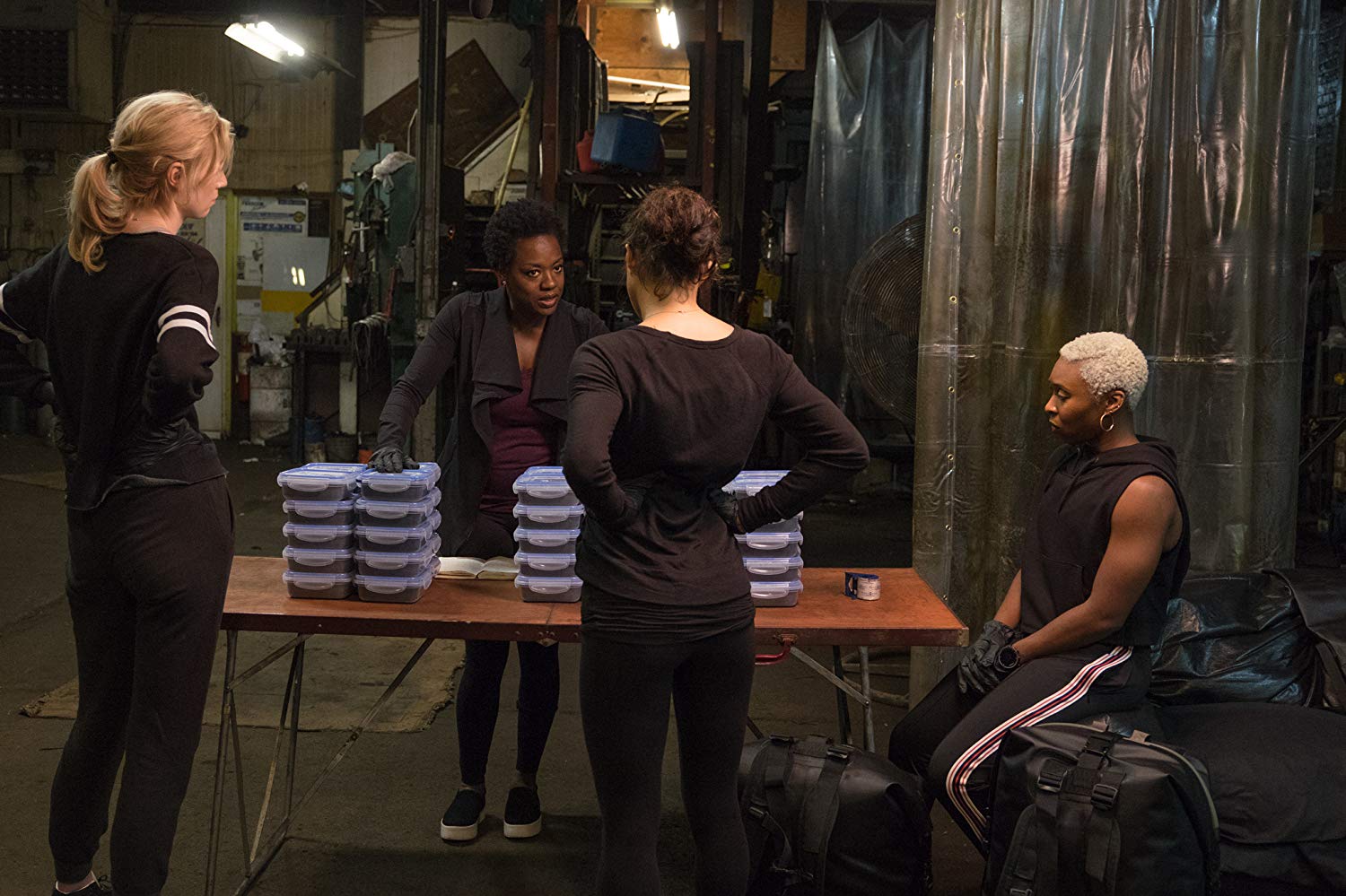 Photo by Merrick Morton - © 2018 - Twentieth Century Fox Film Corporation.
If you've ever read a Gillian Flynn book, like Gone Girl, you'll recognize her influence on Widows*. She and McQueen enact a duet with the script—you can almost hear a kind of music in the dialog and gunplay. And do not doubt it, the opening act is all about the gunplay.
We start with the husbands who'll turn our leading ladies into title characters. Or more accurately, we start with a series of vignettes that allow us to get to know the wives, husbands, and their troubles. There's a tension in these moments, not only in the obvious disconnect between each pairing but in the sense each couple is careening towards something terrible—even if the first heist doesn't go wrong. It does, though. Terribly. Wait until you see it.
The most idyllic couple is Veronica and Harry Rawlings (Davis and Neeson)—we see them in bed together a lot and we enjoy it a lot. Out of the many duos we are presented with, they seem to be the most together. You'll find yourself gripping your armrest as the layers of their relationship are exposed. Equally intense are Linda and Carlos (Rodriguez and Manuel Garcia-Rulfo) who fight over money, or Alice and Florek (Debicki and Jon Bernthal) who…well he fights, she takes it.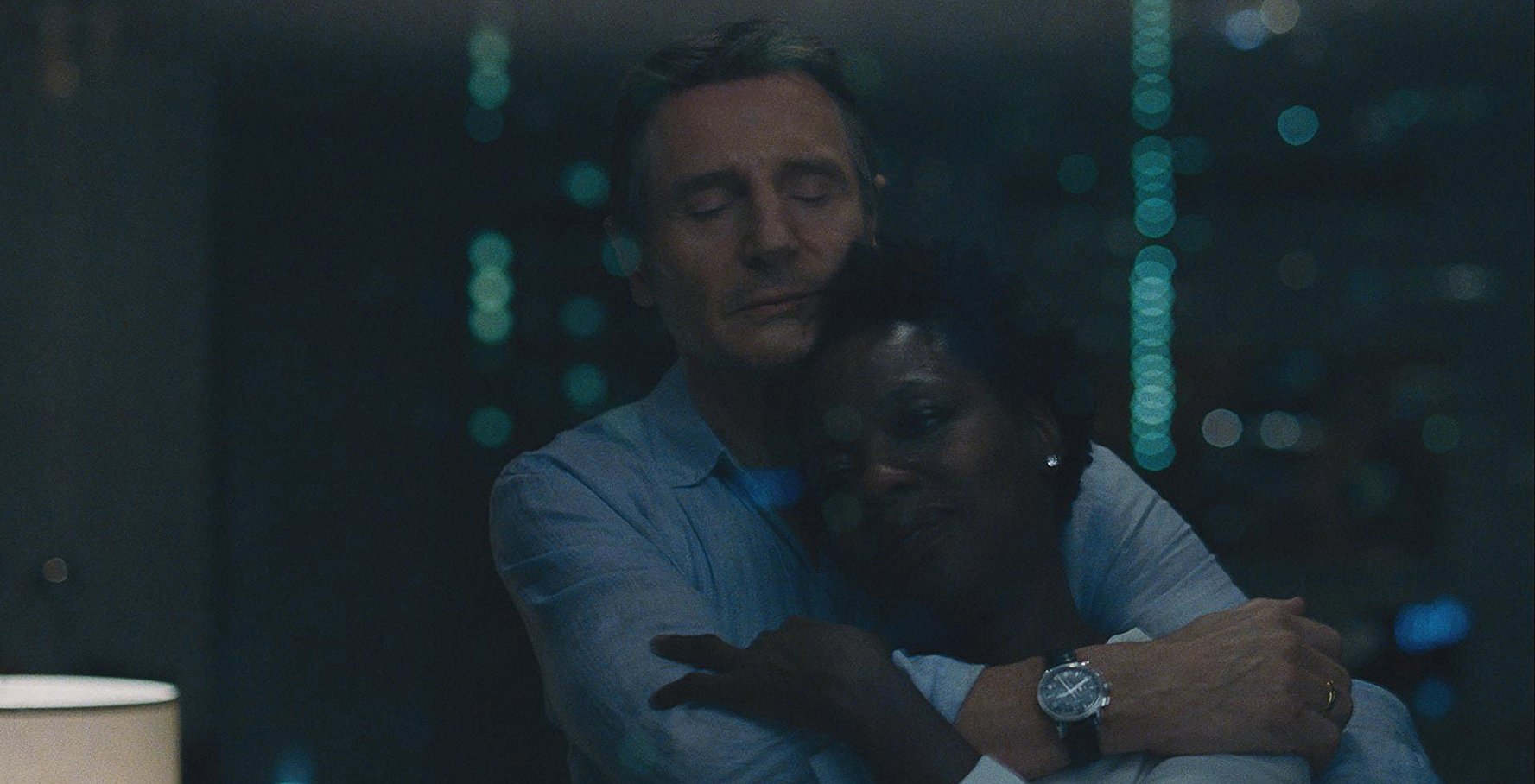 Photo: Courtesy Twentieth - © TM & © 2018 Twentieth Century Fox Film Corporation.
Then we have the twisted familial bonds, like those between the Manning Brothers (Henry, Kaluuya) and The Mulligans, (Farrell, Duval)—a father and son pair who seem to wish fate had chosen better DNA for them. It's amazing to watch the loving yet ruthless relationship between the Mannings work in contrast to the discordant yet mutually corrupt one shared by the Mulligans. These are great actors and so you believe them, no matter what they do.
You also worry for the women because you know they'll become entangled with the Mannings and Mulligans. Davis, Debicki, Rodriguez, and Erivo are the true fireworks of the film. You don't have to like their characters, you don't have to understand them, but with performances like these you can't help but feel for the Widows. After the heist that destroys their husbands, each woman grapples with several very hard realizations about their marriage. They are desperate. They are under the gun. And each in their own way is indomitable. Consider the fuse lit.
There's not much more I can tell you because this film continuously twists your perceptions. It's better if you enjoy the surprises as they come. However, look out for the way Davis and Debicki interact on screen. There's so much strife, loneliness, and betrayal between them. I don't want to be cliché but it's electric. Davis is phenomenal at nuanced flawed characters. Her portrayal of Veronica is alive in a way that makes you want to sit her down and pour her some tea [read: truth]. Look out for Cynthia Erivo. She doesn't have much to do but her time on screen leaves a deep impression.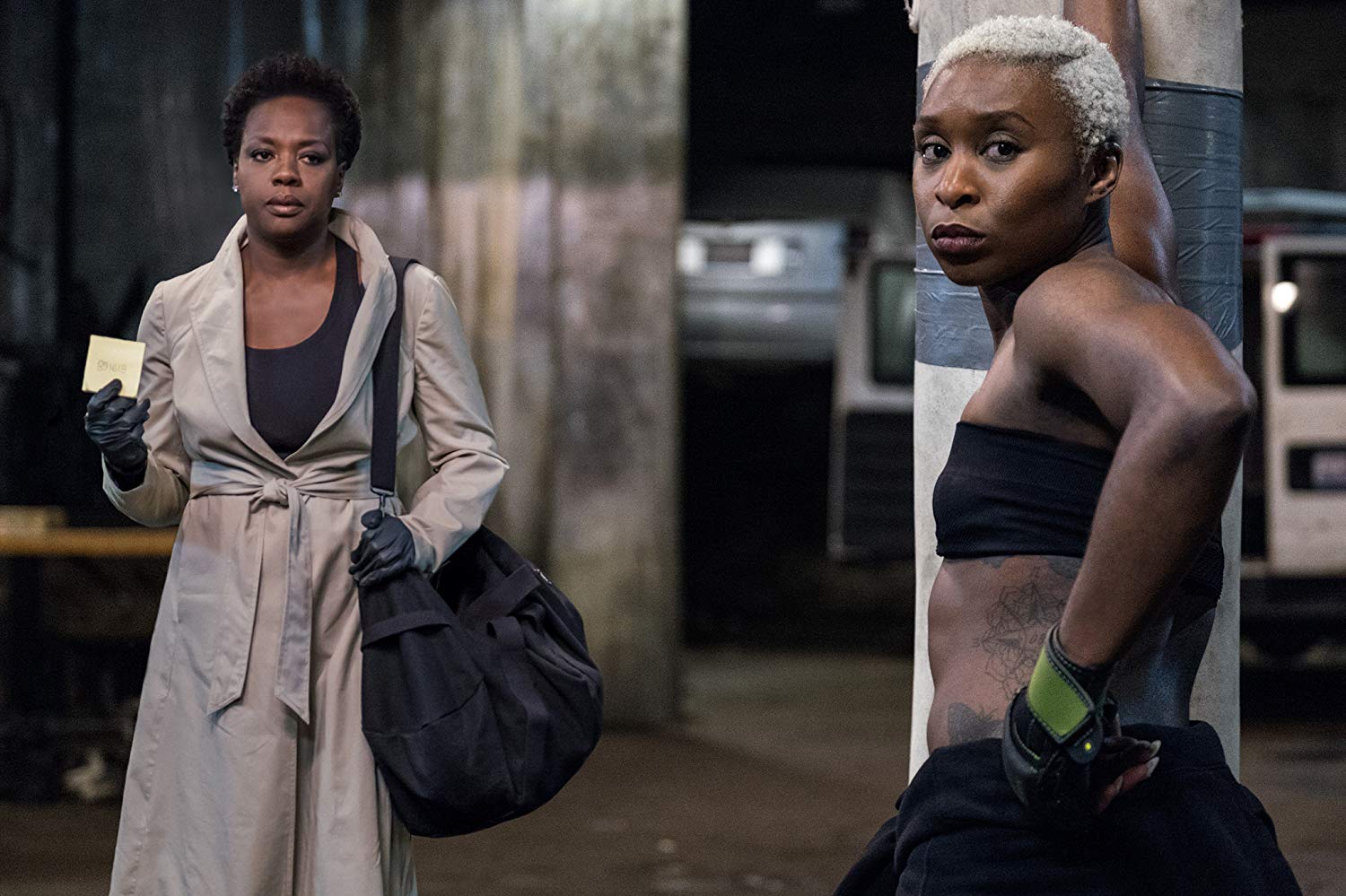 Photo by Merrick Morton - © 2018 - Twentieth Century Fox Film Corporation.
While watching Widows I was reminded of another movie, from another gifted black director. That film is F. Gary Gray's Set It Off (1996). The stories are different, the directors' styles are too, yet both feature: destitute leading ladies (many of whom are women of color), friendships formed and broken, romances that can never be, mourning that transforms into desperation, and men as obstacles. These movies are in depth character studies born of bullets, blood, and sisterhood—and both are so very good you can't forget them. Because of this, I can't say Widows flips the heist paradigm on its head. Instead, it follows a proud tradition, one I hope we don't have to wait another twenty-two years to see again. I've often told my friends, if Set If Off were made with a more diverse cast, in another time, it would've gone to the Oscars. It seems Steve McQueen is about to prove me right.
This is an intense film, with a plot like a snake; who survives and who gets bitten depends on where the next twist turns. You've gotta love that.
In the End: See Widows in the theater so it's as big and as bold as this movie deserves and so you'll have several people to squeal with when the plot turns on you.
* based on the book of the same name by Lynda La Plante