Grade: B
Basically: Someone decided to bring the odd-couple comedy back from the movie genre graveyard, but now with some JOHN CENA (cue his theme music)!
In the olden times, back when movies had more genres than the current BIG 4 (franchise entries, superhero movies, horror, and Oscar bait) there used to be these things called comedies. In this lost genre, characters would get into funny misunderstandings with jokes and slapstick humor. Now, all we have are some aight-to-death quips in superhero movies or some slapstick falls in franchise movies. This might feel like nostalgia (and it is) but that's how Vacation Friends made me feel. It was like watching something you haven't seen in a long time, like seeing a throwback basketball jersey and some baggy jeans on someone on the street in 2021.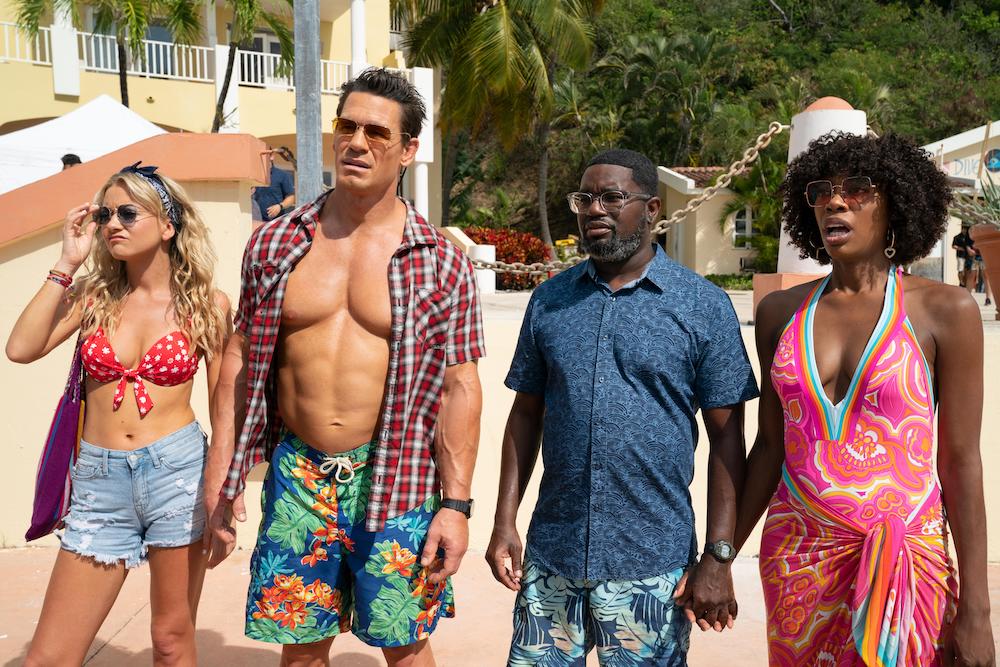 Photo credit: Jessica Miglio/20th Century Studios
In Vacation Friends, Marcus (Lil Rel Howry) and Emily (Yvonne Orji) are a couple on vacation in Mexico and things are not going that well with their room. They soon meet another couple, Ron (John Cena) and Kyla (Meredith Hagner). They're very carefree and are the complete opposite of Marcus and Emily. After Marcus and Emily warm up to Ron and Kyla, and a wild week in Mexico, the two couples part. Months later, at the rehearsal dinner for Marcus and Emily's wedding, guess who shows up? Their new best friends Ron and Kyla! And many hijinks ensue. 
The dynamic of Howry as the uptight straight man opposite the wild, carefree manic pixie himbo of Cena is delightful to see. Howry's Marcus is always about to explode from frustration as everything is just easy peasy for Cena's Ron. The contrasting sizes of the men adds to this, as Cena hulks over Howry yet is the sweet one to the perpetually worried and angry Marcus. Orji is also good as a calming character for Howry, yet she has a nice dynamic with Hagner's Kyla. Both of the women could've gotten to do a bit more but they still get some great laughs in the movie. 
Photo credit: Jessica Miglio/20th Century Studios
The other standout is Robert Wisdom (best known as Bunny Colvin on The Wire) as Emily's father Harold, who can't stand Marcus. Marcus' worries about finally making a good impression during the wedding weekend, coupled with Ron's appearance, takes things over the top. Wisdom is great with his utter dismissive looks and delivery of comments about Marcus' character. Andrew Bachelor AKA King Bach also does an ok job as Emily's annoying younger brother who doesn't like Marcus either. 
Like I said, Vacation Friends is more like a movie from the past, like the late 90s or early 00s, than comedies you'd see today. I think it might be too much of a throwback for some and the jokes are a bit simple. Yet Vacation Friends knows what it is, it moves quickly and keeps to its themes the whole time. 
In the End: Vacation Friends is a fun throwback-style comedy with a lot of fun performances by the whole cast. It's a great way to spend a few hours streaming.