Basically: A confectionary celebration of middle school—layered with enough puberty, generational trauma, repression, sisterhood, and boy bands to bring out the beast in any girl.
Domee Shi, the writer and director of the unforgettable Pixar short Bao, is back again and it's on. Shi has a way of imbuing metaphor and allusion into explorations of family dynamics, that are especially relatable for people of Chinese descent but also for the children of immigrants of every culture. She absolutely excels at bridging the need to connect to your heritage while still fitting into the place you live, and she achieves this without judgment or forcing her characters to choose.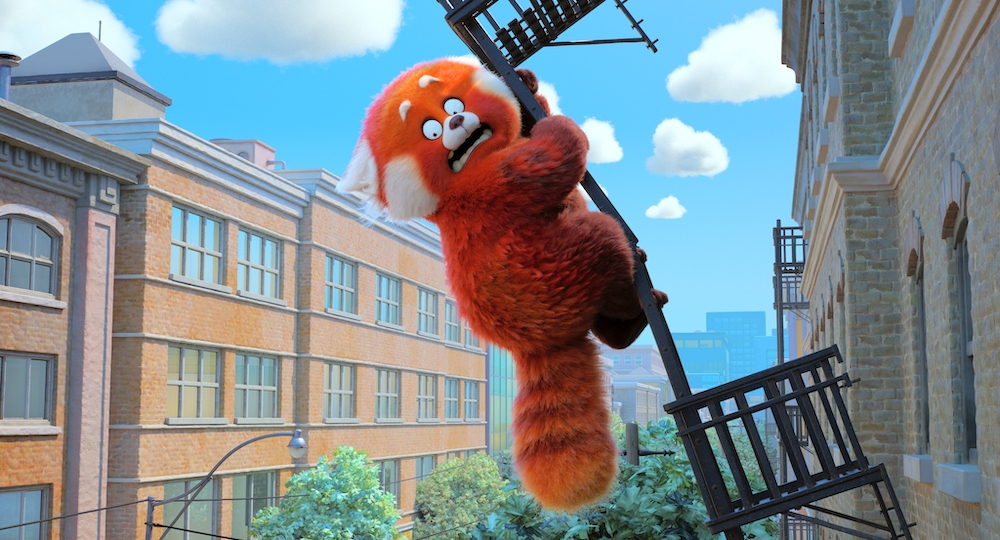 Turning Red, which is Shi's feature length debut, proves her skills at crafting these delightful tales (and tails too). From the first beats of the score and the soundtrack—most likely to be added to playlists after "Bruno-no-no"—we are enchanted. Primarily by Meilin Lee (Rosalie Chiang) a 13-year-old Toronto native who breaks the fourth wall by sharing her entire and entirely overstuffed life with us, as though we are her journal (or her Finsta).
Stars immediately began to twinkle in my eyes. Mei is irrepressibly herself…at first. She's an all-star member of the nerdy-geek squad, who wins in class, in orchestra, and at annoying the principal. She also has a group of sister-friends who are as individual and quirky as she is. These girls are too adorable BUT nowhere near as cute as their pop music idols 4*Town, a five member boy band with infinitely kissable faces. We, as the audience, also want tickets to their shows and we're singing along to their songs too! Shoutouts to FINNEAS and Billie (Eilish) for the songwriting and added love to Ludwig Göransson for the score.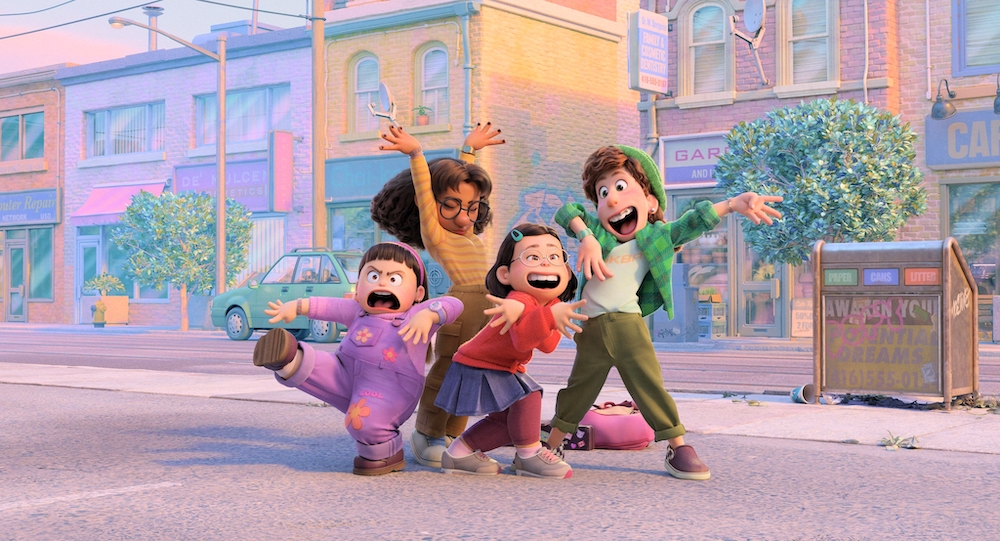 However, Mei lives another life after school. She joins her mother Ming (Sandra Oh) to fulfill her filial duties at the family temple, which is dedicated to their ancestors—one of whom is the guardian of the red pandas. Mei also gets to eat what looks like amazing dumplings made by her dad Jin (Orion Lee). She is happy but her two lives are completely separate. Her mother talks pure trash about her friends, while her friends never get to spend time with her outside of school. Beyond that, Ming has no idea what Mei likes—her love of 4*Town, her gift for drawing, or the fact she enjoys being loud and colorful and silly. It's as though Mei has dissociated her two worlds, creating two very different girls in order to make her mother happy. Not that we can blame her. Ming does more than hover, the blades of that helicopter parent could slice your head off cleanly at the neck without ever meaning to. As evidence, the inciting incident when Ming snatches every ounce of dignity Mei has and stomps on it…in public…in front of everyone's crush…the embarrassment is mountainous.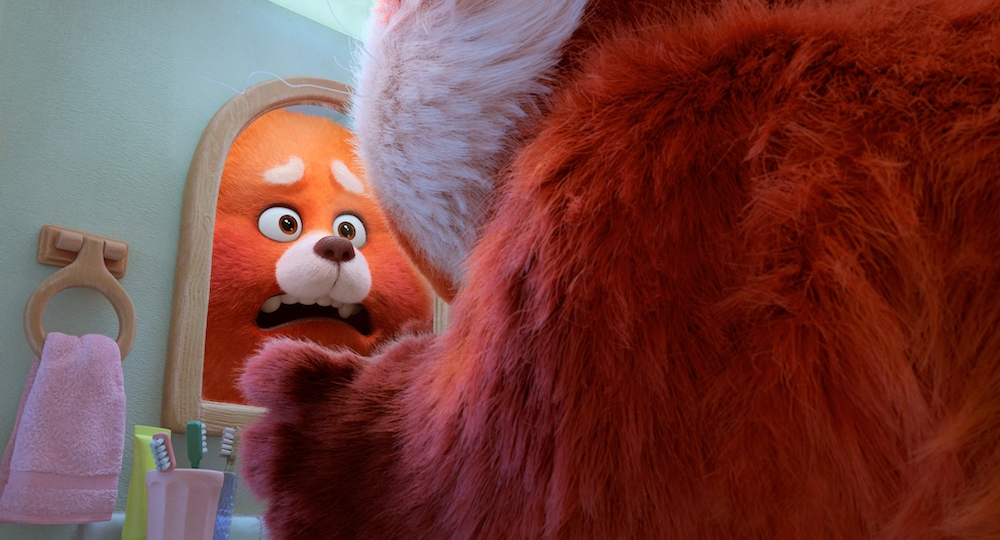 Of course, this cannot stand. Turning Red is a coming-of-age story. Our girl Mei is going to have to find herself. POOF! Introducing the giant red panda of legend, Mei's furry, fluffy, super kawaii (I don't know what it's called in Cantonese—apologies), also kinda stinky alter-ego AND her family legacy. That's right, Ming knew this was coming and she did not warn our girl. Right there and then Shi and co-writer Julia Cho proclaim: YOU'RE GONNA DEAL WITH THESE EMOTIONS, girl!
Standout moments include the arrival of Mei's Granny and her Aunty Squad, a wild chase through the streets in full red panda mode, the friendship that keeps Mei grounded, and an action sequence that would make Godzilla feel inadequate. This movie is magical, rooted in both Toronto and in Chinese culture, dealing with all the little pitfalls puberty throws at us, but mostly it is about accepting yourself and screaming your truth loud enough for everyone to hear. Our mother's choices are not ours, and our daughter's choices do not belong to us. 
In the End: Well done, Domee Shi and your all woman leadership squad. I can't wait to "Turn Red" again and again and to keep giggling while nodding at the truth of it all.