Basically: Thor got jokes.
Let's keep this brief. My lovely colleague, Julian Lytle has already posted an in-depth review with lots of inside comic-book insights. With that in mind, much like Thor: Love and Thunder, I'm going to focus on feelings. Mostly mine. I have a lot of them.
Confession: Thor: Ragnarok was the first Thor movie I actually liked. Oh, I adored Natalie Portman and the supporting cast—especially Hiddles—and Chris Hemsworth is Thor (period) but the first two stories left me before I left the theater. They didn't have pull or impact for me personally. That is why the heavily Jack Kirby-inspired but also admittedly absurd Ragnarok was such a fresh take. Taika Waititi allowed Hemsworth to show the many faces of Thor AND the bromance between the god of thunder and his mischief-making sibling, Loki, did something for my heart.
I had hoped Love and Thunder would 'love me up' (cinematically) in similar but equally heart-fluttery ways. I mean, Thor's pecs, Jane's guns, and Valkyrie's dagger licking had already revved me up beforehand. However, "love" like "fetch" did not happen—and yet my goddaughter and I laughed a lot. So, for that, I will raise my tankard of mead.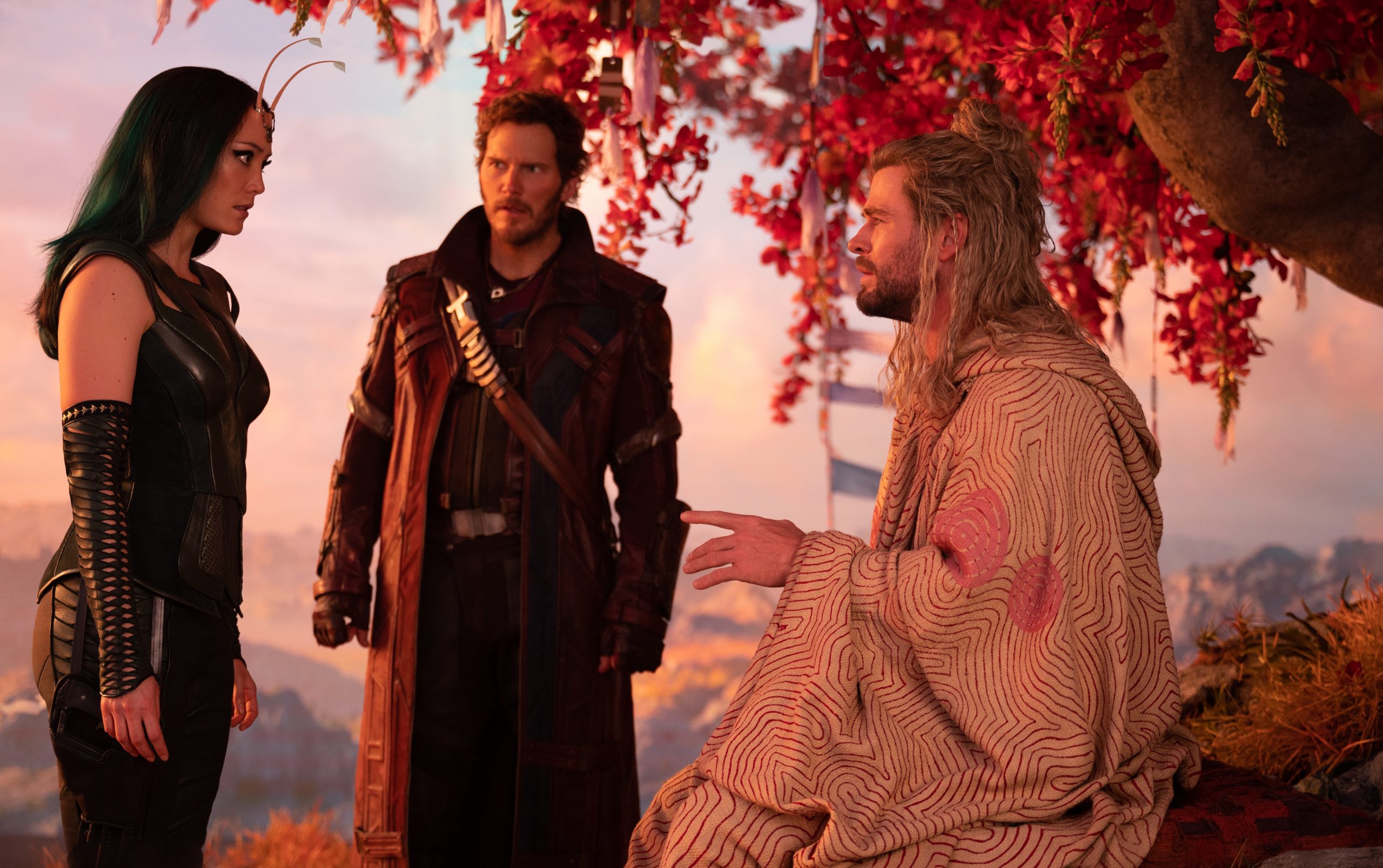 But why did I remain relatively unloved, you ask? Let's get into it. Love and Thunder begins with something known to Marvel comic fans as Asgardians of the Galaxy—okay, kind of sort of but not really, still you get the idea. After so much heartbreak, our guy is healing and has gotten back into heroic…although comically self-centered…shape. Jane (Portman) is back on earth dealing with a health scare that fans will recognize from The Mighty Thor comics by Jason Aaron and Russell Dauterman. She's in need of a hero and without one handy she becomes one herself. So that's fab! We also see King Valkyrie (Tessa Thompson) doing her thing as the leader of New Asgard, although she seems bored with the politics of ruling, or perhaps she hasn't truly found her purpose. Could one be coming? Alas, long ago a man named Gorr (Christian Bale), with nothing left to his name but faith, was mocked by the gods he worshiped. Now all those bastards who claim divinity are gonna pay. So, that's exciting!
What I enjoy about Love and Thunder is Thor's continued journey to redefine himself and his place in the universe. Writers Waititi and Jennifer Kaytin Robinson do nice work in layering his interactions with the children of New Asgard, who get swept up in a nursery rhyme of Pied Piper proportions that they must play a part in rewriting. These kids are enchanting, especially the one with Axl Rose as his namesake (Kieron L. Dyer). The movie also has a warm and fuzzy exploration of the relationship between the Odinson and Jane Foster. That all works—even if where they'll end up is uncertain. In this Love and Thunder, it is a very good idea to meet your heroes because the myths just don't measure up.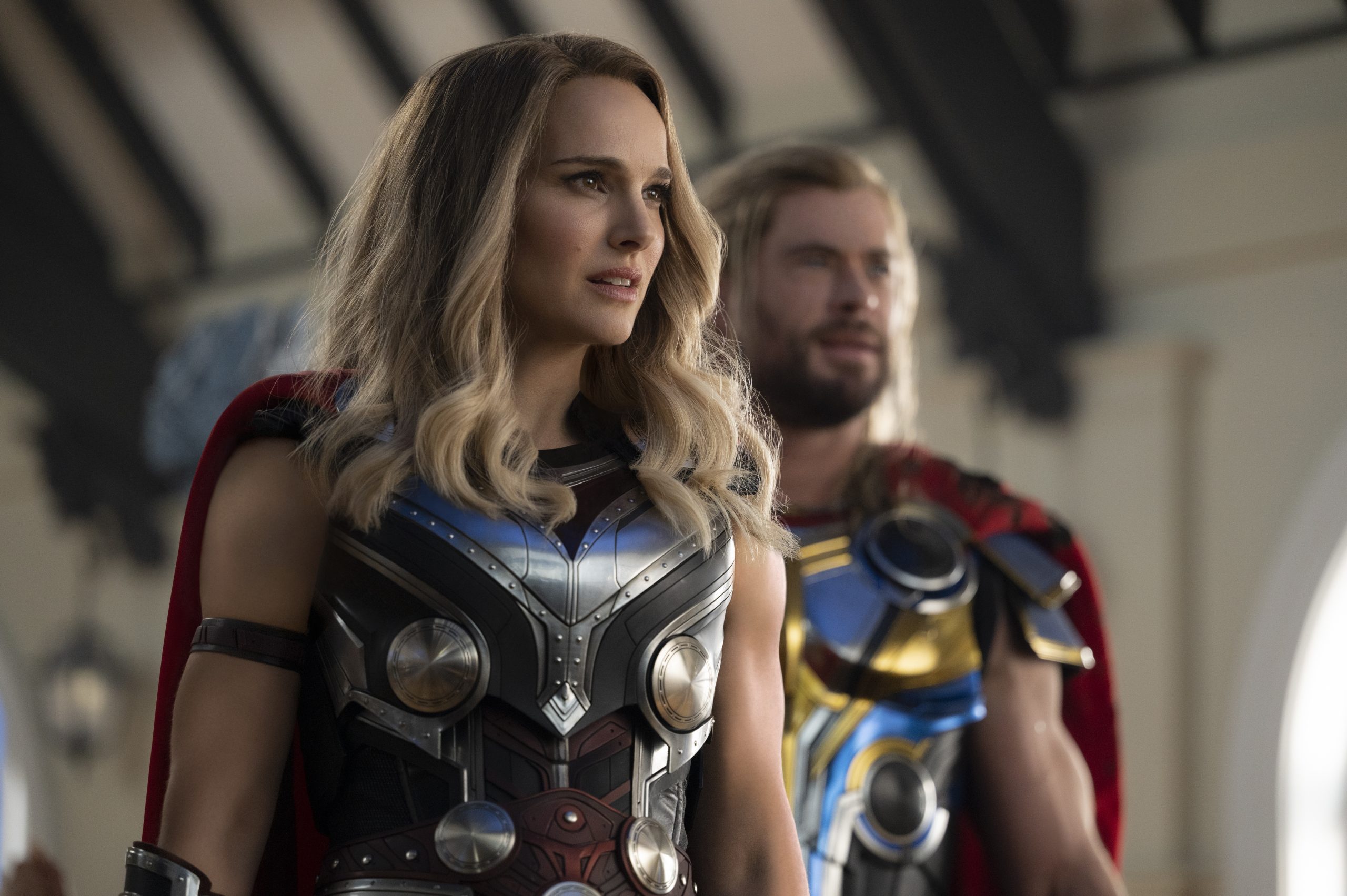 The problem is… Wow, I never thought I would say this about anything in the entirety of time and space but the problem is the humor. There are jokes everywhere, they ambush you throughout the movie like jump scares with grins painted on. It's disjointing. Unlike Ragnarok, where the humor flowed organically with the storytelling and often enhanced it, the jokes in Love and Thunder interrupt the story so often it's difficult to connect. I laughed at the goofiness but I didn't feel the love. There's also so much that doesn't make sense. The math that forms the equation of this plot isn't adding up. You'll find yourself saying things like "huh?" and "but why tho?" in instances when you've been told something and it doesn't pay off in a reasonable way.
And there it is. I humbly request: Fewer Gags, More Lightning! Thor: Love and Thunder is as flawed in its logic as the myths it's based on but, like them, it nevertheless makes a good bedtime story.
In the End: It's a Marvel movie—we both know you're headed to the theater.
Read Julian Lytle's review for more Thor: Love and Thunder thoughts.