Grade: B
Basically: Much like the moon, Billie Holiday is reflected in every phase, from waning to full, with all the light and star flecked darkness in between.
Lady Day.
That voice. Her presence. The pain and the strength. Iconic.
Billie Holiday is so iconic that even the actors who most notably portrayed her are legendary, Diana Ross (Lady Sings the Blues, 1972) and Audra McDonald (Lady Day at Emerson's Bar & Grill, 2014, 2016). And now, in 2021, written by the brilliant playwright Suzan-Lori Parks, and embodied with the intensity and shimmering energy of a supernova by Andra Day, we see a more faceted reflection on the icon known as Lady Day. 
Directed by Lee Daniels and premiering on Hulu on Feb 26, The United States vs. Billie Holiday reveals both flaws and radiance while Andra Day shines diamond bright.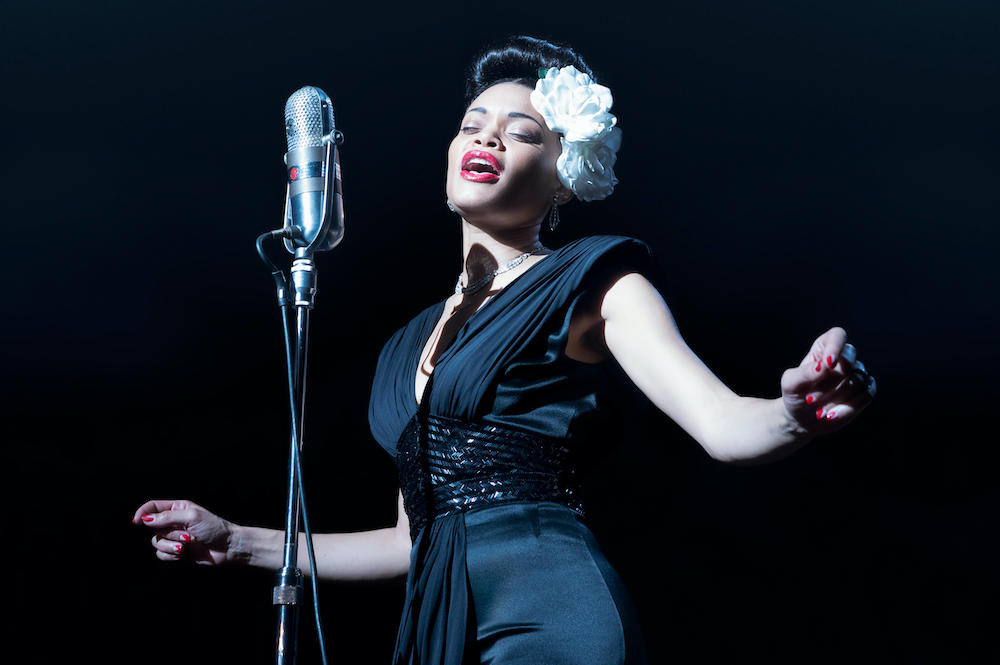 Photo credit: Takashi Seida/Hulu
The biopic is a slice of a particular time in Holiday's life, focusing on the impact of the unflinching realness of "Strange Fruit", a song about the horrors of lynching. But The United States vs. Billie Holiday is also about the ways the audacity of being stellar makes a target out of Black excellence. 
To understand this, one must first recognize that the "war on drugs" began in the late 1930s and is rooted in two opposing ethoses: Billie Holiday's intrepid commitment to telling the truth about American's inhumanity towards her people, and the nefarious ambitions of Harry Anslinger, a federal agent who used racism to fuel a new form of persecution. 
The truth embedded in "Strange Fruit" formed a threat to the control of institutionalized racism and in order to stop it Anslinger and his Federal Bureau of Narcotics had to stop its source — which in his mind wasn't the serial murders of Black Amercans by America; in Anslinger's mind, he had to stop Billie Holiday. And thus she became the symbol of the war on drugs and its first POW (prisoner of war).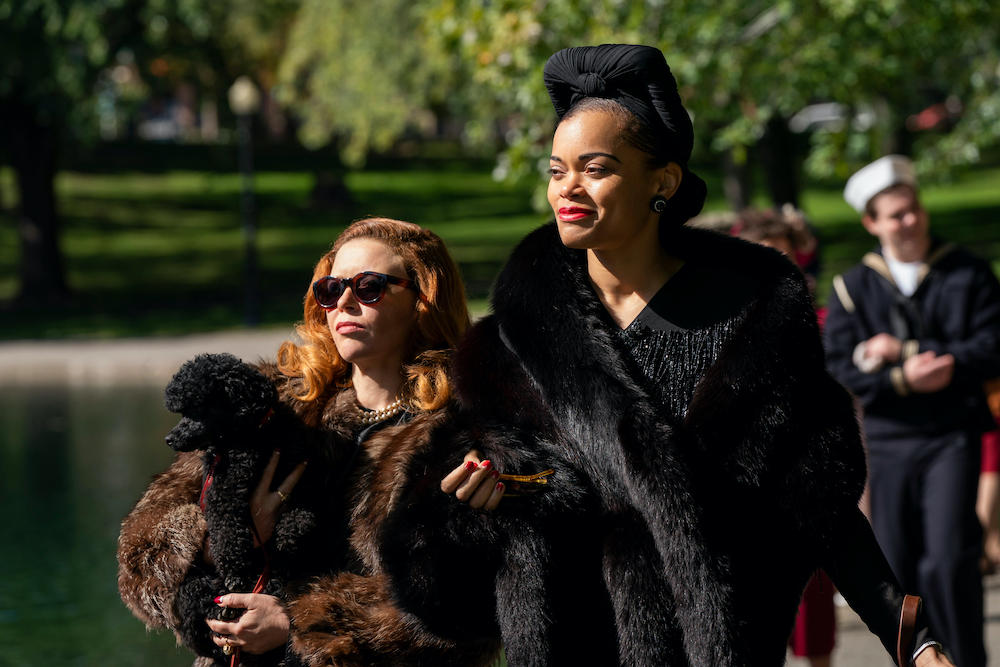 Photo credit: Takashi Seida/Hulu
Although the film reflects a full range of Lady Day's stardom: her addictions to drugs and terrible men, the abuses of her childhood, her bisexuality, and the love she received from those loyal to the woman above the fame—Anslinger's vicious attacks on her character and her livelihood are the core of the story. To tell it, Lee Daniels enlisted the help of Parks, Day, who should win awards and will likely have acting offers pile up around her feet, and Trevante Rhodes, who brings Jimmy Fletcher to life. To tell you more would be a spoiler but Rhodes plays the role with a duality of tender and untrustworthy that makes you believe in him and the humanity within the character's flaws.
I could write a separate piece on how good the cast is. The aptly named Da'Vine Joy Randolph sparkles, as always, no matter the size of the role. Miss Lawrence brings us the sweet yet righteously bitter "tea"', while Tyler James Williams, as musician Lester Young, gives such a quietly impactful performance that some may miss the work he's putting in (but you shouldn't). Tone Bell is shocking as club owner and miscreant (there's no better word) John Levy. Bell gives the character a simmering rage that sets you on edge the moment he's introduced. In the south, the grandmothers might warn you never to trust a "slick man" and Tone Bell definitely makes you believe it. Rob Morgan, in a role also played by Billy Dee Williams in Lady Sings the Blues, and Natasha Lyonne, as star Tallulah Bankhead, both make strong impressions with limited space. And Garrett Hedlund does the work of a villain quite well as Anslinger.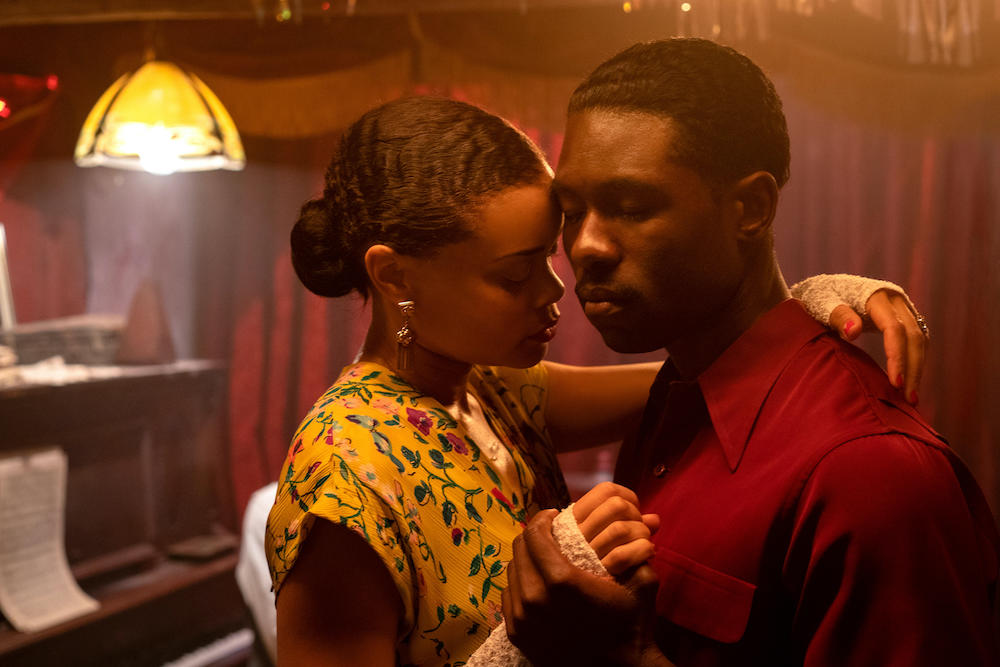 Photo credit: Takashi Seida/Hulu
The film is shot in a palette and style that transports you back to the 30s and 40s, aided by Paolo Nieddu's gorgeous costume design. There is a yellow floral dress with rainbow fringe that I am willing to trade all manner of magical objects for. Visually The United States vs. Billie Holiday is pure elegance, with an insistent pull that continues to grow…until the rope snaps taut.
Based on essays and the book Chasing the Scream (The Opposite of Addiction is Connection) by Johann Hari, The United States vs. Billie Holiday doesn't always strike a resonant emotional chord—at times it feels almost too concerned with putting on a show—and yet it is an arresting film catapulted by stunning performances and a truth as glinting, as sharp, and as lethal as a switchblade. 
In the End: See it. The true impact of Billie Holiday and Andra Day's performance both demand it.
Watch The United States vs. Billie Holiday on Hulu on Friday, Feb 26.