by Sherin Nicole and Sam Devotta
Grade: C / 6.5
Basically: Poetry x Science is the catalyst for true love but time doesn't wait.
Daniel has exactly 24 hours to make the scientifically minded Natasha fall in love with him before she and her family are deported. If y'all have been following Geek Girl Riot for the past couple of years, you'll know that we love—capital L-O-V-E—Nicola Yoon's bestselling YA novel The Sun is Also a Star. We've been swooning over it since it was released in 2016 and the movie adaptation was on our most anticipated list for this year. And then we saw it. And it was good. But it was not nearly as heart-wrenching as the book (yes, we know it's a clichéd refrain but that's because it's often true).
…and what if you haven't read the book? Everything we're about to tell you is still true. You'll enjoy it but you'll have a sense there should be something more—you just won't know what.
Let us break it down for you real quick: Natasha (Yara Shahidi) feels at home in NYC. She moved to America as a kid and barely remembers her birthplace in Jamaica. So when her dad gets hit with a DUI and accidentally tells the cops that he's an undocumented immigrant, the Kingsley family faces deportation. Natasha spends her last day running around the city hoping to find a loophole that will allow them to stay. It's then that she meets Daniel Bae (Charles Melton).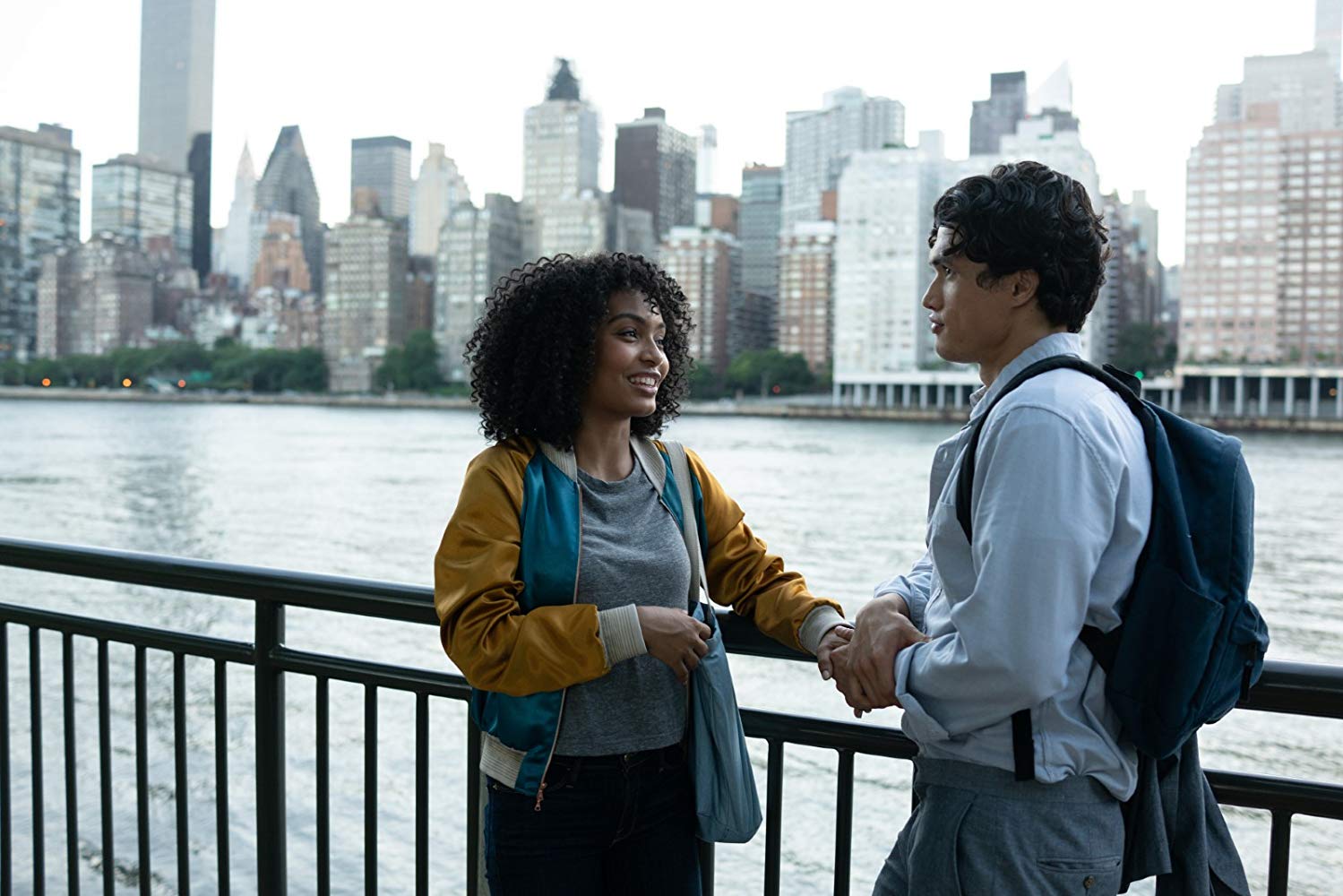 Photo © Warner Bros.
This is a cute movie. From the scenes in the book that readers will be waiting for, to the divergences that will surprise everyone in the theater—Shahidi and Melton have an easy chemistry, they'll make you believe in love-in-the-first-24. The act of following them around becomes a breathless and dreamy pursuit, but there's something about the structure of the plot that doesn't fully satisfy. Rather than building from their meet-cute to a climactic rain of tears, some of the pivotal romantic moments seem out of place and therefore leave you disconnected. It doesn't make the movie any less fun but it does make you want more.
Some of that could be in the way the characters are presented. Oh, Daniel. Book-Daniel was a prone-to-tears poet with surprisingly nice shoulders and a romantic streak. Book-Daniel made us swoon with his relentless questions, his deeply emotional side, and his charming quips. Movie-Daniel is just as emotional and poetic but Melton adds a suave and much more sophisticated side to him. He feels more twenty than seventeen but this extra air of confidence isn't a bad thing—Melton's range of emotions over the course of the movie will endear him to even the most cold-hearted of viewers (with or without Book-Daniel's infamous ponytail). When he's happy, you feel happy. When he's sad, you feel sad. But while Melton does what he can to take Shahidi's heart—his efforts include but are not limited to a mildly cringy-but-meant-to-be-sexy rendition of "Crimson & Clover". Let's be thankful for that disarming smile when he explains their "x-factor".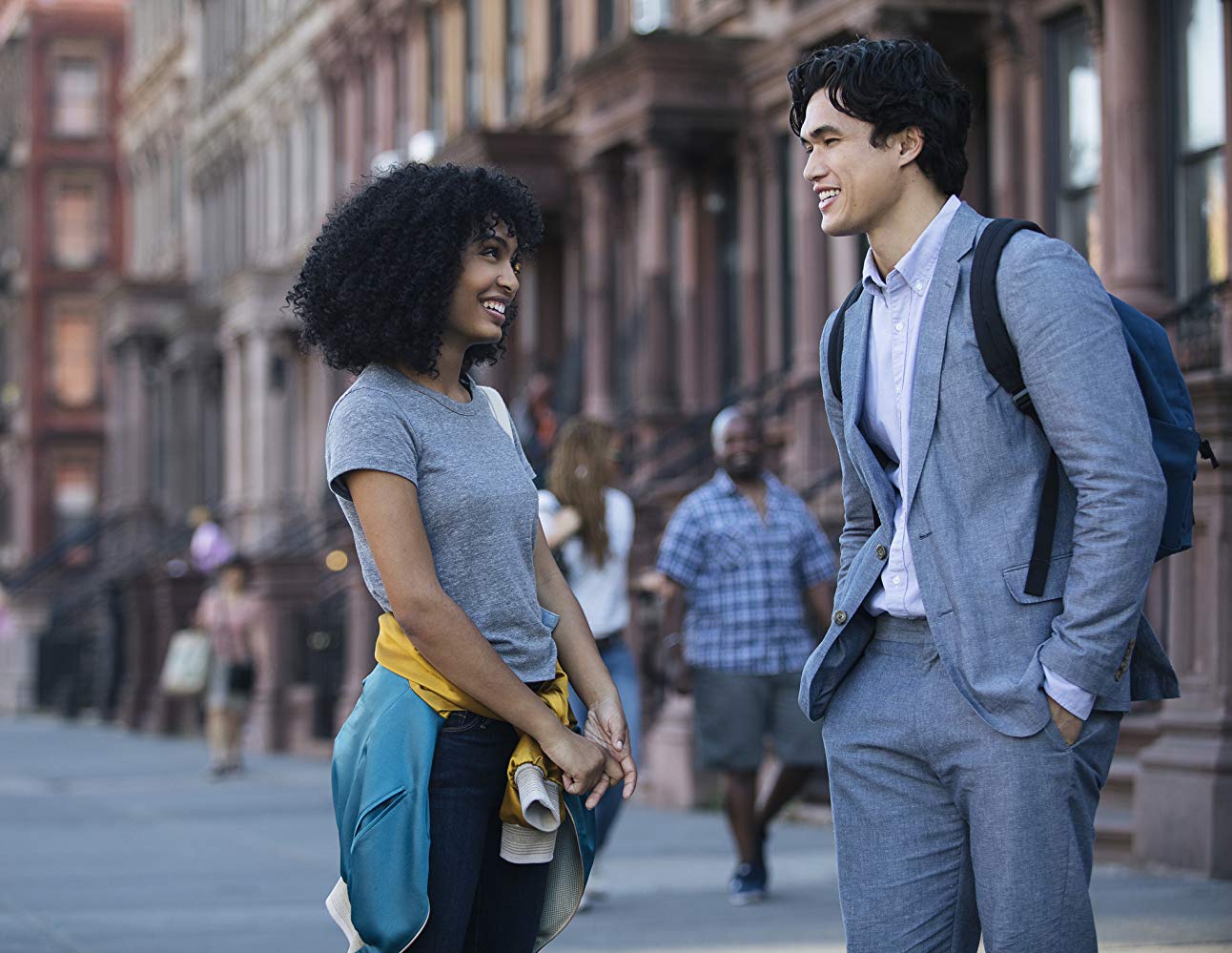 Photo © Warner Bros.
Natasha, oh Natasha. Book-Natasha had a love of science and a hidden vulnerability that made her infinitely interesting. It's not that she didn't have emotions, she simply found it more prudent to push them down. Movie-Natasha doesn't feel as desperate to hold on to the only life she can remember but more entitled. Book-Natasha is fighting for her dreams. Movie-Natasha simply seems angry (with good cause) that things aren't going her way. Perhaps it's because her father isn't quite as culpable for their ejection from the country as he was in the book, and that frames her rage as more rudderless and less urgent. Shahidi is as charming as ever but Natasha has a distance we never seem to get past. No matter how close she and Daniel become, for us, she always seems just out of our reach.
Like we said, Shahidi and Melton have great chemistry. But the structure of the movie sometimes makes it fall flat. Maybe it's the difficult task of condensing so much story into 100 minutes, or maybe the age difference between the actors (Melton is 28 while Shahidi is 19) prevented them from being as comfortable with each other as they could have been, but the film never quite reaches the emotional heights romance lovers crave.
However, another thing that does make the movie shine is the location. The fact that it was filmed in New York City makes it more vivid in a way. The iconic landmarks put you right into the story—Grand Central Station, for example, is at the crux of an important scene.
In the End: This one is well worth watching, just skip the kleenex and ice cream and go straight for the popcorn and ginger beer.