Basically: A brutal but beautiful fairytale about the freedom of living on the fringe.
Guillermo Del Toro's The Shape of Water finds its heart in people on the edge of society's awareness: cleaning ladies at a clandestine facility, a sleeper agent, a government goon, an ostracized illustrator, and a displaced river god. Each of them is often ignored, trod upon, or pushed to the side by the mainstream; it's in these outer edges that Del Toro's love story of a fairytale foundling and a mythic monster thrives.
When it begins, The Shape of Water is very much like Jean-Pierre Jeunet's Amélie. The heroines of both films (Elisa and Amélie) share their sense of whimsy, a fragile artist for a neighbor, their haircut, their liberated stance on sex, and their harsh but ultimately magical worlds. For Elisa, the world is 1962 Baltimore—yes, it's B-more and it's still magical. Elisa (Sally Hawkins) gets up every morning and goes through the exact same routine; one that reveals the "scars" on her neck and an addiction to boiled eggs. We also learn she is nonverbal and communicates through her own form of ASL (American Sign Language). Her kindness is evident early on when she makes breakfast for her neighbor Giles (Richard Jenkins), a lonely commercial illustrator who adores movie musicals and has been pushed out of his office for being gay. Yup, it's 1962.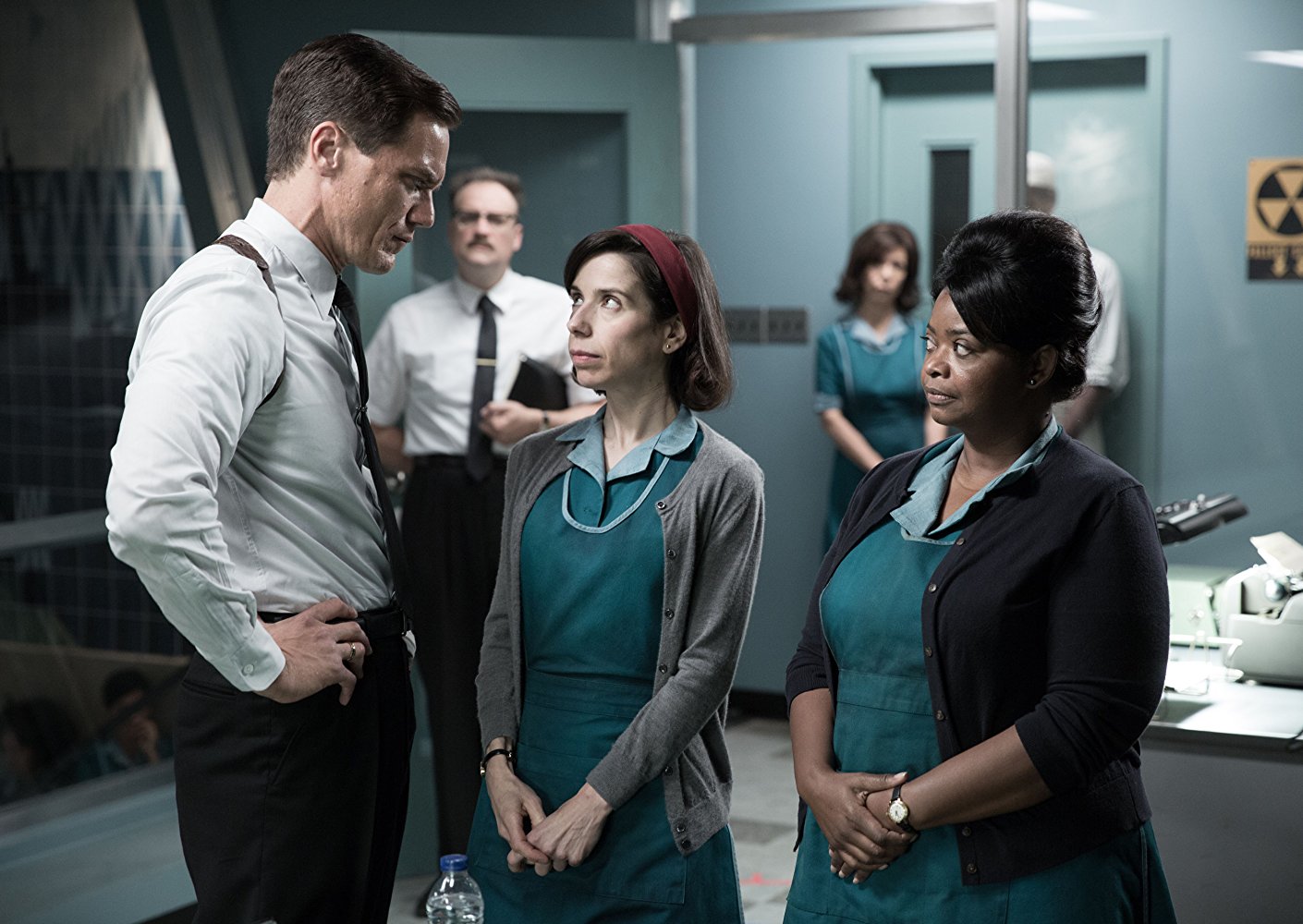 We follow Elisa to her job as a cleaning lady for a government facility full of scientists doing…we don't know what. Elisa is partnered with the vivacious and highly-verbal Zelda (Octavia Spencer). Their teaming is all about opposites and they seem to balance each other in ways that makes life better for them both. Of course, Richard Strickland (Michael Shannon AKA the previously mentioned goon) comes along to play the perfect "evil queen" of the story. One day Strickland escorts a large capsule filled with river water into a lab that Elisa and Zelda clean. Elisa immediately notices there's a living creature inside and the creature immediately responds to her. The connection is something the lead scientist Dr. Robert Hoffstetler (Michael Stuhlbarg) see but files away for more observation.
As the catalyst of the story, Strickland turns out to be the true monster (that's not me being cheesy, that's literally the point). He's angry about being sent to Baltimore, so he's angry at the Amphibian Man (Doug Jones) he's been assigned to research. His abuse of the creature leads him to lose a couple of fingers (it's hilarious and awful) which of course makes him more angry. Strickland turns out to be a Mad Men cocktail of violent, misogynist, and racist. Yup, it's 1962.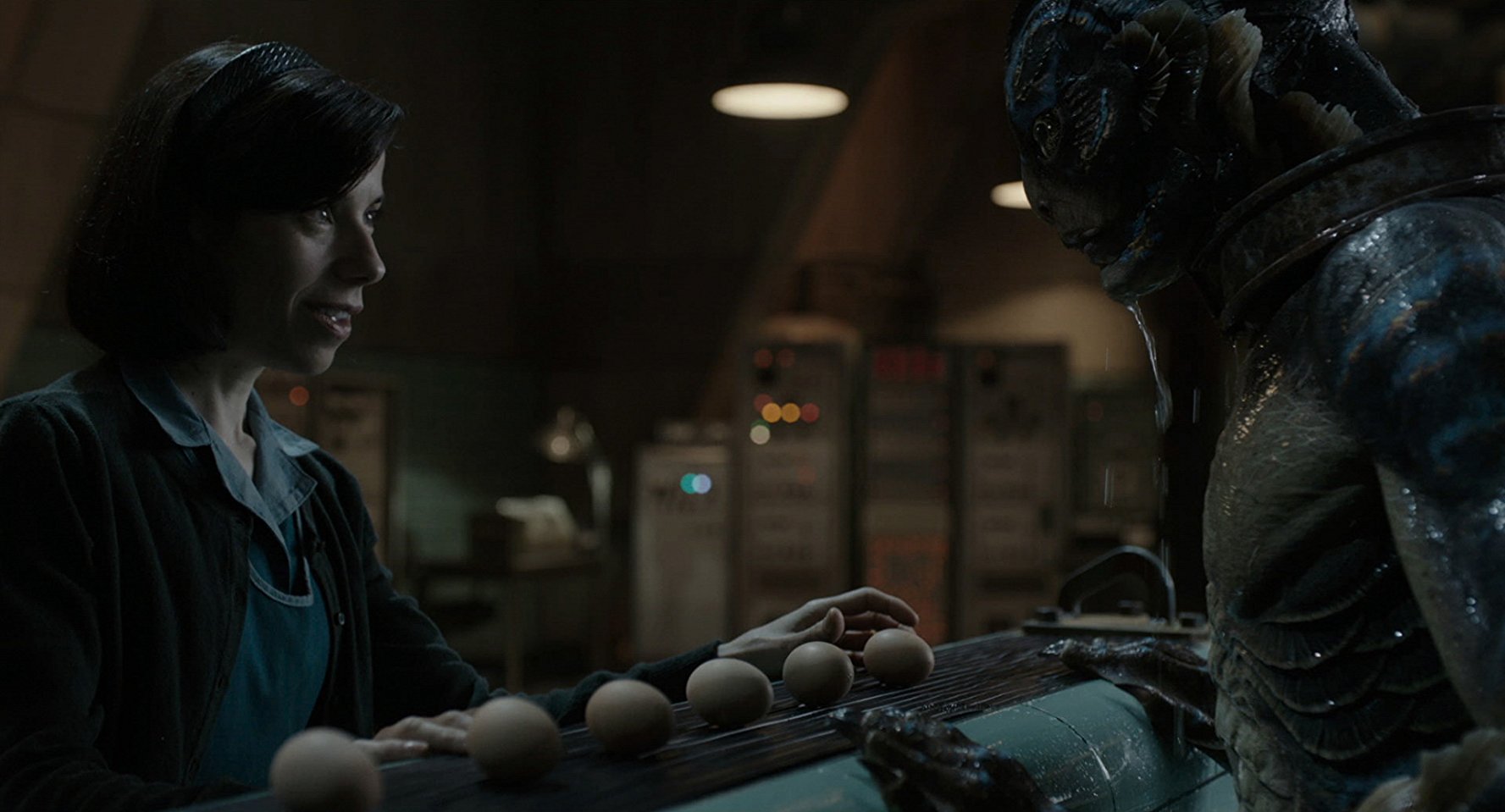 Meanwhile, Elisa finds little ways to bond with the Amphibian Man. They are alike in their silence, in the way their feelings are disregarded, and that they both come from South America—Elisa was found on the banks of a river. They share their addiction to eggs and to music. And we realize, although it isn't fully revealed until later in the film, that their connection goes much deeper.
When the life of the Amphibian Man is threatened we get the most outrageous version of The Great Escape we've seen since Chicken Run. But the thrill is watching these people on the fringe rise above their disappointing lives and learn they are extraordinary after all…
The Shape of Water is a deeply lovely film. There are times to laugh. Times to squeeze the arms of the chair. Moments to feel warm and fuzzy. However, while Sally Hawkins is wonderful as Elisa, this was a missed opportunity to hire a disabled actor. Hollywood constantly "cripples up"—it's dismissive and discriminatory.
As I said, The Shape of Water is a lovely film. I enjoy Del Toro's work most when he weaves dark and twisted, fractured fairytales like this one, Pan's Labyrinth or, yes, his Hellboy movies. Despite the violently bloody aspects of each of these films, Del Toro has a way of immersing us in the fantasy, the world seems to flow out of the screen and fill the theater, making us a part of the story. There are even stunning parallels to the current American political climate. Yup, it's 2017.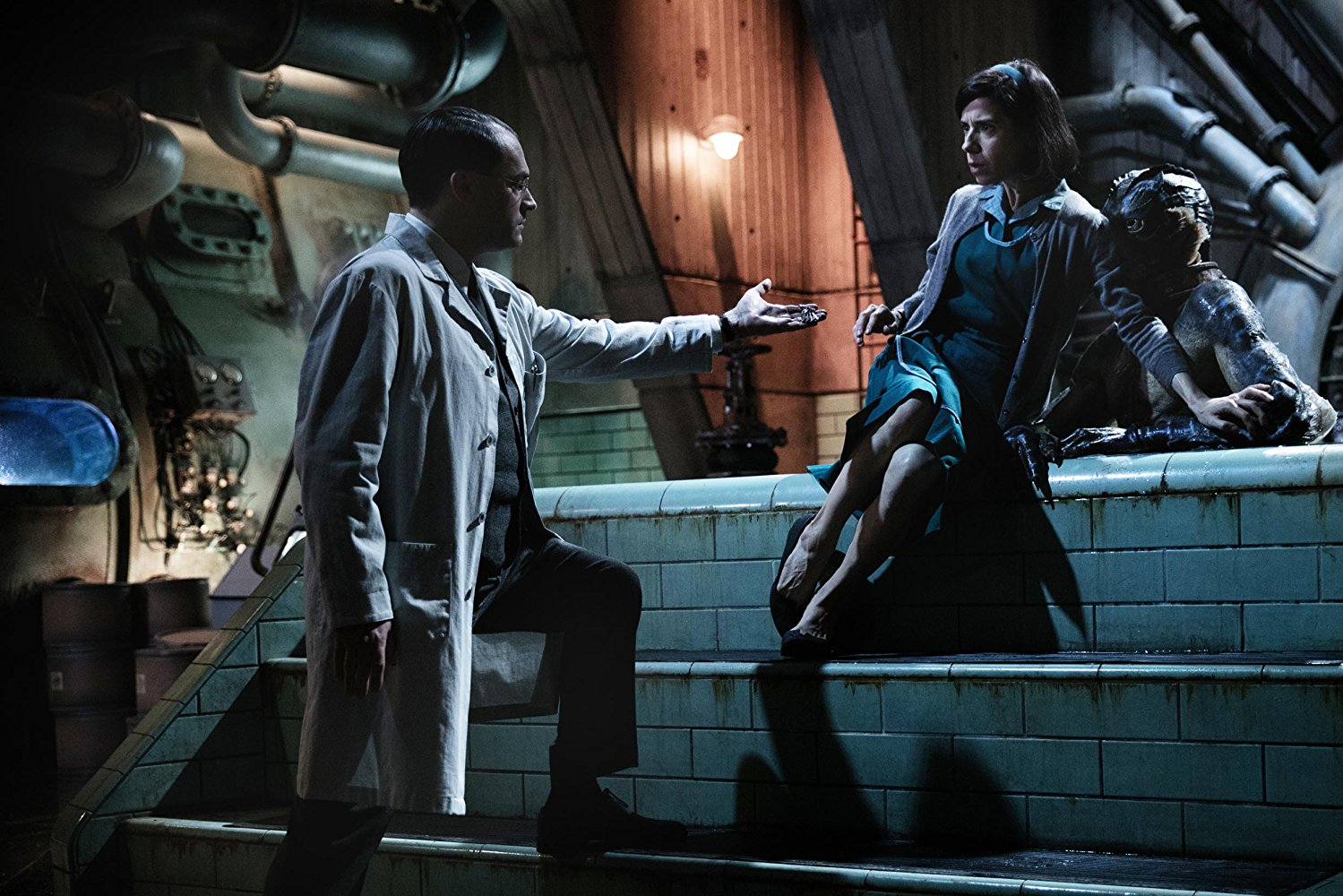 Del Toro is also a genius at casting. Everybody comes to the table with their game faces on—each is a character actor who creates characters we don't forget. If I had to pick a standout it would be the entire cast. They deserve a SAG Best Ensemble Award because they're flawless.
The Shape of Water is not without faults—at times the blood and torture are overkill, and the Amphibian Man never quite becomes a character—but it is a delight.
In the end: Go see 'The Shape of Water' for the inspiration of the American people winning against evil government plots, and to watch Russian collusion fail…  See 'The Shape of Water' because we adults need our fairy tales too.