Actually: 8.5
Basically: Robert Redford takes one last time on the screen being the charming lead actor he's been his whole career.
The Old Man & The Gun is the OG Robert Redford's last film, as he stated he's retiring from acting, and I must stay he's going out in style. This movie is billed as a crime comedy but it's more like a classic romance. The story is based on an article in The New Yorker about a man named Forrest Tucker who was a career criminal and a genius at escaping prison. Redford plays the aforementioned Tucker with a sly grin and charming wit that reminds you of cinema's past more than anything we see now. He's a gentlemanly old thief who can talk his way out of a bank with as much money as he can carry. Sissy Spacek plays Jewel the woman who catches Tucker's eye after a successful robbery. The two have one of the best meet-cutes I've seen in a long time; these veteran actors know how to portray give-and-take, all the while getting to know each other over a piece of pie, and you'll never get tired of it. On the opposite end is Casey Affleck portraying Detective John Hunt who ends up going after Tucker. Hunt's time at work is countered by his time at home with his wife Maureen (Tika Sumpter) and his children, who he makes time to be around.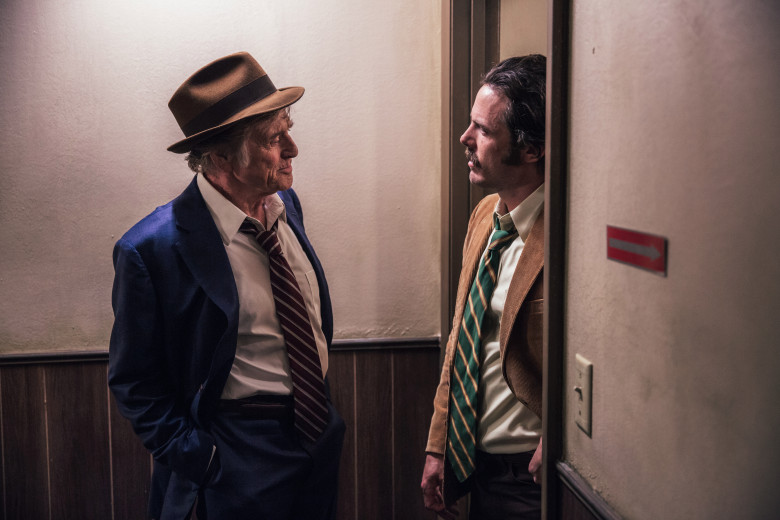 Photo: Eric Zachanowich
A lot of the The Old Man & The Gun revolves around these two romances and how they push and change Tucker and Hunt as they circle around each other. Redford is also winged by Danny Glover and Tom Waits as the members of his crew. They don't have much dialogue but what they do have is full of character. The same can be said of John David Washington—who's having a great year—as Hunt's partner Lieutenant Kelley. He is a joker compared to Hunt's always disheveled and tired demeanor. The film feels very intimate, with only a few characters given the most onscreen time. Which leaves a lot of the performances up to the actors' facial expressions and the charm of Redford. This is also accentuated in how the movie was made, it was shot on film and processed to look like film stock from the early 80s movies. They even add in some texture for a film projector quality,  which is something you'll be hard pressed to see these days with digital projection. All these things pulled together with a good script to give us a delightful film that is a perfect send off for one of cinema's greats.
In the End: A throwback caper film filled with great performances from legends and new greats.