by Sherin Nicole and Alex Bear
idobi Votes:  6.5/10 – Sherin Nicole | 7/10 – Alex Bear
Basically: This is a break up! …no wait…a hold up! …no wait…can the real murderer please stand up!
The Lovebirds is a re-rom-com. You know, a reverse romantic comedy. One where everything falling apart is where it all begins. To get there we fast-forward through the beats of most rom-coms. Two people—Leilani (Issa Rae) and Jibran (Kumail Nanjiani)—meet, there's instant attraction, and then there's insta-love. But that's not where the credits roll. Instead we jump forward to a torrent of arguments and insecurities, when the things that used to amaze them about one another have turned into annoyances. Breakup imminent.
Crash! A cyclist collides with their car in the middle of "the talk". Cue screaming and confusion…until the guy gets up and pedals off in a panic. Then a cop runs up and commandeers their car, which sets off a cyclist vs. car chase. Leilani and Jibran get taken for a ride that only gets wilder and wilder and more complex. We're talking bacon grease torture, angry horses, sex cults, hacked phones, unicorn finery, milkshake monologues, and moustache murder. Whew, we'll give a moment to catch your breath—because they never stop arguing along the way. Well, not never.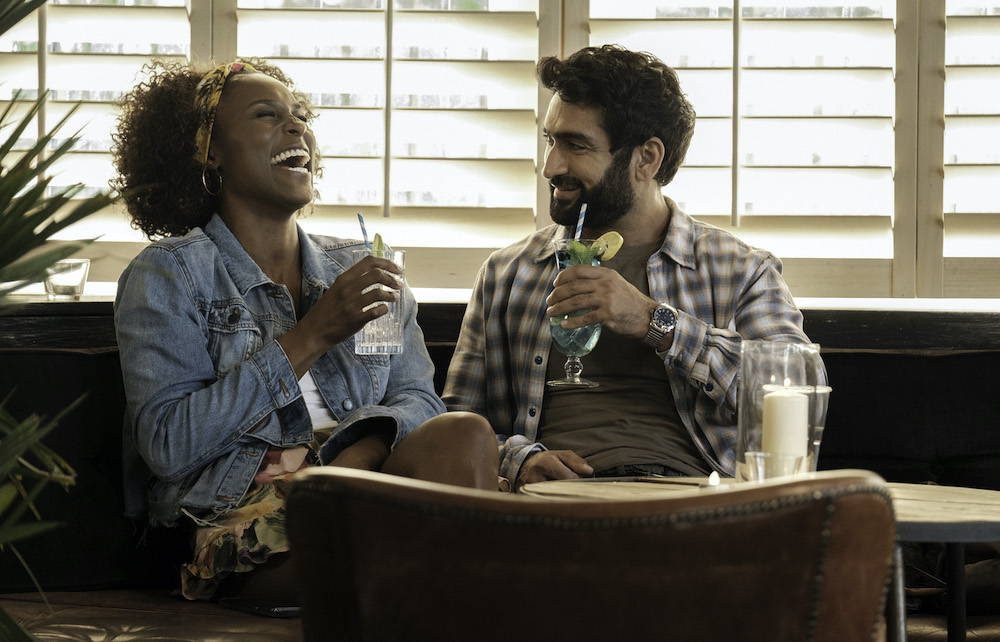 Photo: Skip Bolen/Netflix
Hmm, time for an edit. The Lovebirds is not only a reverse romantic comedy, it's an action-adventure-re-rom-com…and, well, cheers to that cocktail. Issa Rae and Kumail Nanjiani are hilarious as they bounce off each other, never missing an opportunity to get in a snide comment (even if they're doing it to hide other emotions). The giggle-worthy moments are high and it's a fun ride throughout, especially when you factor in the cadre of quirky criminals or the just-plain-weird-folks they run into along the way. Shoutout to the ever delightful Anna Camp
who plays the completely bonkers and slightly gangster political spouse so
incredibly well. 
It might seem odd but liking this movie was not a given. While everyone else went mad for the trailer we only shrugged and said: Let us see. And we did see, but more than that we laughed. We laughed a lot. There's a ridiculous chemistry between Rae & Nanjiani and the pure zaniness of the plot makes The Lovebirds very good medicine. It's been proven to cure headaches. #truestory. Yet, far beyond the giggles, this comedy exposes so many of the misunderstandings, words unspoken, and insecurities that cause relationships to wobble—and the sincerity in those wobbles
is hilarious.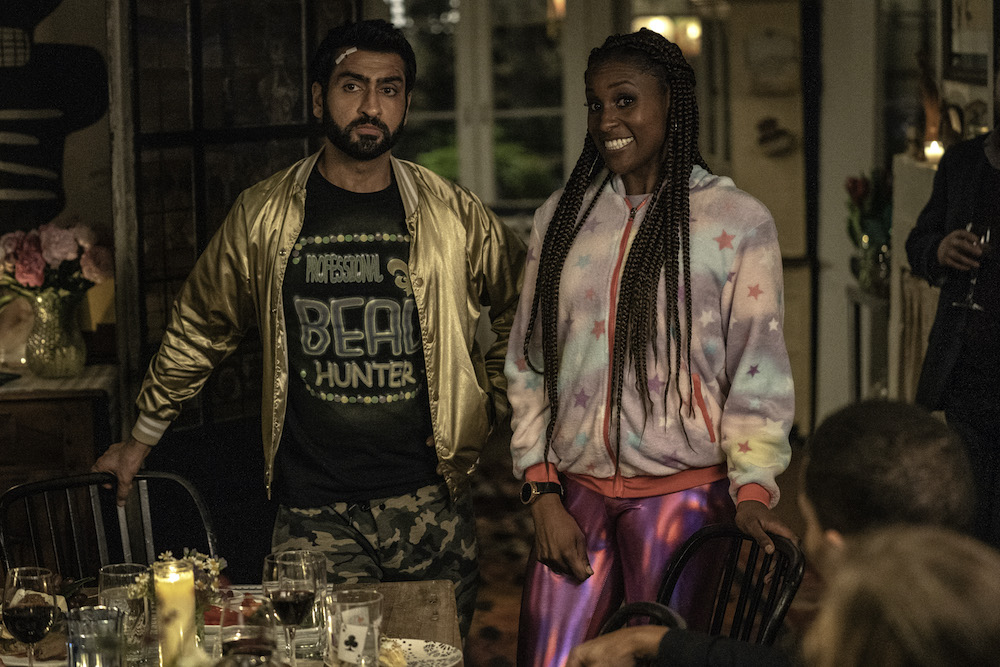 Photo: Skip Bolen/Netflix
Yep, we laughed so hard but The Lovebirds is also insightful into how humans can get so caught up in the little things, they don't see the big picture. Whether it's Leilani and Jibran's friends, who easily buy their excuses about massive bruising or Leilani and Jibrani themselves, who continuously get themselves into trouble because of their inability to STFU combined with their social anxieties. Okay, so yeah, black and brown people might hesitate to call the police when their car just happens to rollover a hipster. That's real.
In the End: The Lovebirds is a wild action comedy with a big ole ridiculous heart.