Basically: It's the Lion King but it looks real. 
So it's July and we're on our third—yes third—Disney remake of the year. While Aladdin is still in theaters singing about whole new worlds, Jon Favreau is getting ready to release his version of The Lion King. Now, this film has been marketed as live action which really is a stand-in term for photorealistic. Everything is animated just like the original except this time it's done by computers instead of human beings holding pencils. For most people that is fine—to them it is real because it looks real, kind of like a person believing a Bob Ross-like nature painting is better than a Picasso cubist portrait. 
For the few who might not know this story, The Lion King is about a young lion cub named Simba (Donald Glover) who is the son of Mufasa (James Earl Jones), king of the Pridelands. Simba looks up to his father and wants to live up to his name as the future king. However Simba's uncle, the scheming Scar (Chiwetel Ejiofor), plots to overtake his brother Mufasa and his nephew Simba to become king himself.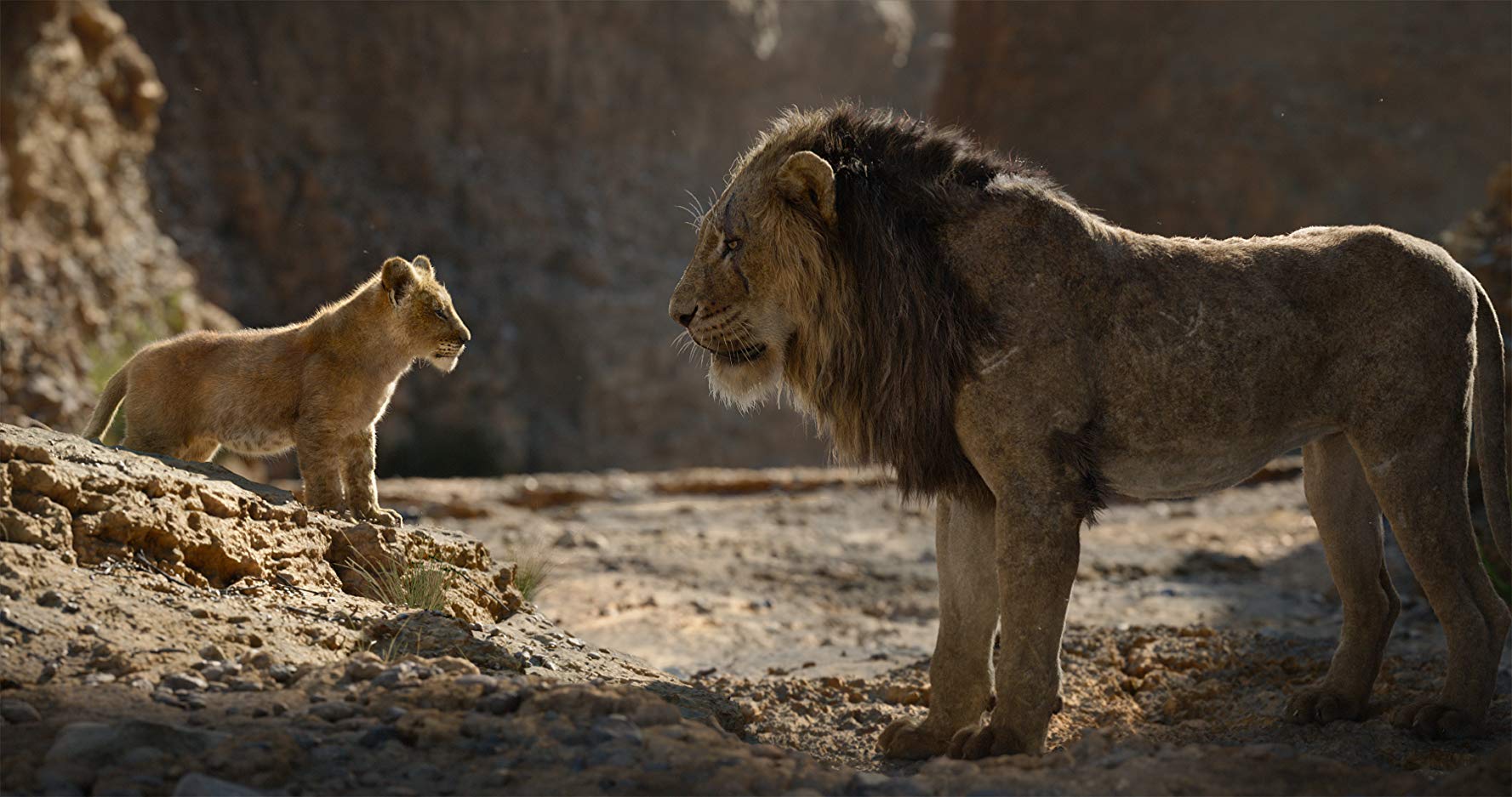 Photo © 2019 Disney Enterprises
Now, what makes this The Lion King any different than the 1994 version? Honestly, not much at all. The very beginning is a 98% shot for shot remake—except everything looks real. From there the film pretty much follows the original beat for beat, scene for scene and, at times, joke for joke. While this can be pretty boring for some, it might be exactly what others want. As for myself, if I wanted to watch the same film I'd just go watch the old one again. 
There are a few parts and characterizations that are different—but not unfamiliar—as this version also took some things from the equally popular 1997 Broadway show. The stage adaptation already did a lot of the grunt work of turning the original story into a longer tale. The 2019 movie doesn't have many surprises and most of my time watching was spent figuring out: Does this movie work visually? The film looks impressive. It actually improves on the visual fidelity that was last seen in The Jungle Book. It's amazing that The Lion King was filmed on a soundstage and ended up with such quality.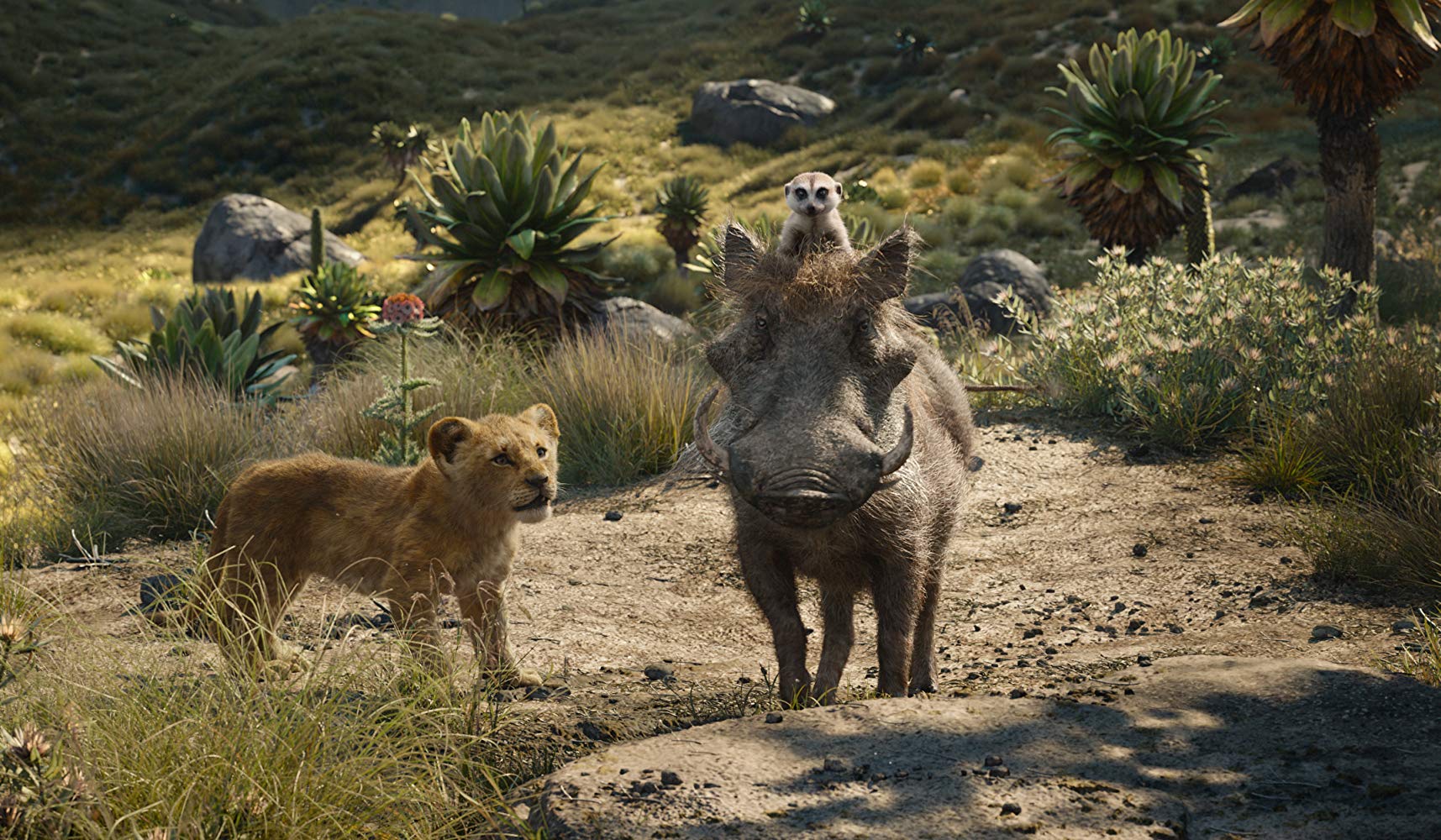 Photo © 2019 Disney Enterprises
But that quality can also be a problem. The film has the feeling of a Disney nature film or one of those BBC wildlife documentaries that's made in the highest definition possible. It leaves parts feeling cold and the animals' lack of facial expressions takes away some of the emotion—a few scenes don't hit as hard as the original's old drawings. With all the characters being animals—and, on top of that, lions—you also don't get much diversity in character looks until halfway through when you meet Timon (Billy Eichner) and Pumbaa (Seth Rogen). This differs to The Jungle Book where you had a great array of animals that interacted with the human character of Mowgli. There's a lot more pressure on the vocal cast to really emote and, for the most part, they do excellent jobs. Hearing James Earl Jones return to his role of Mufasa is great even though he's basically saying the same exact lines from twenty-five years ago. Chiwetel Ejiofor does a fantastic job as Scar which is saying a lot following Jeremy Irons' classic performance. Seth Rogen and Billy Eichner really stand out as Timon and Pumbaa, they make these two characters their own. 
Should you see this movie? There really isn't much to see here that's new. The Lion King is so much more of the same that it feels like just a cash grab. The filmmakers involved did an amazing job with what they made visually but, in the end, The Lion King feels a bit hollow and soulless—but I might just be old and love hand-drawn animation too much for these changing times. 
In the End: Another remake that is made at the Disney level of craft but at the cost of originality and soul.