Basically: A trio of friends go to illegal means to have the American dream…oh, did I forget to say it's 3 housewives in 1970s NYC?
We're now in the world of peak comic book adaptations but, for the most part, it's been superheroes in the battle between Disney's Marvel and Warner's DC. The one thing DC has that Marvel doesn't is stories that have nothing to do with costumed heroes. One of those stories is the basis for the film we're talking about now, The Kitchen. It stars Melissa McCarthy as Kathy, Tiffany Haddish as Ruby, and Elizabeth Moss as Claire—the wives of a crew of Irish gangsters. When their husbands get locked up after a job gone bad, the three women have to find a way to make a living without the support of the local gang. Having no luck getting a job because of, you know, the patriarchy these industrious women take it upon themselves to take over the responsibilities of their husbands. You know, racketeering and that gangsta $#!+. They become rabble-rousers and seek to upend the status quo to the dismay of the men in the game.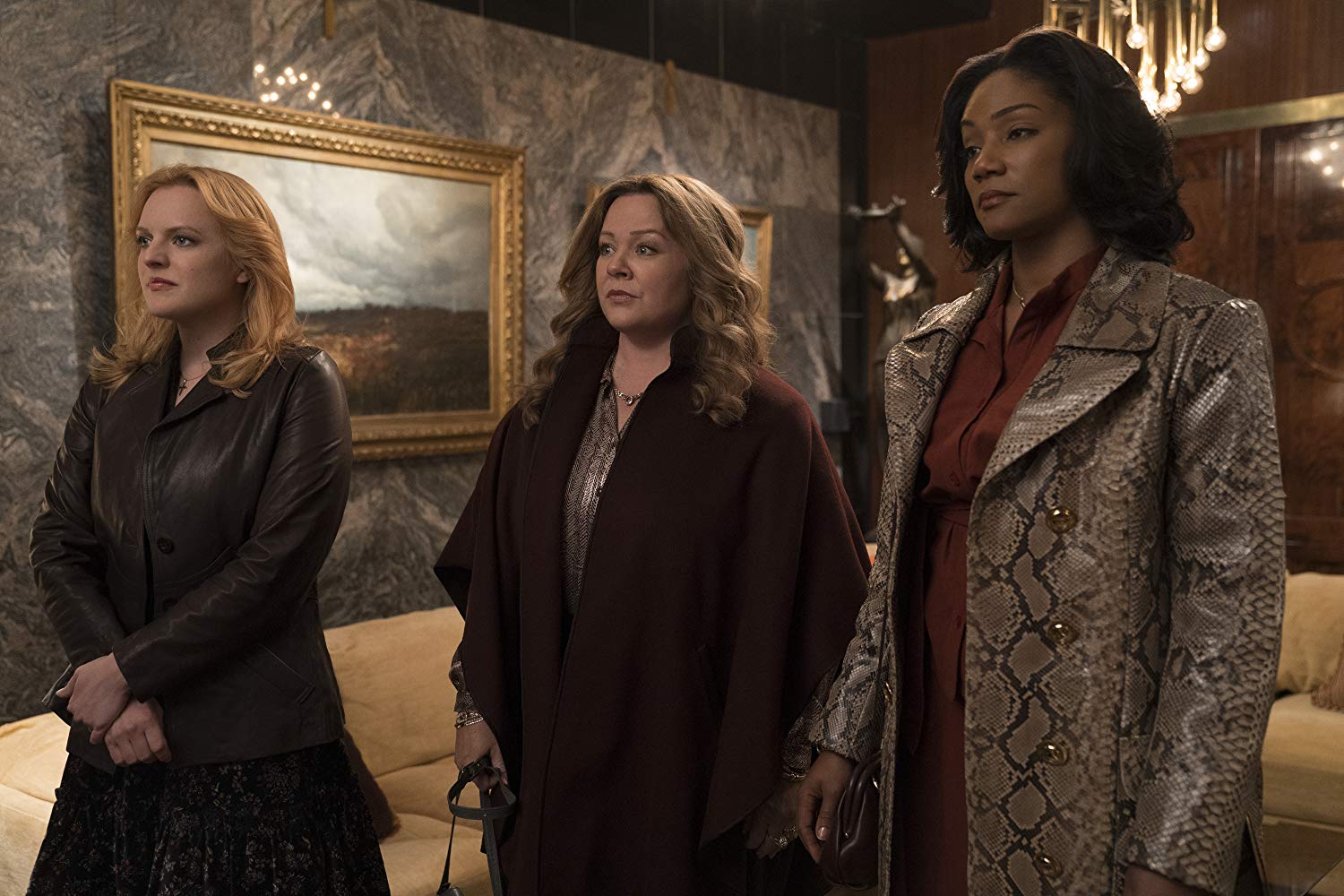 Photo by Alison Cohen Rosa - © 2019 Warner Bros. Entertainment Inc.
So let's get it out of the way, this isn't a new type of story at all. You've seen movies like this but it is a decent crime movie. Now, crime films have some high highs and some low lows and that's why this movie is kinda in the above-average range. That doesn't mean it's not good. It is pretty daggone good. The performances of the leads hold it all together, with each one hitting a known archetype but rising above with their charisma and with good chemistry. The three leads standout, although it is Haddish who, until now, we haven't seen with a serious performance. She plays Ruby as a woman who is truly dangerous—she's always seething in hate and resentment at the predicament she's been forced into up until this point. Moss also does well, playing Claire as a fed-up woman, tired of being a victim, who completely changes. Especially when Domnhall Gleeson's Gabriel shows up as an assassin Romeo for her to fall in love with and learn some new skills from.
The hair, makeup, and costuming, along with the setting does well to make The Kitchen look and feel like late 70s Hell's Kitchen and they allow you to settle into the world. Of course, since it's a period piece, they have to use the hits from that time to dial-in "when" we are. But the soundtrack is never obnoxious. The film also does a good job at using some shots and camera movements, reminiscent of films from then, to try and make the movie look a bit like film used at that time. It's not totally successful but it's good they gave it a shot.
In the End: The Kitchen is a good late summer crime movie and a different type of comic book movie (that most won't think is one).