Basically: A young gay man goes through many trials once he joins the US Marine Corps during the early years of the War on Terror.
It takes a lot to be surprised by films, especially in the war genre and its subgenre, the basic training movie. Yet The Inspection, from debut feature film writer/director Elegance Bratton, is based on his life. I've never seen a story about a gay male signing up for the military and the struggles that come from it.
Jeremy Pope plays Ellis French, a young gay man living on the streets who decides he needs to change his life with some structure. So he signs up for the Marines. Even though he meets the requirements, the rest of his company and Sergeant figure out Ellis is gay, and the hazing gets worse. Like in any basic training film, Ellis overcomes these setbacks and is accepted to a point by the others. Pope does a great job at drawing you into Ellis' character. He's good at showing both big and subtle emotions. There's natural charisma there.
Other standouts include Raúl Castillo as Rosales, the only higher-ranked officer who treats Ellis nicely. Along with Bokeem Woodbine as Leland Laws, the bully sergeant with the right amount of stereotype and nuance, which is fun to see. Woodbine has been killing it in every performance in the last decade.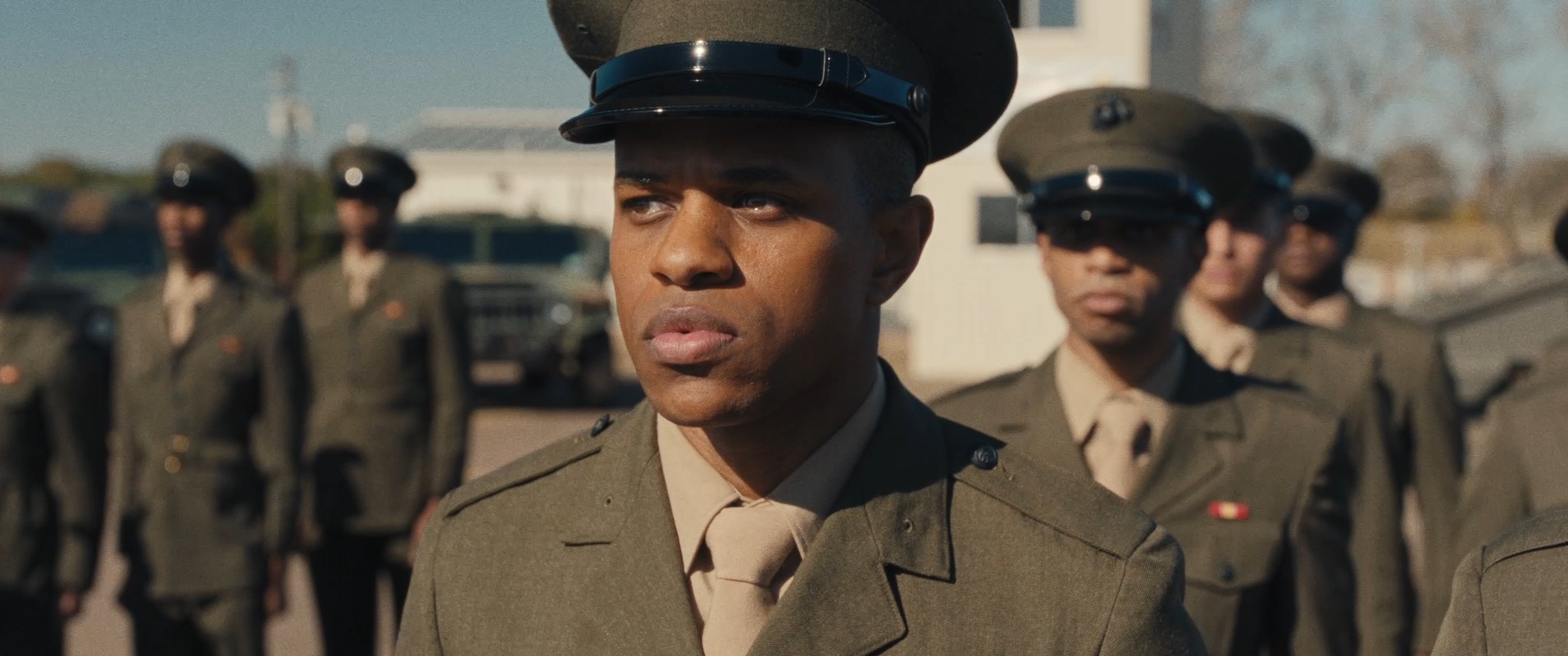 Then there is Gabrielle Union as Ellis' mother, Inez. It's easy to spot that she's a mother who doesn't support her son's lifestyle and is shown to be quite the monster. In some ways, the heel turn is a bit more drastic than I would like, and Union kind of falls into her late 90s/early 2000s rival persona she had in romantic comedies. It's hard to describe but Union would often play a lot of evil vixens or the cold "shrew" character and some of that energy is here. It could be effective as you have some hope at first that she's not terrible even though she doesn't support his lifestyle—but you might think, oh, she's human and is a mom in the end. So while the performance doesn't work for me completely in the film's structure, it might end up working the most for audiences.
I can't say the score or the sound really stood out. Bratton's camera does great with close-ups, letting the actors act. I also like how The Inspection handles Ellis' daydreams and how it starts to bend reality, and you don't know what is happening. It could be disorienting for some viewers, though. 
In the End: The Inspection is a well-done new story in a well-worn movie subgenre with a great performance by Jeremy Pope and a solid debut from filmmaker Elegance Bratton.