Basically: The Purge for the red state/blue state divide.
I'm betting most of you didn't know there was a controversy about The Hunt but there was. It was supposed to come out last year but more right-sided members of the internet and media chose to turn this movie into a cause. Along with the mass shootings that happened last fall, these protestors were successful in getting Universal to delay its release. Now that some time has passed Universal has
decided to put The Hunt out in a fairly slow week before things start ramping up
(or might not because of the health crisis affecting the world and therefore the
movie releases). 
Blumhouse—a studio known for economically smart horror filmmaking—is behind this story by Damon Lindelof and Nick Cuse (who are the folks behind the amazing Watchmen series on HBO). Directed by Craig Zobel, The Hunt is similar in tone to the later Purge films. In this world a group of strangers—who all come from the more far-right red-state areas of the country—are kidnapped and gagged. They wake up in the woods and are drawn to a huge case full of weapons in the middle of a field, much like in the Hunger Games. The group are soon attacked and hunted down by mystery assailants.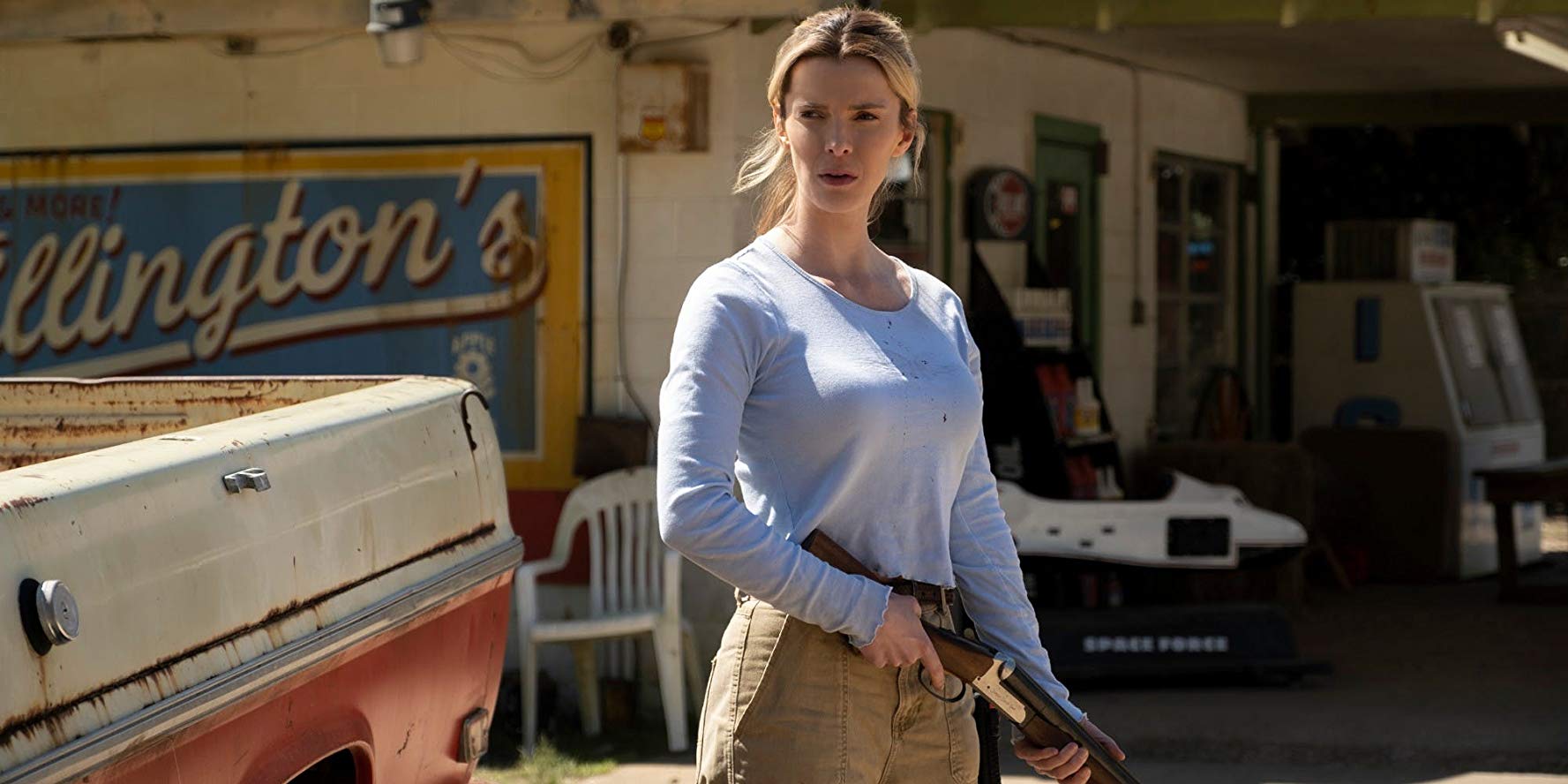 Photo courtesy of Universal Pictures
Let's be clear: The Hunt is satire and plays with politics in a way that's open and not subtle. The movie feels like 70s grindhouse cinema, using a concept much like The Most Dangerous Game but with a new setup for conflict. It utilizes the ideology and assumptions of conservative people as well as assumptions of the liberal elite to turn movie into a class battle. Betty Gilpin plays Crystal, the main character and hero of this story. She does well as the smart stoic lead of few words and it's really good to see. Gilpin is great at it. The film also uses their bigger stars well as red herrings—don't get attached to anyone because they last about as long as a player does in a Call of Duty match. The violence is perfectly over the top with full-on gore and guts. Eyeballs get pulled out and people are blown in half while insults like a "snowflake" and "social justice warrior" are used throughout.
After watching it, I find it weird that anyone took The Hunt seriously enough to get angry over it. Even if it wasn't real anger and just used to exploit things, I honestly think they'd like this movie. The liberal elite villains are some of the best cartoon-like rich people you've ever seen. They're great at making you eye-roll at their overly sincere concern about the environment and climate change…yet they're fine with hunting people down for fun. The leader is played by Hilary Swank with passion and fervor—clearly she wants to be in a superhero movie as a bad guy. The mirror of Swank's Athena and Gilpin's Crystal is apparent but also satisfying. 
In The End: The Hunt is a fun movie to watch even though you might side-eye the concept at first.