by Wil Walker
Grade: D
Basically: An attempt to make the stock exchange go faster made for the longest two hours of my life.
My weekend was spent suffering through The Hummingbird Project, directed by Kim Nguyen mumbling, "Stop trying to make fetch happen". The quote, from the 2004 teen cult comedy Mean Girls, perfectly describes my misery. I pleaded with my editor for a quick and painless death but she insisted that I push through. So, I did my best.
Nguyen's attempt to create a Herculean race between humanity and corporate greed only yields a pile of fractured ankles. Enter cousins Vincent (Jesse Eisenberg) and Anton (Alexander Skarsgård), who hire Marc (Michael Mando) to lay a fiber-optic cable from Kansas to stock exchange servers in New Jersey. Their hope is to gain an advantage over traders without alerting their wealthy ex-employer, Eva Torres (Salma Hayek). I started the film expecting a Wolf of Wall Street meets Ocean's Eleven fueled heist. Yet, as the credits rolled, my only thought was: All of this to save a millisecond? Why?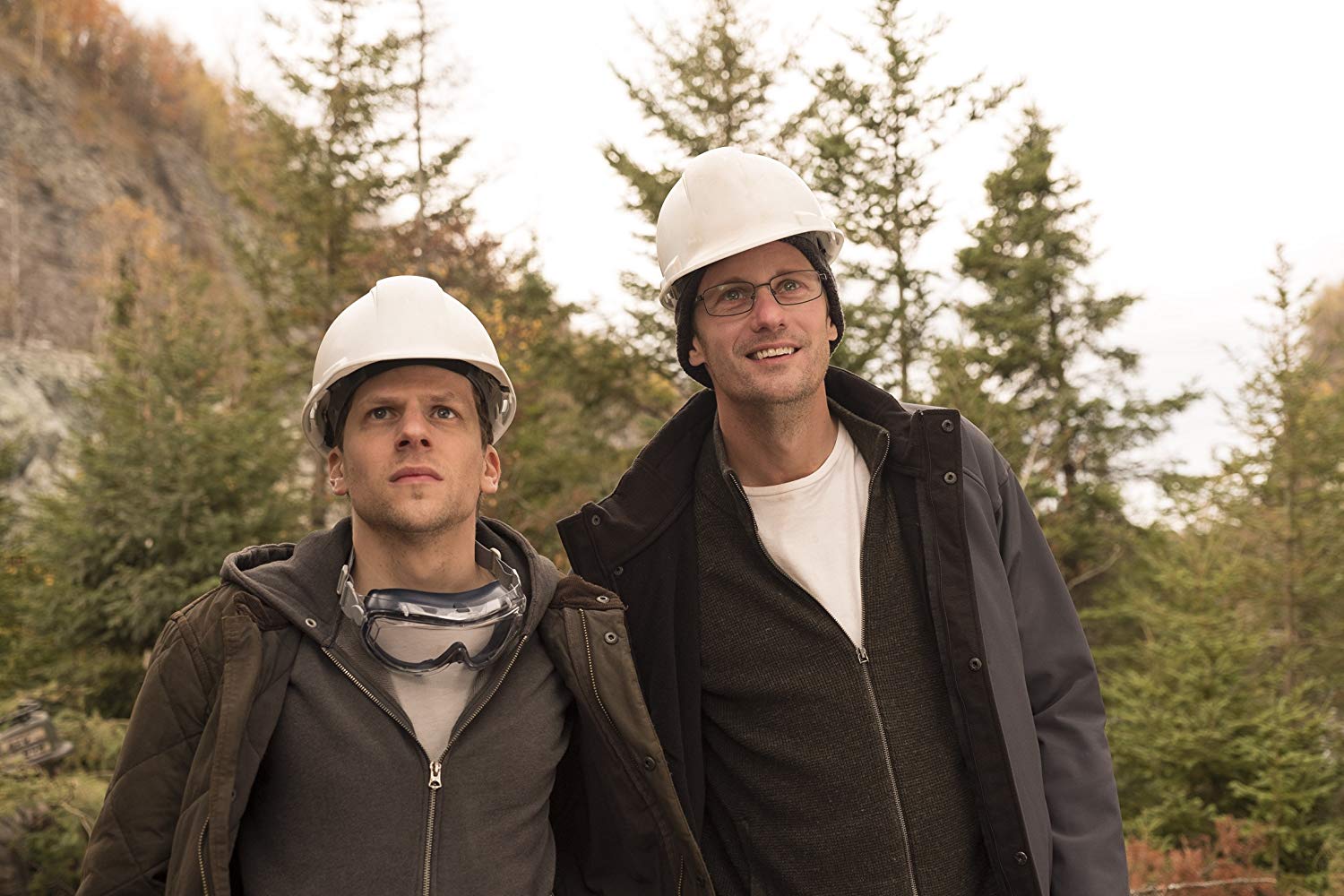 Photo: Sébastien Raymond - @Earhlings Productions/Belga Productions 2017
Like most art forms, I believe cinema is entirely subjective, but it took less than a millisecond for The Hummingbird Project to achieve a skittering pace filled with dull subject matter.  We never really get a sense of why Vincent is the way he is. There's a flashback about his childhood and somewhere along the way he's diagnosed with stomach cancer. Perhaps this was Nguyen's attempt to humanize the character, alongside an unrecognizable Skarsgård—stooped-over and uncomfortable in his own genius, or opposite Hayek's corporate Cersei Lannister—who will stop at nothing to thwart their plan.
I'm sure there's the possibility of a good movie buried inside the The Hummingbird Project but for me it felt like an afterthought.
In the End: Maybe a taste of Eisenberg's Lex Luthor or Skarsgård's Eric Northman—however off book—could've breathed some life into this inept plot.