Basically: Their house is full of mysteries but the biggest one is a ticking in the walls. What happens when the clock counts down to zero?
Based on the novel by John Bellairs, The House with a Clock in Its Walls tells the story of Lewis (Owen Vaccaro), a boy who just lost his parents and goes to live with his Uncle Jonathan (Jack Black), a man he's never met.
It's small town Michigan in 1955.
It turns out that Jonathan is deeply eccentric, wearing a kimono, practicing saxophone at 3am, and his home is a spooky place. He has a slightly stuffy purple-wearing neighbor, Mrs. Zimmerman (Cate Blanchett), with whom he exchanges barbed insults; and he doesn't even care what Lewis eats or when he sleeps. In fact, he only has one rule: Lewis is NEVER to open a certain locked cabinet.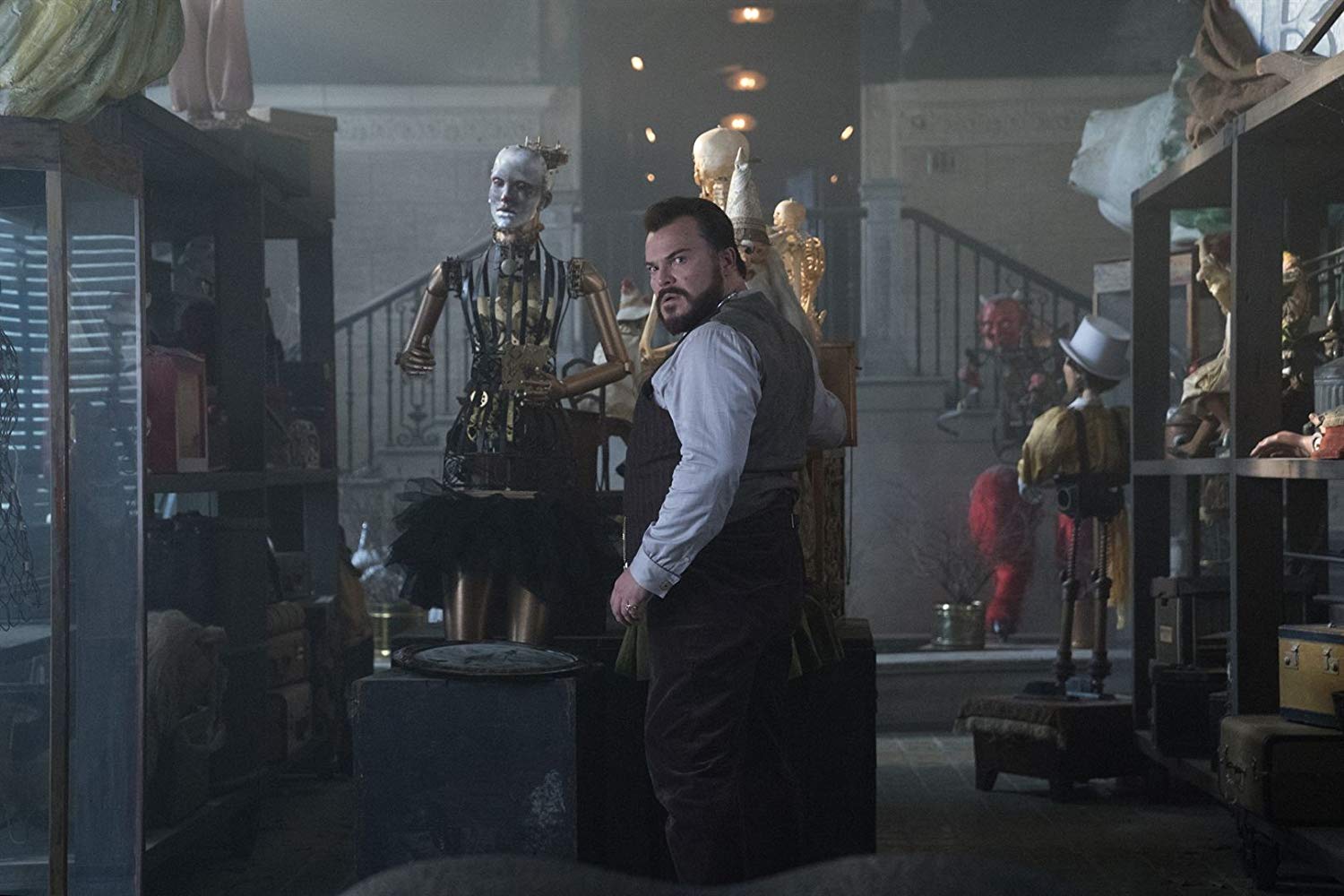 Photo: © Storyteller Distribution Co.
Comforted by his love of TV adventurer Captain Midnight and his Magic 8 Ball, Lewis struggles with the loss of his parents and with being the new kid in school. He makes one friend, Tarby (Sunny Suljic), but playtime doesn't go as Lewis hopes and one bad decision leads to catastrophe. It turns out the house hides a magical clock built by the original owner—a former friend and partner of Jonathan's—named Isaac Izard (Kyle MacLachlan). Izard served in World War II but returned to Michigan both traumatized and educated in weird magics; Jonathan and Mrs. Zimmerman are convinced when the clock in the walls counts down whatever darkness Izard had planned will come to fruition.
Time is running out… If Lewis can't discover the magic inside himself, something truly awful will happen.
With great performances by Jack Black, Cate Blanchett, and Owen Vaccaro, the movie hums along with tremendous energy and purpose. Eli Roth knows horror intimately but the scares here are manageable for kids (though we suggest not taking anyone younger than eight or nine unless they REALLY like being scared) and there are plenty of sight gags and jokes for adults too.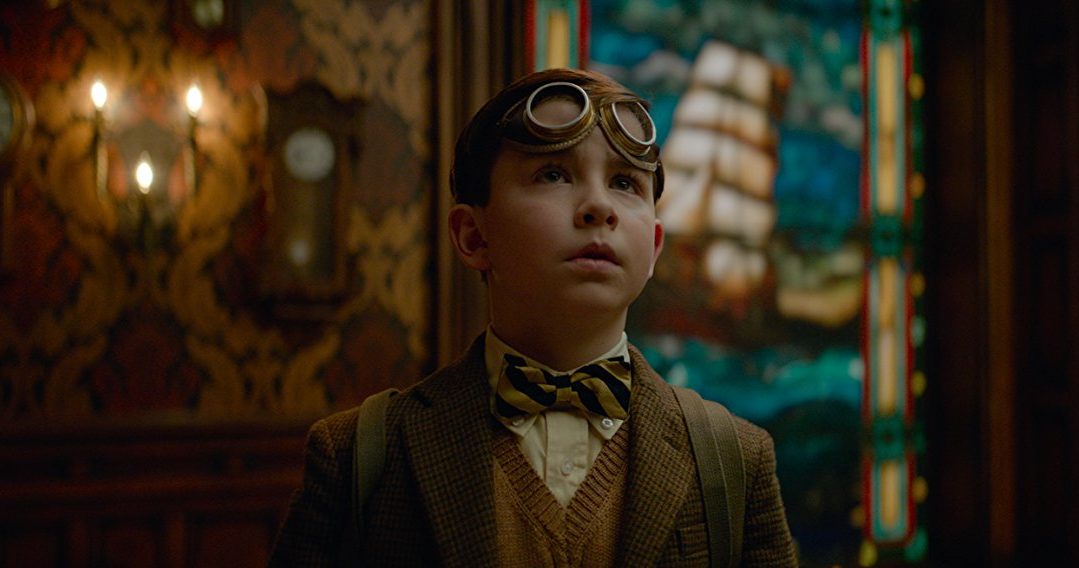 Photo: © Storyteller Distribution Co.
In movies like this, there's a danger of the effects overwhelming the story. Thankfully that is not the case here. The magic on display is usually more subtle than the commercials might suggest; the biggest "effect" itself is the house, which has moving furniture, an expressive stained glass window, a room full of creepy automatons, and loads of personality. Even so, Black in particular moves through the setting as if born there.
Vaccaro has a tough assignment here and pulls it off extremely well. He's a lost boy, the new kid in school, who wears goggles in honor of his hero Captain Midnight and is thought of as a hopeless loser by just about everybody. He cries at missing his parents and his crushing sense of loss is palpable; although quite young, Vaccaro is very skilled at conveying both the wonder and alienation that Lewis feels. A great performance.
Blanchett delivers a powerful performance as well, when the truth behind Mrs. Zimmerman is slowly revealed. In long takes, unrushed by Roth, she is able to delve into the depths of her character. Plus, her exchanges with Black are brilliant.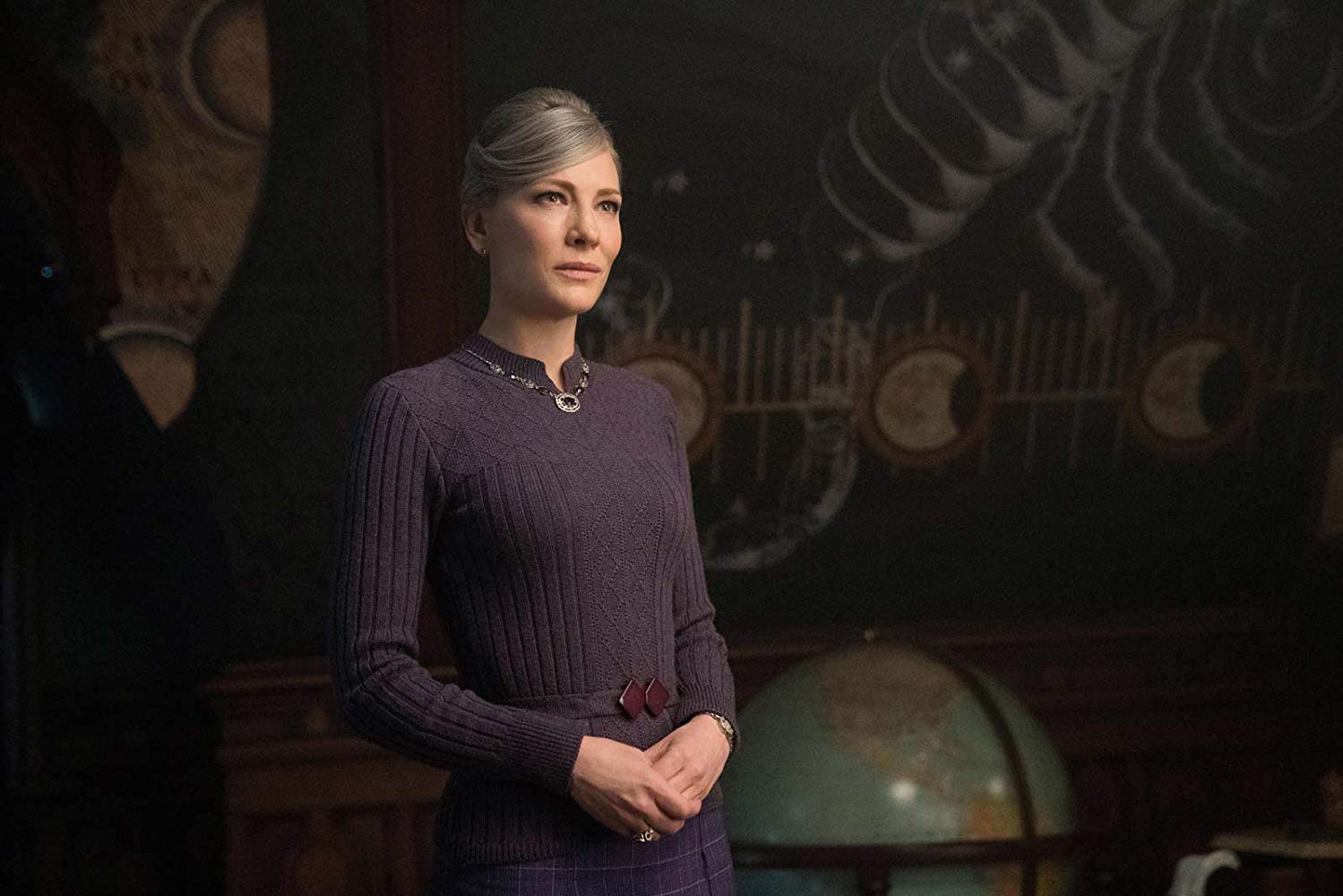 Photo: © Storyteller Distribution Co.
Black is the character at the heart of the movie, playing a weirdo with a huge burden of responsibility and regret at his core. Although he's blithe and free-spirited, there's a gravity to his gaze that is undeniable; he's a guy who's been through some real hard times but hasn't been defeated by them. He makes Jonathan Barnavelt the uncle many of us wish we could have had.
We should also mention the terrific supporting work by MacLachlan as the broken anguished Izard, Colleen Camp as the puppy-toting neighbor, and Renée Elise Goldsberry as Selena Izard. They bring the neighborhood—and the danger—alive.
In the End: Fun, a little frightening, and fast-paced, The House with a Clock in Its Walls is a solid, entertaining entry in the Halloween season for kids of all ages.