Basically: The Grinch transforms from epic Santa-cosplay burglar to warm and fuzzy mensch.
Stop me if you've heard this before: A fuzzy green misanthrope with a special hatred of Christmas conceives a plan to get rid of his nemesis holiday once and for all—by stealing it. This new Grinch from Illumination Entertainment/Universal, produced by Despicable Me mastermind Chris Meledandri, is a more child-friendly retelling of the classic tale. If had to rank it, The Grinch falls somewhere between the first cartoon and the live action version starring Jim Carrey.
In Whoville, Donna Lou Who (Rashida Jones) works nights and tends to three kids, including rambunctious Cindy Lou (Cameron Seely). The kid is a bundle of energy who wants to meet Santa for reasons of her own.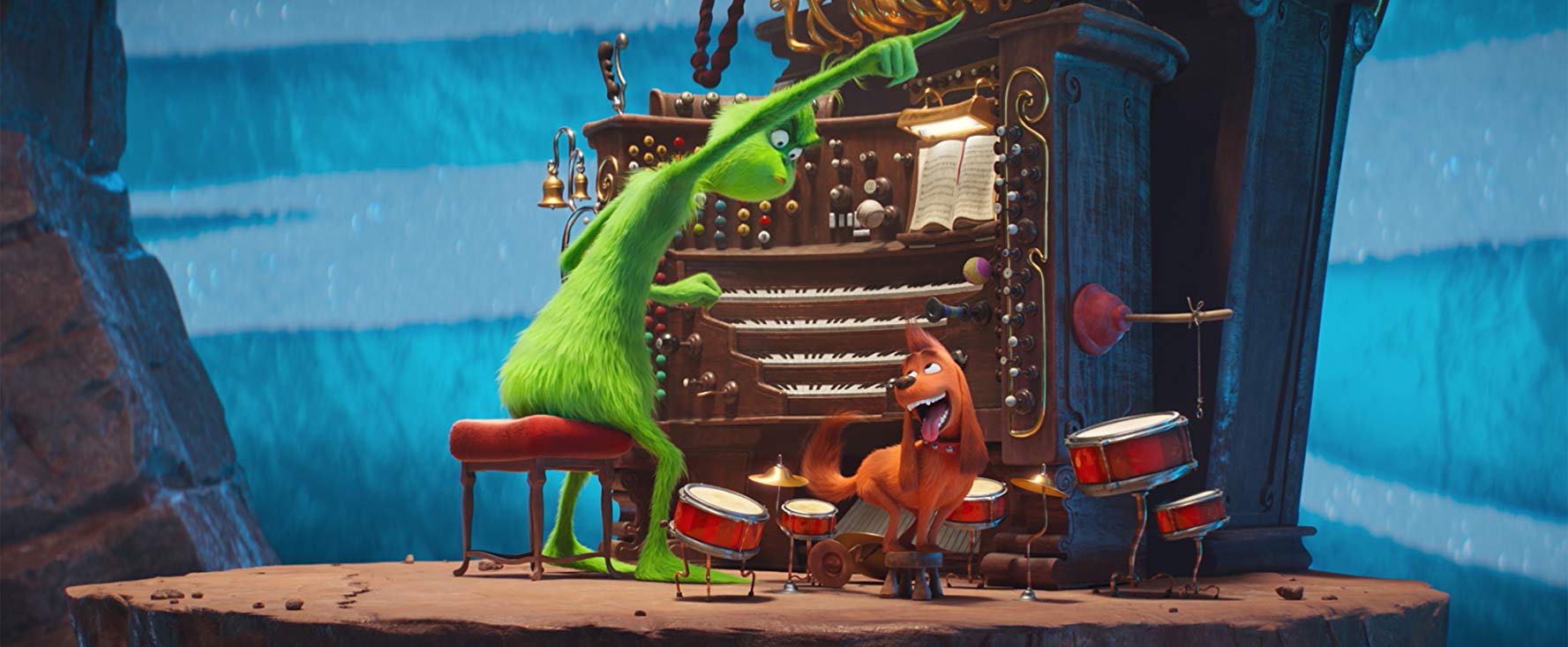 Photo © Universal Pictures
Not far away the Grinch (Benedict Cumberbatch) lives in a cave, full of Seussian contraptions and devices, attended by his faithful dog Max. An urgent trip into Whoville convinces the Grinch to take action, starting with finding a friendly reindeer and "borrowing" a sleigh from his overly friendly "friend" Bricklebaum (Kenan Thompson).
Things go more or less as you'd expect, save for the addition of some backstory that puts the Grinch's toxic dislike of the Whos and Christmas into perspective. Whether that works is an open question—I wasn't completely sold, kids might be—but the story is still heartwarming.
Illumination knows how to put a visual feast on screen. Whoville has NEVER looked this stunning, turned into a huge wedding cake of a town, with fold-out stores, ice slides, fantastic vehicles, and a Christmas tree that looks bigger than the Statue of Liberty. The music by Danny Elfman (much of it based on the original songs and score by Albert Hague and Eugene Poddany) evokes the first cartoon's spirit in the best way. The narration by Pharrell Williams works well, weaving in the book's text with rhymes that feel very Seussian.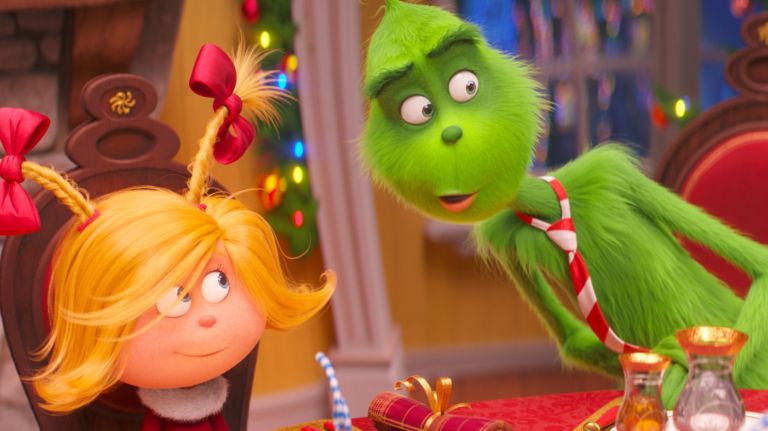 Photo © Universal Pictures
Cumberbatch's Grinch is perhaps the most fun part of the movie, the actor seems custom made for the character's snarky quips. He delights in being mean-spirited to the Whos, and pulling low pranks on them, but grudgingly apologizes to Max when he's gone too far. Cumberbatch adds dimension to keep the Grinch from coming off as cartoonishly evil.
Jones and Seely have a great rapport as mother and daughter, with Seely doing some real heavy lifting in this movie. Kenan Thompson has a meaty role as Bricklebaum, a guy who just LOVES Christmas, and his interactions with Cumberbatch are pretty funny. Watch out for some surprise cameos too.
The Grinch is an enjoyable take on this classic Christmas story. It's more kid-friendly than the original (which my daughter still considers "creepy" in places) and certainly has more laughs. Time will tell if it holds a place in the hearts of children everywhere.
In the End: The Grinch is an enjoyable way to spend some time but it probably won't make kids of all ages forget Chuck Jones' 1966 masterpiece.