Basically: A gorgeously crafted movie memoir, chronicling one boy's love for family, truth, and more than anything the sorcery of cinema.
At the end of our screening of The Fabelmans, the gathering released a long and chesty sigh. We'd been swept out of our own realities and into the fictional (although heavily reminiscent) world of The Spielbergs [read: The Fabelmans]. See what writer/director Steven Spielberg and writer Tony Kushner did there? "Fabel-" as in Fable. "Swept" as in completely knocked over.
On a rain-soaked street (because: cinema) Sammy Fabelman's parents, Mitzi (Michelle Williams) and Burt (Paul Dano), introduce him to his first motion picture. It is fittingly Cecil B. DeMille's The Greatest Show on Earth and Sammy (Mateo Zoryon Francis-DeFord) is terrified but also mesmerized. He goes from crashing toy trains to casting his sisters in his films. Meanwhile, the rest of his family works below the line. Mitzi, played with an internal glow and fragility by Williams, is his biggest fan. Theirs is the core relationship of the film—the wild child pianist mother and the sensitive auteur son.
That is not to say that Dano, Seth Rogen as "Uncle" Bennie, and the sisters (Julia Butters & Birdie Borria as Reggie, and Keeley Karsten & Alina Brace as Natalie) don't enrich the film. They do and they are as tangible as the family next door. Yet our two artists, as artists tend to do, draw your eyes and your attention.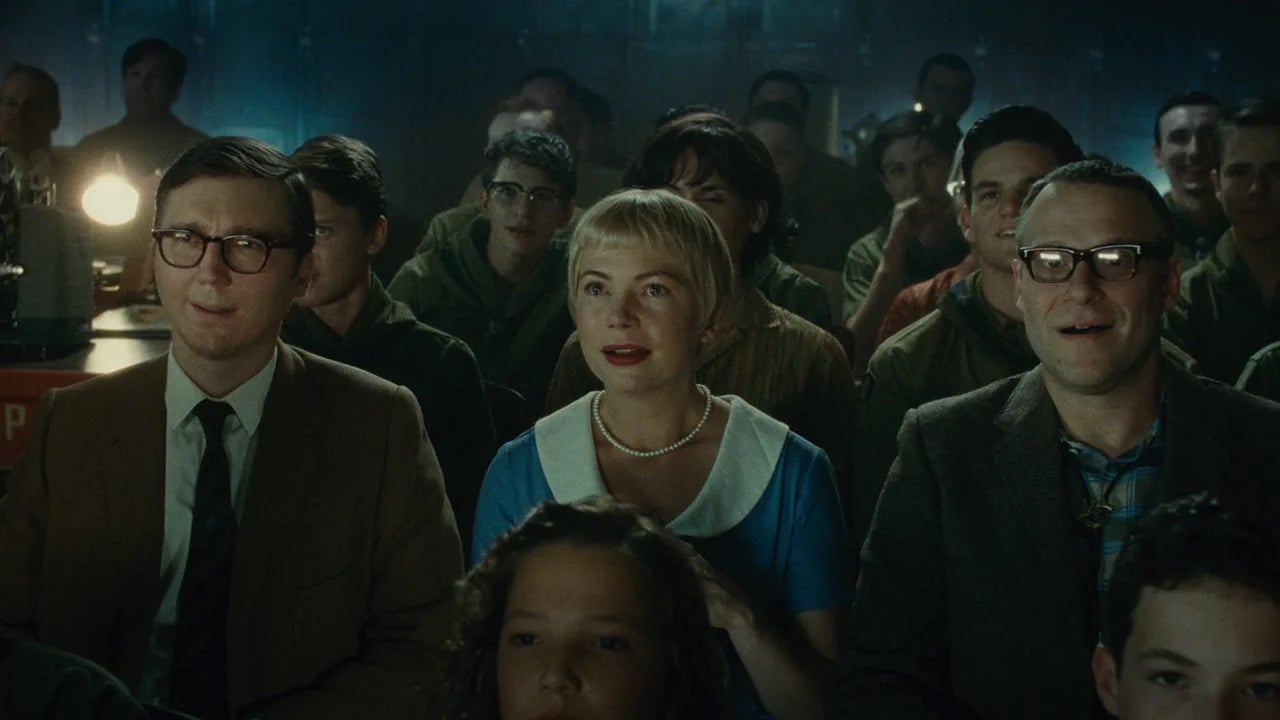 The older Sammy—please call him Sam (Gabriel LaBelle)—is an obsessive and forthright person who is impelled to tell the full story through his art, even when it hurts. I'm guessing there is no relation to Patti LaBelle but Gabriel's acting strikes with the same emotional vibration and range as the singer's voice. He is a hero you want to follow.
When I said we were "swept" away, I'm saying there is a scene where Sam mentions he will never tell a secret (unless he makes a movie about it) and I was so busy flipping through Spielberg's catalog in my head that I failed to realize he had just done it. He'd told the secret but I didn't recognize it because I wasn't watching a film, I was immersed in memory, I was living another life.
D'you see what Spielberg, Kusher, and the cast did here? The Fabelmans is a film you can hold in cupped hands, like water reflecting moonlight, just long enough to know it was real. This harmony of story, visuals, and sentiment makes The Fabelmans a weaver of spells; it's just so lovely and funny and frustrating in its candor; so relatable in its openness.
In the End: I felt this movie. Please see it so we can marvel together.