Basically: Welcome to The Devil All The Time, where corrupt and rotten souls prey on the heart of a community, and a young man only wants his family to survive.
 I see now why the devil went down to Georgia because he damn sure wasn't going to Knockemstiff, Ohio. That is the immediate feeling that struck me as I watched the Southern Gothic tale, The Devil All the Time. Based on the novel of the same name by Donald Ray Pollock, the film unfolds in both rural southern Ohio and West Virginia—coal country full of hard, broken folk living in a hard, broken time. At least according to the decaying settings in this film. Mimicking the Greek tragedies of old, TDATT displays a complex network of corrupt and rotten souls preying on a community's heart. At the center of it all is Arvin Russell (Tom Holland), the orphaned son of Willard Russell (Bill Skarsgård), a tormented veteran. Getting past the trauma of his youth and generations of devil soaked disappointment starting with his father, Arvin lives in a small town with small dreams until circumstances conspire to harm those he cares for.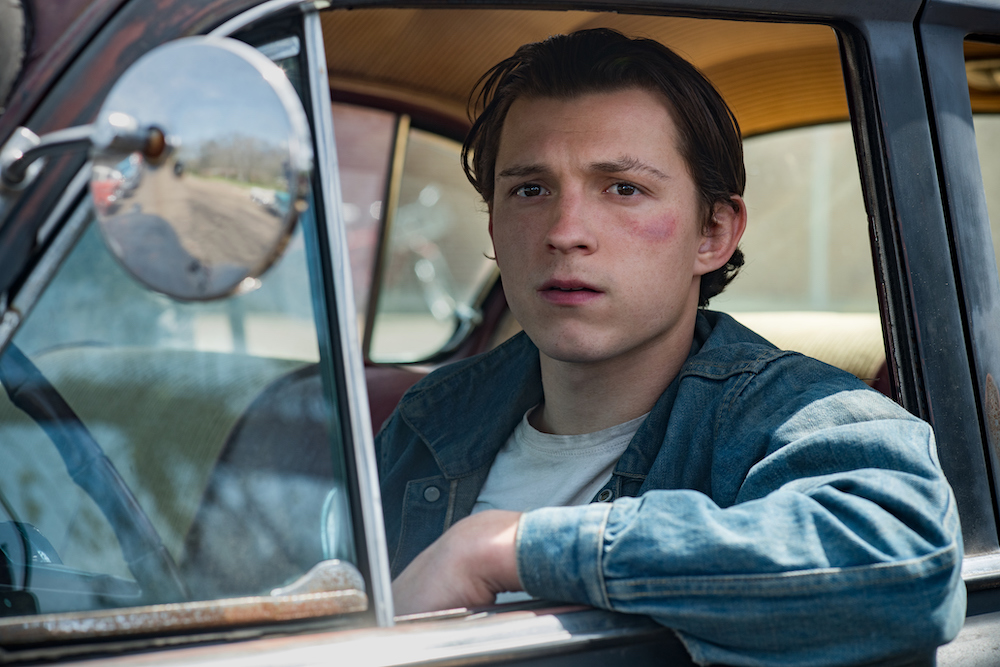 Photo credit: Glen Wilson/Netflix © 2020
In this elegantly tragic tale, the violence is fallout, not the intention. We are introduced to a sick panorama of decrepit examples of humanity, such as Carl (Jason Clarke) and Sandy Henderson (Riley Keough), a sadistic serial-killing couple with an exhibitionistic streak and an obsession with the camera. This couple gives nefarious meaning to the old adage 'wish you were here'—perusing their torture & sex scrapbook would be a guilty…well, it would be guilt. (For the record, this is not how ethical non-monogamy works…or so I'm told). The illusion of civility is further propagated by Lee Bodecker (Sebastian Stan), a corrupt sheriff with a taste for sin, money, and power who is hell-bent on keeping all of it. I would love to say that was the end of it but rounding out this tapestry of fail is the good Reverend Preston Teagardin (Robert Pattinson), a lecherous preacher. "Lecherous" is too kind a word for this character, [read] a wolf in the hen house, and like most wolves, we learn that there is only one way to deal with them.  
As the Greek tragedy unfolds, Arvin grows up to be a good but violent man in his own right who will do everything he can to protect the ones he loves from any sinister characters who arise from the muck. On most days in Hollywood drama, this might be where a grand tale of heroism and sacrifice would begin. Today is not that day—definitely not in Knockemstiff, Ohio.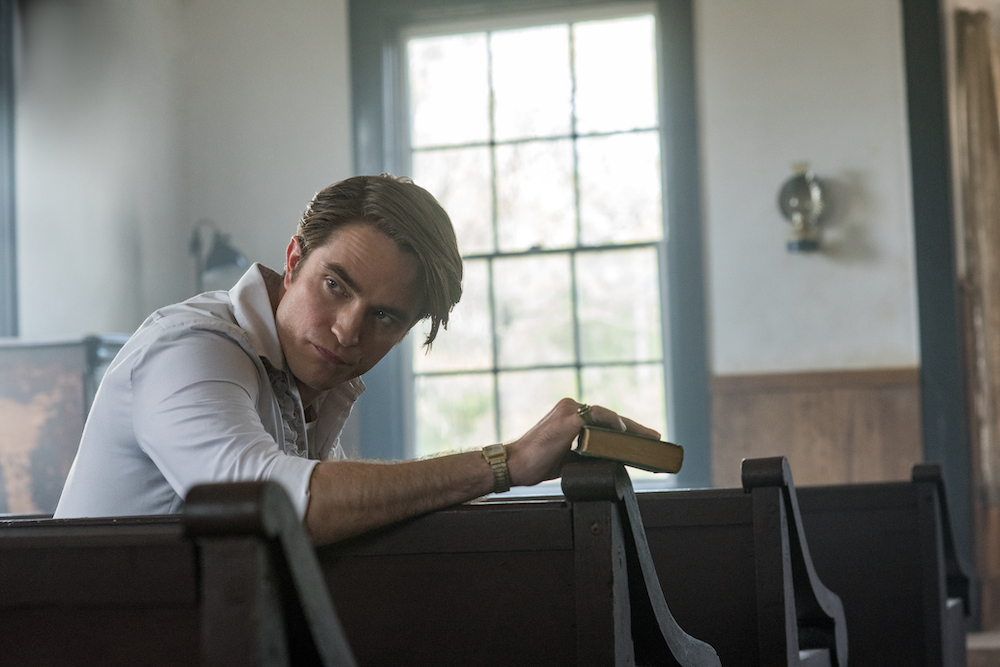 Photo credit: Glen Wilson/Netflix © 2020
Impressive is perhaps the first of many words that should be hoisted on this movie. We get to watch characters shaped by twists of fate fail in a deliberate and beautifully methodical manner. As the narrator said: 
"400 or so people lived in Knockemstiff 1957, nearly all of them connected by blood through one godforsaken calamity or another, be it lust or necessity or just plain ignorance." 
It's at this point that all hopes for an uplifting movie go out the window. The Devil All the Time is the story of human struggle. It's not misery porn, it is worse; it's life.
The phrase star-studded only begins to describe the cast and their work. Starting with Bill Skarsgård, who plays the solemn man looking for peace after living through the horror of the war to end all wars—wait, that was World War I, so yeah, you can imagine the ghosts brought back from World War II. He was a constant reminder that the darkest places are still in our hearts. Robert Pattison gets a special shoutout for playing the most disgusting and wickedest man in West Virginia whose inevitable end is a godsend. Don't speak of the Twilight Saga after seeing this incredible performance by a man gifted and cursed to wear the BatCowl soon. Sebastian Stan is the wildcard, best known as the Winter Soldier, he transformed himself into the clichéd "crooked sheriff". You think of it as a relatively minor role until his story unfolds and you are left bewildered and appalled at what he will stoop to keep
the badge.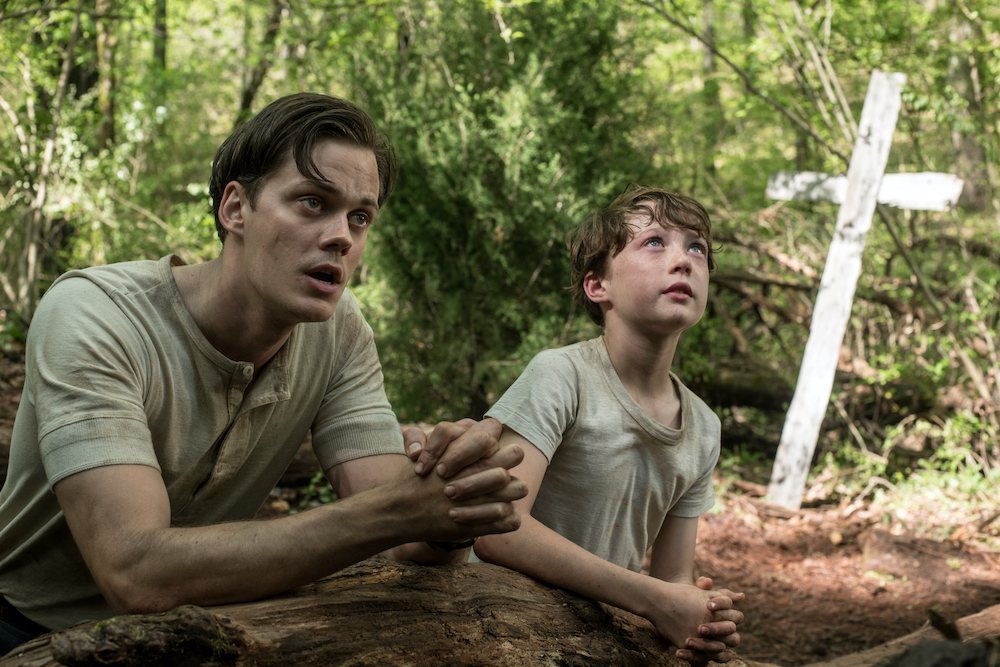 Photo credit: Glen Wilson/Netflix © 2020
Lastly is Tom Holland, our traveler, a quiet man just trying to live a quiet life. Holland shows a kind of quirky depth we do not expect. From simple country boy to avenging angel, Holland pours out a soul-wrenching and exhausting display of man stuck in "Shit Happens." It is delightful to watch and incredible to see the darkness that's touched Arvin his entire life suddenly unleashed on those who may or may not deserve it. Before it all ends, all things face judgment.  
In the End: As Willard says to Arvin, "The Lord can do anything if you just ask him right." Sadly the Lord of Knockemstiff isn't listening, and the blood, tears, and bodies prove it.