Basically: A big ole pot of YA gumbo made spicier by a great set of actors but still a little stale.
The first thing I'll tell you about The Darkest Minds is I kind of liked it—despite it not being very good. The plot plays like a mashup of every dystopian YA book ever, The X-Men, and the Wild Cards universe created by George RR Martin. Since I know nothing about the original source books by Alexandra Bracken those are the references we'll go with.
Ruby Daly (Amandla Stenberg) lives in a time when kids around the age of ten get violently ill and then either die or get super powers. Those powers are categorized into the colors that glow within the user's irises: hyper intelligent greens, telekinetic blues, electrokinetic golds, weaponized reds, and oranges who are the most dangerous for reasons unknown. The government has rounded up all the surviving kids and sent them off to the equivalent of internment camps. Here the doctors are meant to exterminate reds and oranges immediately. Ruby is of course one of the very rare oranges and uses her abilities to hide in plain sight. As you can guess, this fragile bubble of safety only lasts until she turns sixteen. That's when Ruby is discovered and goes on the run with the help of Cate, the revolutionary (Mandy Moore).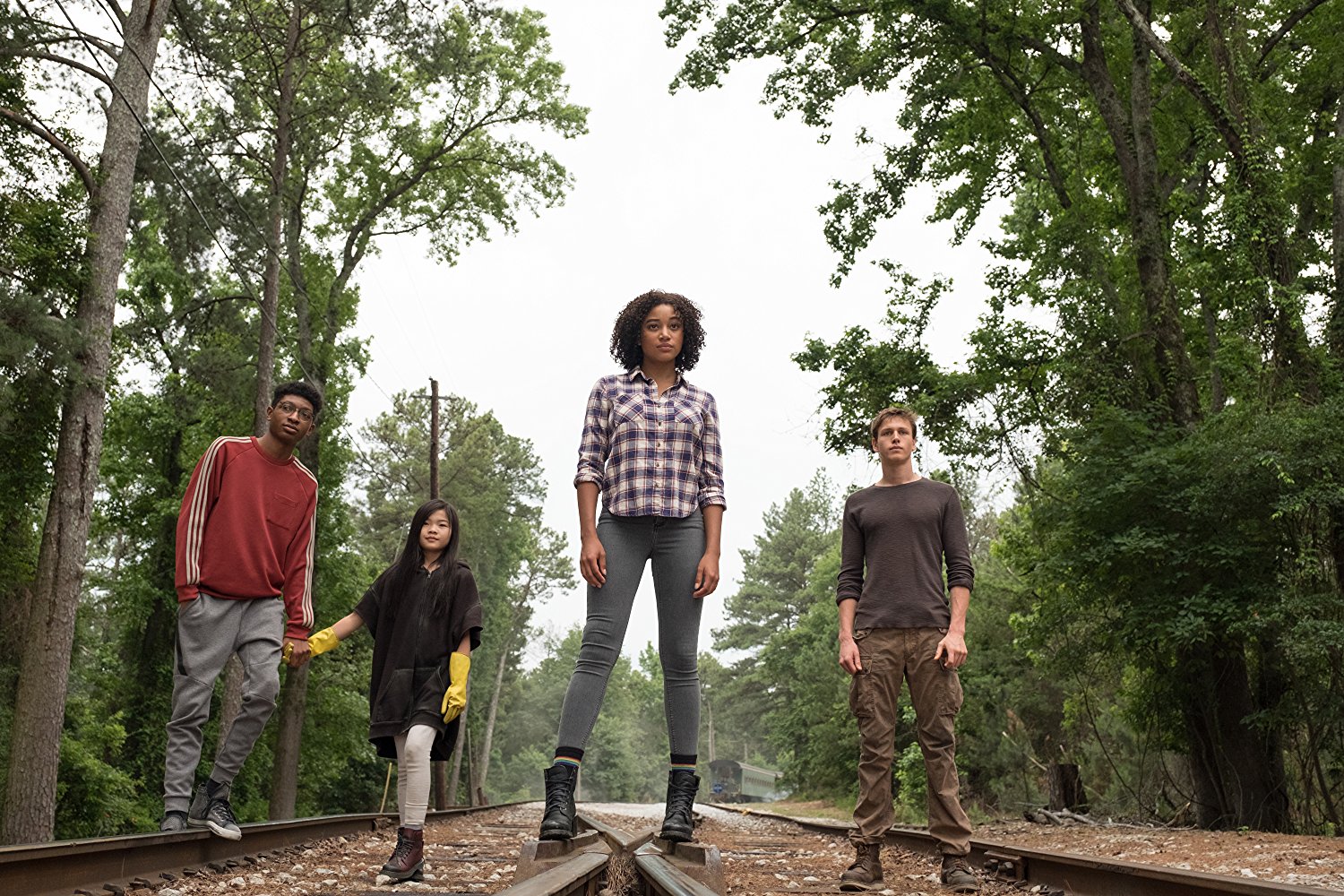 Photo by Daniel McFadden/Twentieth Century Fox
Something's off about the storytelling in The Darkest Minds. Primarily, the world building is illogical and lacks cohesion. For example, the deaths and imprisoning of children somehow leads to a full on dystopian apocalypse within six years. Um, I'm not saying this wouldn't be cataclysmic but would it really lead to a barren wasteland on par with The Walking Dead? I think not. More likely we'd have an huge uptick in depression and in crime. I see drugged up drones going about their day with no hope (depression), and angry people acting out in violent ways (crime). Yes, we would be devastated emotionally from the loss of most children and from the fear of others but we would we all just evaporate leaving everywhere outside of the cities abandoned? Probably not. There's also no sense of the rules of this world. We're not given any clues about the disease Idiopathic Adolescent Acute Neurodegeneration (IAAN) or how or why it affects kids the way it does. Actually there's not much sense to any of it. Not common sense, no sense of the stakes outside of the children being used by various adult factions, no sense of the cents that fuel what's left of the economy. If we go back to our YA novel analogy: It's as though a few chapters are missing.
I bet you're saying: But you said you liked it. There's also a lot that's good here. The opening scenes are riveting—we watch a young girl suddenly get telekinetic powers and then die before we can blink. The internment camps are full of vicious soldiers, high walls, and color coded scrubs. Later, the most enjoyable parts happen when Ruby meets up with a fugitive group of kids who will become her squad. They're so charming you'll want to hit the road with them in their big blue van and see what's left of the world. There's the hot boy Liam (Harris Dickinson) who is a blue with a golden heart, the nerdy boy Chubs (Skylan Brooks), a green with a smart mouth that'll keep you giggling, and the silent baby girl Zu (Miya Cech) who's a sweetheart gold with steely resolve. Or as I like to call them, Gambit, Beast, and Jubilee—seriously they're an X-team. When Ruby joins them she becomes the Rogue of the bunch, because when she touches people they get hurt…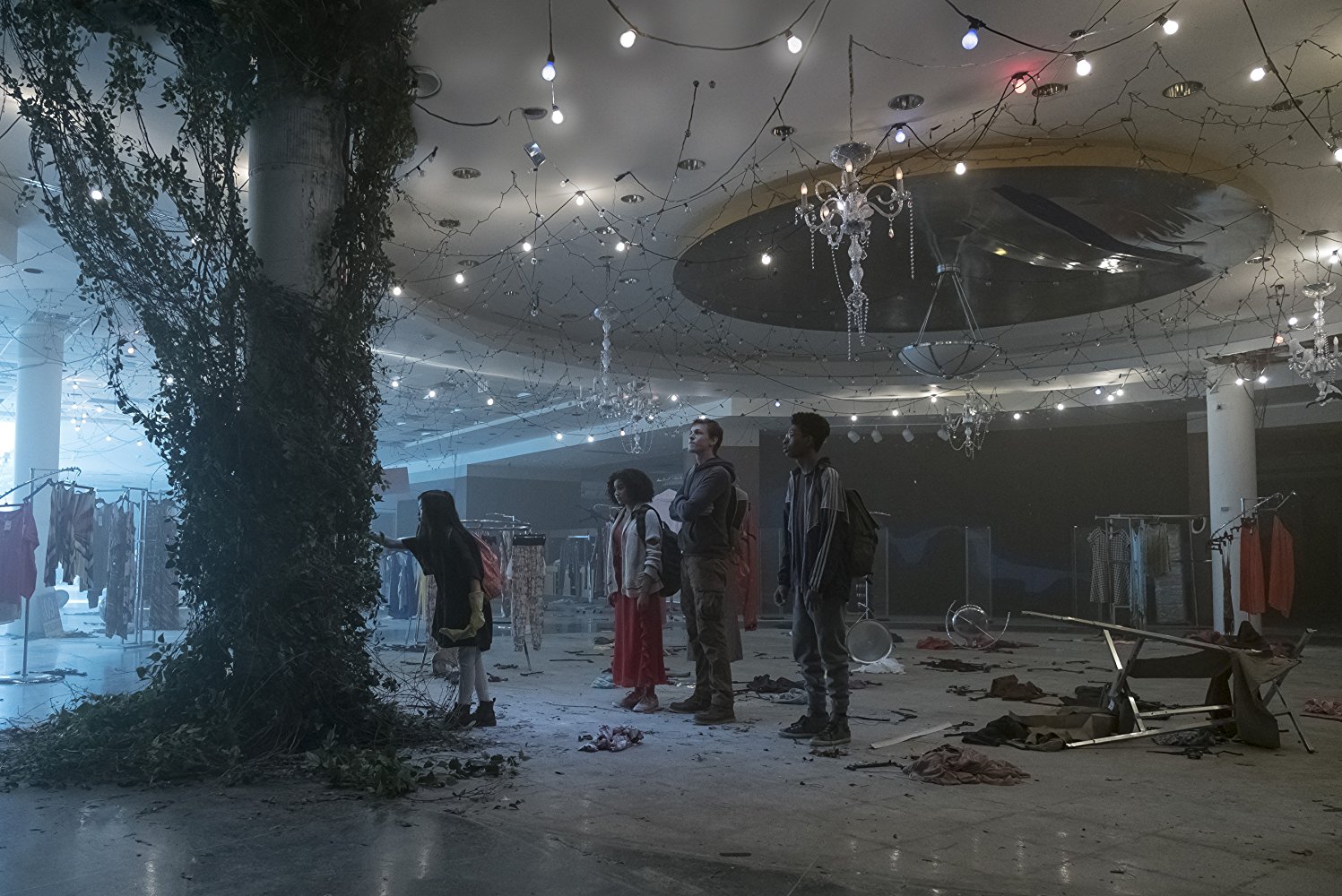 Photo by Daniel McFadden/Twentieth Century Fox
The scenes featuring these four characters outrunning bounty hunters, showing off their skills, having picnics, and teasing each other without holding back are the best of the movie. You feel their familial bonds grow as each friendship is forged separately from the other relationships. These four young actors are incredible. If we could've stayed in the big blue van that would've been a movie to love…but there are villains to meet and sequels to set up. And we find ourselves with one last sense—the nonsense of a final action sequence that leads to an ending that is hugely dissatisfying and vaguely Hunger Games flavored.
The main problem is: Ruby, Liam, Chubs, and Zu are very good characters but the movie doesn't trust them to tell the story. Instead it relies on loosely woven together action set pieces and a series of cartoony villains—who themselves lack relatable motivation. On the flipside, there's a gorgeous scene about young love, near the end, that damn near makes the whole thing worth it.
So yeah, if teens like this movie enough to earn it a Part 2 then I'll be there to see what happens next.
In the end: The Darkest Minds is a fast food movie—kind of bad but kind of good and on a late night with your friends it'll be kind of tasty.