by Wil Walker
Basically: It's a bad episode of Law and Order with Oscar scale acting where faith challenges the law and the law wins.
In Richard Eyre's The Children Act, Jack and Fiona Maye (Stanley Tucci, Emma Thompson) are impossibly English. Their clothes are impeccably tailored, their manners are faultless, and for the last twenty years they have shared a seemingly perfect life in pursuit of utter happiness. He is a lecturer, whom we see discussing Lucretius and philosophies that thrived before Christianity "closed the Western mind"; she is a jurist who plays classical piano, busy rehearsing for the lawyers' Christmas concert. Fiona, referred to as My Lady, has built a career as a highly respected High Court judge in the Family Division. She's known for her radical re-casting of the relationship between parents, children, and the State.  
Photo: A24
One evening, Fiona arrives home after having ruled against parents who wished for their conjoined twins to remain attached—even though the surgery would place both infants at risk. Jack greets her with "I think I want to have an affair". Glaring over his reading glasses, Jack reminisces about years past with the help of a tumbler of whiskey. "Do you remember how we were?" he asks.
As Fiona tries to balance her WTF marital situation, she takes on the high-profile case of Jehovah's Witnesses Kevin (Ben Chaplin) and Naomi (Eileen Walsh), who are refusing a blood transfusion that could save the life of their 17-year-old son Adam (Fionn Whitehead) who is dying of leukemia. Their position is that blood is a gift from God and should not be shared. Similarly, Adam—four months shy of his eighteenth birthday—is too young to be his own advocate.
Abandoning all logic, Fiona visits Adam in the hospital to try and gauge his understanding of the consequences of refusing treatment. She meets a young man fighting for breath but oddly at peace with his impending demise. "Should we let you do yourself in? I've got to decide," she says. Her decision triggers a strange relationship between the two, as Adam desperately tries to understand the religious convictions of his family and his faith.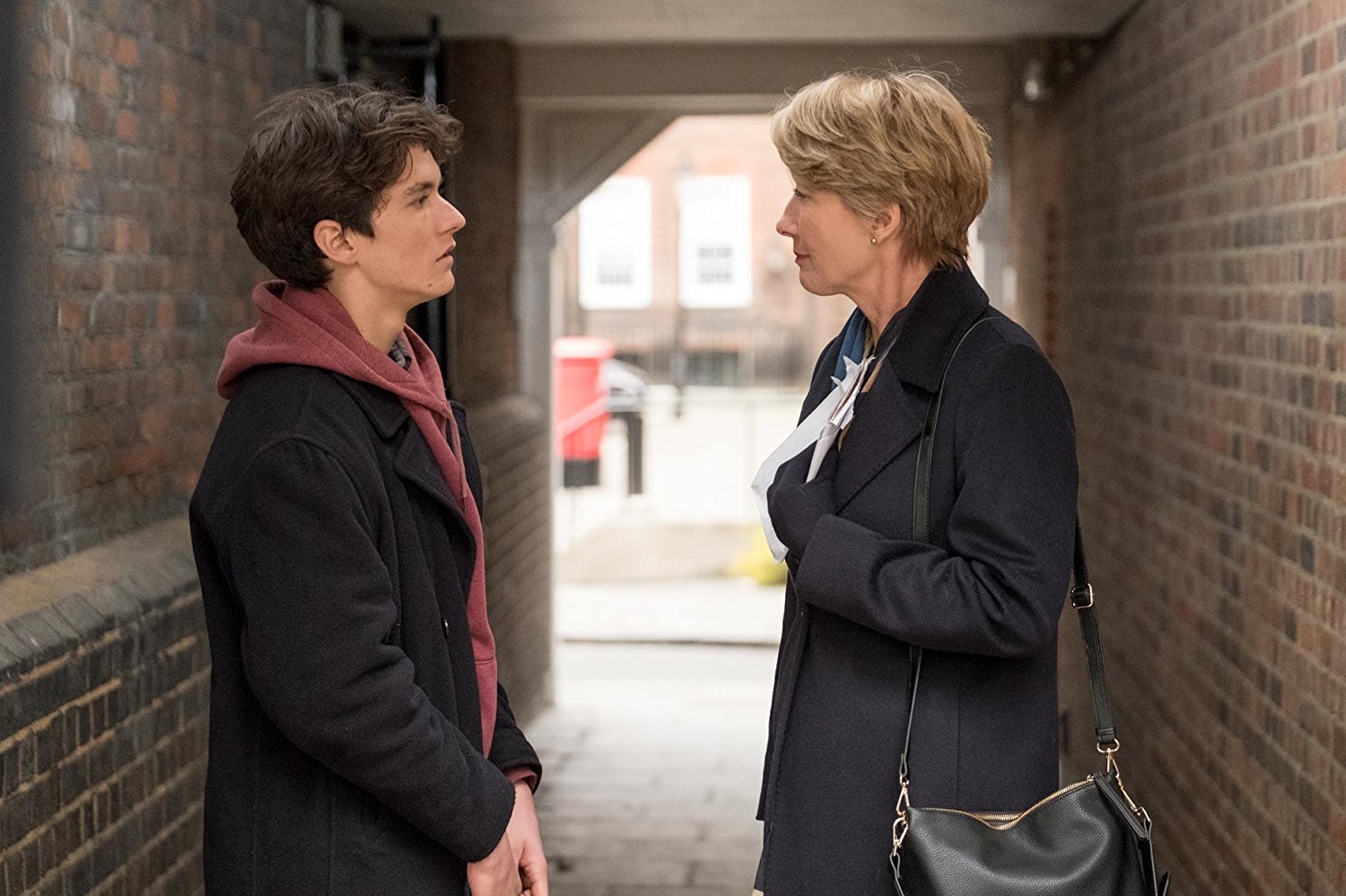 Photo: A24
With never having read Ian McEwan's novel, there was something illogical with Eyre's overall direction of The Children Act. So many questions are left unanswered. Is Adam a stalker? Is Fiona developing more than maternal feelings towards the young boy? (At one point in the movie their relationship crosses over from inappropriate to perhaps abusive.) Further, can a parent let a child die for religious beliefs and still be considered loving? Finally, can you understand struggles of a parent if you don't have children? None of these questions are answered.
Emma Thompson gives an incredible performance as Judge Fiona Maye. She portrays Maye as present but mentally distant—it's more than just acting. While her court is one "of laws, not morals" she's always distracted, forcing us to feel every emotion. Yet even with a two-time Academy Award winner offering up one of her best performances, the movie had no climax and the ending felt oddly insignificant.
In The End: Despite Thompson's incredible performance, when the credits rolled I was left with an indescribable void.