Basically: Adult brothers get turned into a kid and baby to stop a plot where a villain wants to get rid of all the parents 'cause they make rules…I think?
I'll keep it a buck with you, readers, I never saw the original The Boss Baby. I had no interest. Never saw the DreamWorks series and, honestly, it looked like something that should've been a cartoon short. Yet that first one became popular and it spawned a show like I mentioned before and now we have a whole new sequel. 
As a person who only knows that Alec Baldwin does the voice of the baby in boss schtick like on 30 Rock, I did not know what I was going into. Tim (James Mardsen) is married now with two daughters. He has a loving family and he's a great imaginative father, but he's estranged from his younger, corporate executive brother Ted (Baldwin). Ted was the Boss Baby but only Tim remembers any of that. Through many contrivances, during the holidays Ted comes to Tim's home to visit and they learn that Tim's baby daughter Tina is the new Boss Baby. The two must investigate the school Tim's older daughter Tabitha (Ariana Greenblatt) attends, where the headmaster is Dr. Erwin Armstrong (Jeff Goldblum).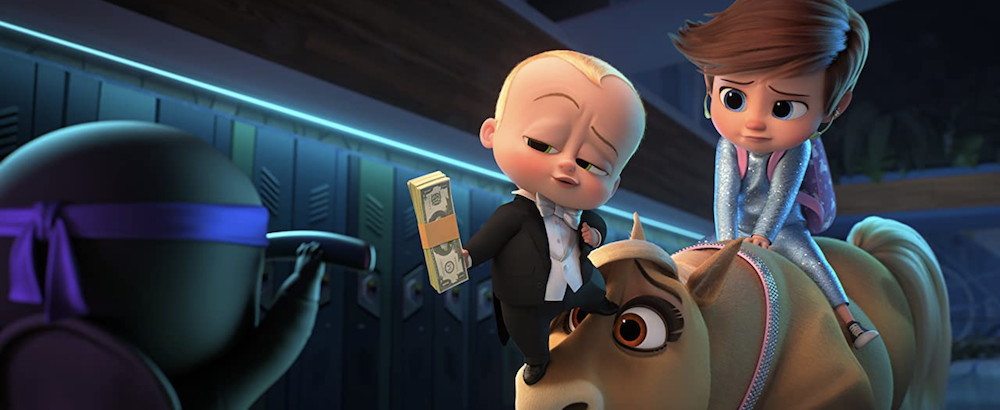 Photo © 2020 DreamWorks Animation LLC.
Now, as I said earlier I was confused the whole time…but The Boss Baby: Family Business is also not that interesting, not enough for me to care that I didn't care. Something hit me while watching: This was made just to be entertainment for children and not a solid all-around good movie for the whole family. 
After a beginning that only works for people who really enjoyed the first movie, the bulk of the film is overly padded and drawn out. This movie is almost 2 hours long and had me looking at my watch like I was in the theater. LIKE, HOW SWAY?! There were some decent gags but not enough to have me chuckling throughout. The motivation for the bad guy is really weak and I guess the studio is hoping the love of seeing the Boss Baby is enough. It's really not.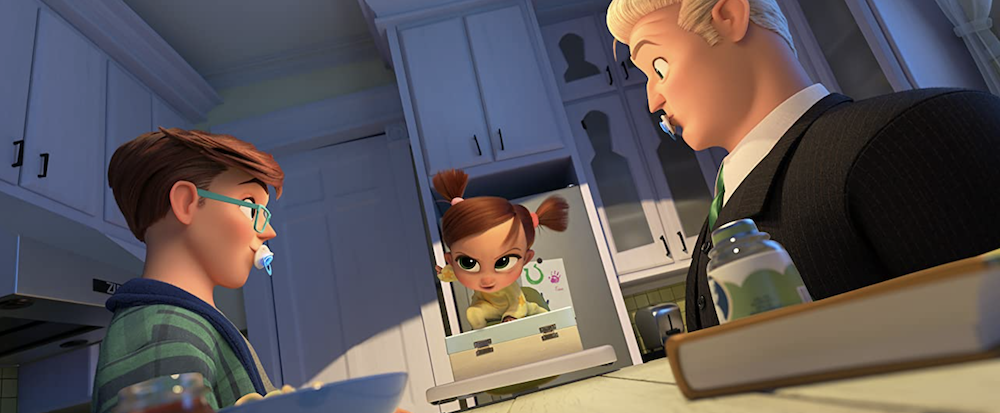 Photo © 2020 DreamWorks Animation LLC.
The look of the film is okay, with the exaggerated eyes and faces that remind you a bit of the aesthetic from the Cloudy with a Chance of Meatballs franchise. Not much really pops, though. The Boss Baby: Family Business feels like it's more on the b-tier than top tier for DreamWorks. I really didn't enjoy this movie much and nothing stood out besides the occasional product placement. This is a hard review to give and even though I know a ton of work went into it, this isn't something you should watch with any amount of attention. This is a movie meant to give kids something to do while they do something else or have a long car ride. 
In the End: The Boss Baby: Family Business feels like a cash grab and barely worth the time to have your kids watch it on Peacock.