Actually: 7.5
Basically: Linda Hamilton is back as Sarah Conner and she ain't taking no robot guff! 
With the Terminator franchise in pretty bad shape after the super trash Terminator: Genesis, James Cameron has come back as producer to the franchise he birthed in the eighties. He's leaving the directing reigns to Tim Miller of Deadpool fame. And this time, instead of focusing on the messianic John Conner, Terminator: Dark Fate follows his mother Sarah (Linda Hamilton) who is now old and grizzled in a way we only see people like Clint Eastwood be on-camera. She cuts through the screen with the unwavering anger of fighting a war that can never be truly won even if you think you have. The focus though is on a young Mexican woman named Dani (Natalia Reyes) who is being chased by a new dangerous Terminator designated the Rev-6 (Gabriel Luna). Dani is being protected by a cyborg from the future named Grace (Mackenzie Davis) who's able to stand toe to toe with a Terminator.
Grace and Dani mirror much of the same dynamic that Sarah and Kyle Reese had from the first movie—which makes Sarah want to help them even if Grace doesn't want it. Sarah thinks she's the expert but Grace thinks Sarah is an old warrior who's a know-it-all without any actual knowledge of what's going on.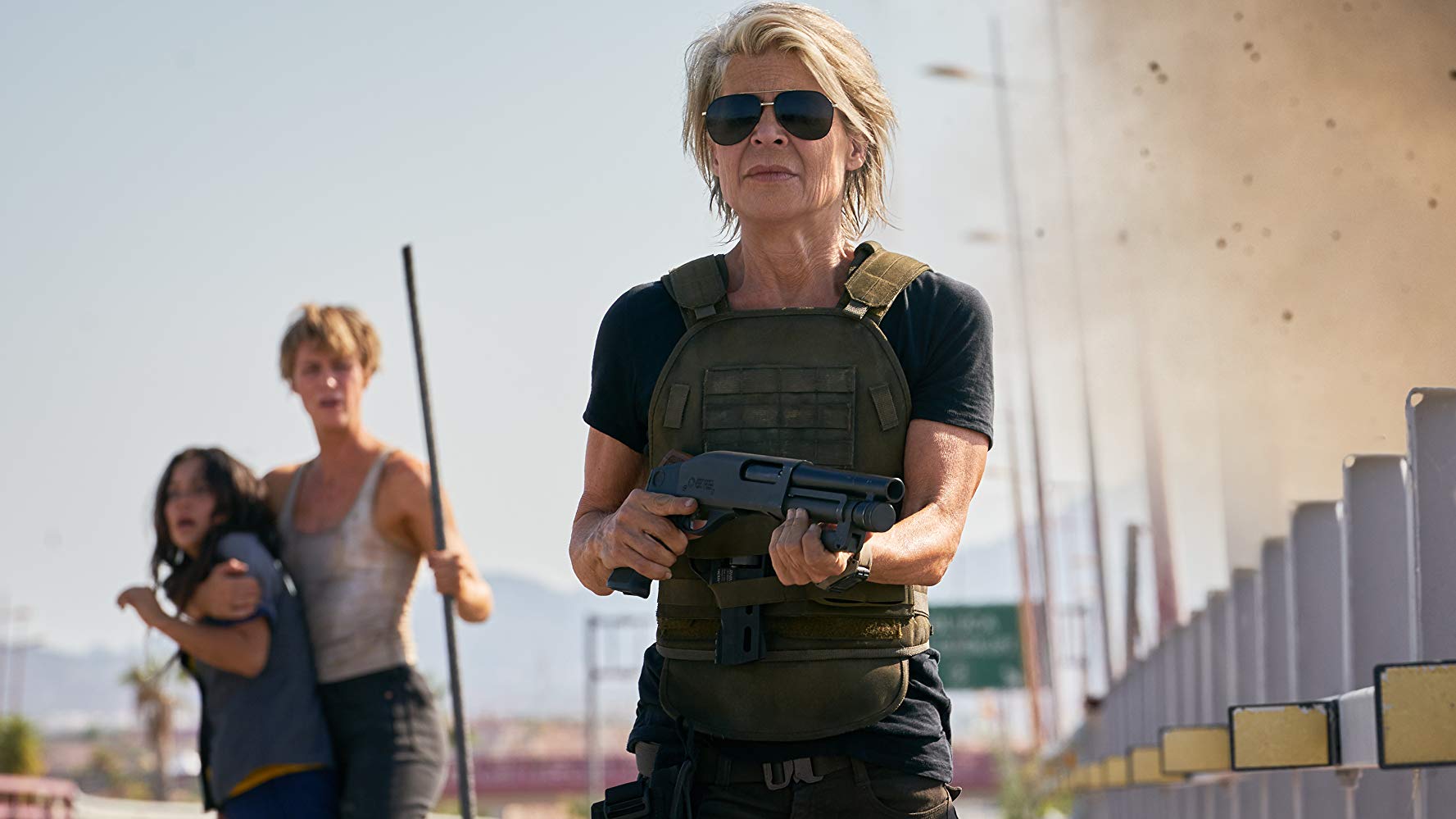 Photo by Kerry Brown - © 2018 Skydance Productions and Paramount Pictures
The main thing to note about Dark Fate is that every Terminator that has existed post-Terminator 2: Judgement Day never happened—so the future is different. This dynamic made me think of the baby boomer and millennial divide in how to proceed with this uncertain future. While the previous generation was prepared for one type of bad future they are not necessarily prepared for the new bad future they might have caused…yet they don't want to listen to those who have to actively deal with it. 
The film holds itself together pretty well even if the story gets a bit wobbly in parts. The action set pieces have great momentum and are entertaining. Dark Fate also has a very different dynamic to previous instalments as most of the story follows a trio of women who deal with this new threat with know-how and agency (even if they don't agree). Dani is not portrayed as a damsel in distress, she wants to fight even if she doesn't know how. Arnold Schwarzenegger is also back as another T-800 model terminator and is allowed to bring a bit more comedy to his role. Don't get scared—he's not cracking jokes or doing slapstick but he does have some well-timed deadpan lines that work to change up the tension level.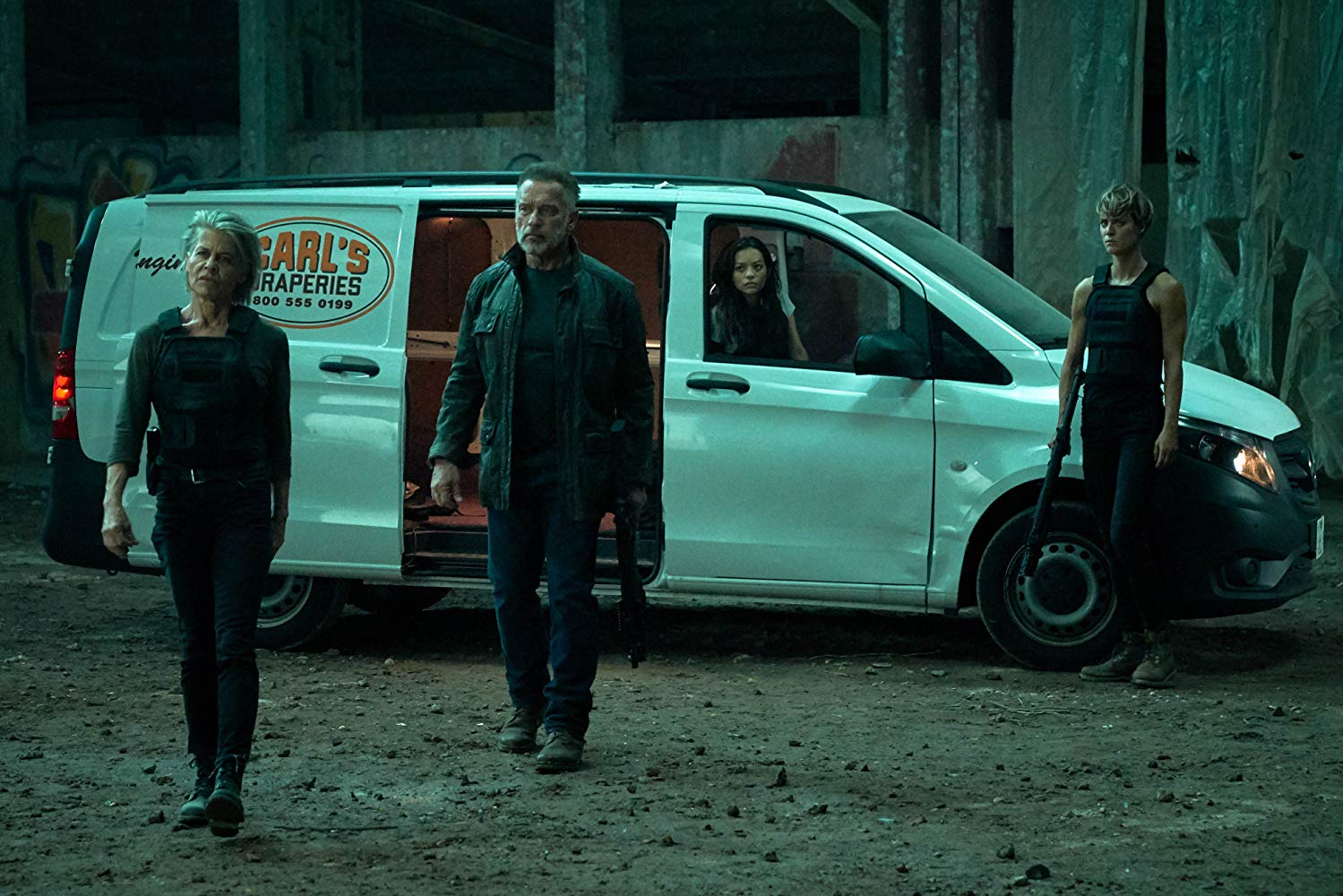 Photo by Kerry Brown - © 2018 Skydance Productions and Paramount Pictures
With that said, a few things that bothered me were the de-aging tech they used on Linda Hamilton and Arnold to show a flashback. Much like Gemini Man it made them look like high-end video game characters. This might work for a lot of people but, for me, it feels like I'm watching a cutscene and soon it's time to start playing. The rest of the effects are very well done and the Terminator Rev-6 design is very good—a mix of the classic endoskeleton. And the T-1000 version adds a new effect: A twin Terminator. This will also give you flashbacks to how Venom (the Spider-Man anti-hero/villain) symbiote looks and works. 
Another thing I found interesting was how Dark Fate folded in references to issues with the U.S./Mexico border and immigration. They decided to use two white women to protect Dani AKA a Latinx woman and, while that doesn't really bother me, I can't help but wonder at how many think pieces and social media dialogues will have an issue with it. All I can do is shrug—I was entertained. Dark Fate is one of the better Terminator films and even though it should be the last one, who the hell knows at this point.
In the End: Terminator: Dark Fate is a solid sci-fi action blockbuster that can hold the box office down until the next monthly Disney entry.