Basically: Netflix's new rom-com is for all those times when your SO suddenly gets gone.
Someone Great is a break-up movie for the millennial generation—complete with social media FOMO, kitchen dance parties to Lizzo, and a $#!*-ton of weed & green-juice-mimosas. The rom-com stars everyone's fave Gina Rodriguez as Jenny, a music journalist who just landed her dream job at Rolling Stone. Great news, right? Well, it means moving from New York to San Francisco…which is not great for her love life. Her long-term bae, Nate (LaKeith Stanfield), says bye and she's left brokenhearted. What's a girl to do? Call up her two best friends, Erin (DeWanda Wise) and Blair (Brittany Snow), for one last adventure together, of course! They hit the town trying to score tickets to the party of the year, where they can celebrate Jenny's move and forget about everything else. They end up scoring a whole lot more than wristbands…but we'll let you discover that part for yourself.
Rodriguez plays a broken-hearted-mess well. Jenny swings from acting like she's on top of the world to freezing in time to relive her heartbreak. You'll feel each and every wave of emotion as she barely holds it together. Erin is the chill but outrageous friend who's too afraid to commit to her might-be-girlfriend, going through a wonderful journey of acceptance while her best friend's love life falls apart. We're here for her romance! Also, can we talk about Erin's style for a sec? She wears a red jumpsuit and it's everything. Blair is the uptight put-together businesswoman with a wild side. You'll cheer her on everytime she does something for herself (or for the tickets). Blair and Erin serve as Jenny's "devil and angel", simultaneously egging her on and comforting her (sometimes switching sides). The three BFFs are individually strong but they're at their best when they take care of each other—and they tell each other the truth no matter how hard it is. Cheers to that!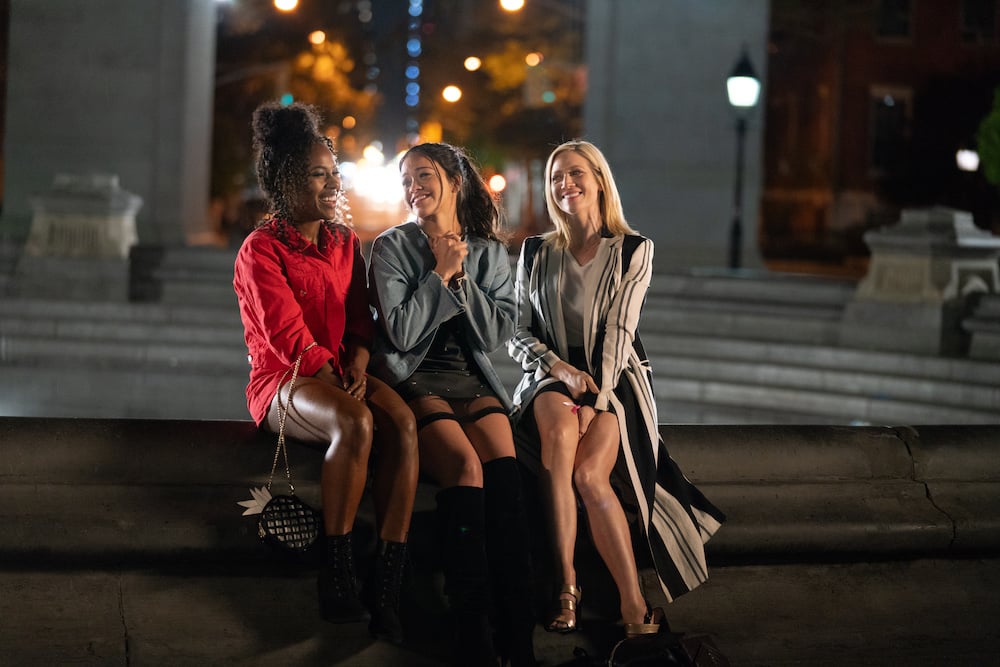 Photo: Sarah Shatz/Netflix
Someone Great has all the beats of a girls' night out rom-com, mixed in with some bittersweet flashbacks to Jenny + Nate. These moments are beautifully underscored by strong color palettes and poignant sadness but, the further into the movie you get, the more the flashbacks take you out of the story. You'll understand why these scenes are there—breaking up is never easy and you tend to replay every moment in your head—but it would've been more impactful to see more of Jenny moving on. Part of you will be screaming: A man who won't even try to make it work isn't worth all those tears! You do you, girl! Another part of you will love that it's never a question whether Jenny is going to move to San Francisco, but you'll probably spend the entire movie scared she's going to make bad choices—there were more problems in her relationship with Nate than she wants to admit.
Someone Great is a good movie for breaking out the ice cream to, on a night in with your girls. Unfortunately isn't quite a break-up classic you'll replay every time you have a bad date. The three leading ladies are fun and charming but the jokes don't always land and you won't really feel like the movie has earned its attempt at a deep resolution. It may have been better to stick to the party lines instead—that's where the movie truly shines.
In the End: Someone Great is a solid addition to your not-quite-a-rom-com Netflix binge…just don't expect fireworks.
Watch Someone Great on Netflix on Friday.
—
P.S. We'd like to know what universe this New York is in where they can afford such beautiful & huge apartments and where they can travel around to so many places in one day. Where the traffic at?