Basically: A late 80s styled ninja movie focused on Snake Eyes, the formally silent G.I. Joe.
I'll have to say I'm conflicted about this movie. I can't say I'm a diehard G.I. Joe stan but I know enough to be an enthusiast. I've seen enough different takes to be more informed than most and this movie didn't totally work for me. Yet you'll probably look at my rating and scratch your head, especially if others have said Snake Eyes is bad. See, I think the people who made the movie worked hard and ended up with what they planned to make, but man oh man they went to places that had me like, "huh?"
To bring you up to speed, Snake Eyes: G.I. Joe Origins is the story of how Snake Eyes became the ninja commando of the special military task force known as The Joes. As a young boy he witnesses the murder of his father, pushing him onto a path of aimless fighting and revenge. From there Snake Eyes meets a member of a historic ninja clan and lots of ninja action happens. Then for some reason Scarlett and Baroness show up for a total of 12 minutes combined. [Kanye shrug] 
Photo: Paramount Pictures 
Henry Golding does a decent job as a brooding Snake Eyes, who doesn't have a name other than Snake Eyes for the WHOLE MOVIE. While he is still his charming, handsome self (which is why the character no longer has a scarred face and can speak). But Golding is outshined by Andrew Koji as Tommy Arashikage, who is better known as Storm Shadow in Joe lore. Koji is so good and so much of the story is told in a way that makes Tommy feel more heroic and empathetic than the hero. I never thought I'd watch something where Snake Eyes ain't $#!T and is set-up as a redemption story. That's what the creatives chose to do, though. So hey, it is what it is. 
I have to say, I think the women characters are lacking on the page even though I feel the performers did the best they could with what they had. Their characterizations are definitely something that could've been improved. Samara Weaving does a near cameo as the G.I. Joe Scarlett, but she comes off kind of dry and more of a way to set-up a possible Scarlett movie. Haruka Abe plays Akiko, the security director of the Arashikage clan, who has a loopy arc of not trusting Snake Eyes but then is willing to sacrifice her life for him in some type of unspoken romantic feeling that doesn't work because there's no chemistry. That being said, Abe does well in her fight scenes. Takehiro Hira plays Kenta, the big bad of the film. Even though he tries to ham it up there just isn't enough there for him to be a great cartoon villain. Iko Uwais plays Hard Master, who again isn't used well in another western film but does, at least, have some decent fight clips.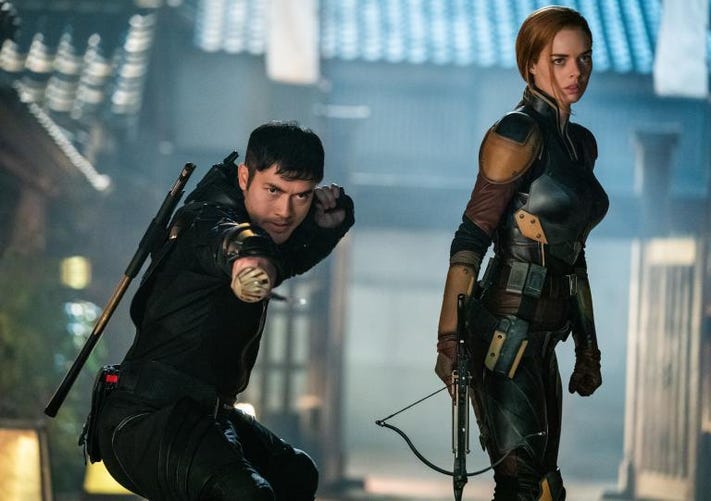 Photo: Paramount Pictures 
And the fight scenes are overall pretty good, even though the filmmakers get a little too happy with fast editing and shaking the camera. They do a good job of using sets and lighting to give Snake Eyes: G.I. Joe Origins the look and feel of our western 80s visions of how Japan looks. That gives a nice visual that makes you think of comic books and old movies. 
I think there is an audience for this movie and it isn't worth thinking about any deeper than a story strung around westernized ninja action. And, it's based on three-and-a-half-inch action figures, we should've never expected much anyway. 
In the End: Snake Eyes: G.I. Joe Origins is a manageable watch that translates a toy into a movie. It's not the height of these things but it's also not the bottom. It's just aight to death.