Grade: B
Basically: The encore of the surprising movie about a ragtag group of animals who love to sing.
While watching Sing 2, I had an epiphany that the Sing franchise is the new Muppets. Yeah, I said it. We have a group of loveable misfits who want to share their talents with as many people as they can. To entertain audiences with all they have. They will do whatever to put on a show and go through hell or high water to do it. See?
In the sequel, Buster Moon (Matthew McConaughey), our lovable director/promoter/storyteller, is trying to impress a talent scout named Suki (Chelsea Peretti) from Redstone City—the Sing world equivalent of Las Vegas. But she says they don't have what it takes. Buster does not give up that easily, though. He gathers the group and travels to Redstone by bus to audition for mogul Jimmy Crystal (Bobby Cannavale). He takes them on thanks to Gunter (Nick Kroll) and his idea for a space opera musical. From there the team needs to come up with a show fast or Jimmy Crystal's mob boss-like actions will toss Buster from the top of his building.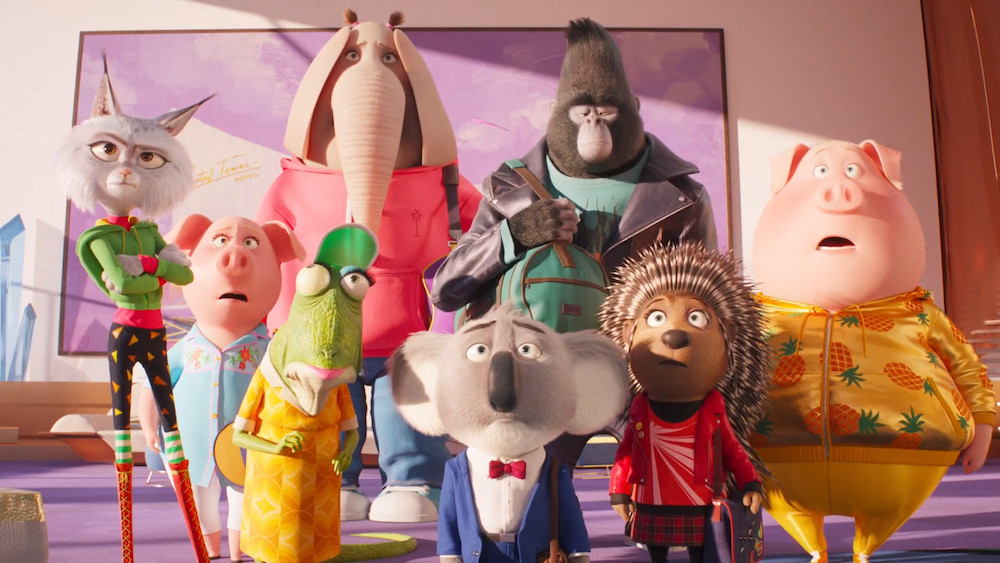 Photo © 2021 Universal Studios
The film improves slightly on Sing's level of visual fidelity. The animation is still great, especially in how it captures the emotion of the characters when singing. Some of the environments are stellar as they get fairly realistic and add in the right amount of lush and dazzling color. It's golden hour all the time outside with the perfect lighting. 
The voice acting is just as good as the first Sing and while that sounds like a boring description, it doesn't wow because you're waiting for the character to bust out their singing chops. The humor is smart but the stakes in Sing 2 are bigger as the threat of violence makes it a tad more mature. The bad guy is like a wolf, though, so it isn't something you need to worry about with children. 
Halsey plays Crystal's daughter Porsha who can't act but is forced into the show because of her father's threats. She's quite good voicing the spoiled girl who can sing (of course) but is oblivious to most things and also entitled.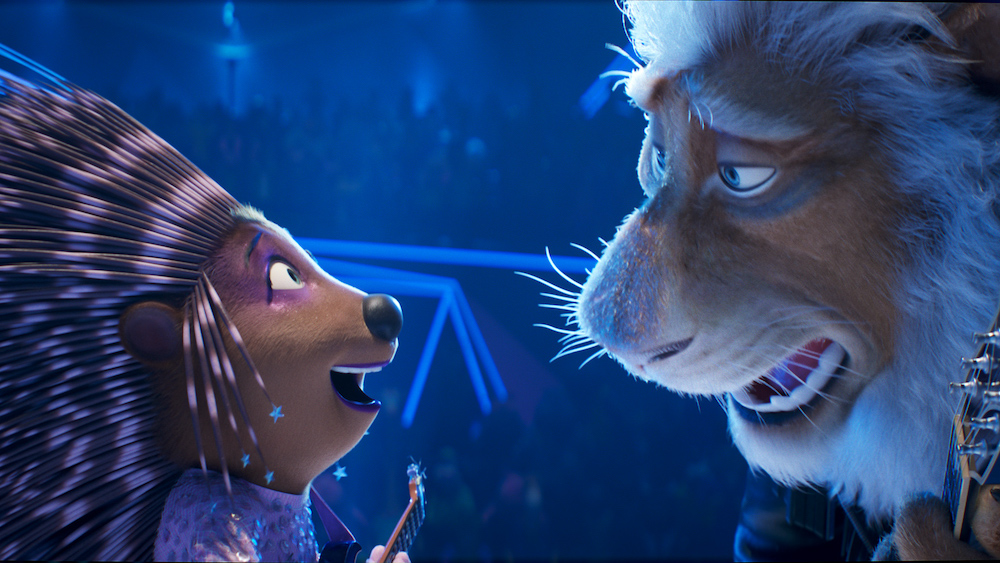 Photo © 2021 Universal Studios
The middle does lag a bit as Scarlett Johansson's Ash bonds with Bono's Clay Calloway, a reclusive rock and roll lion who stopped singing after his wife died. The film doesn't really build that connection and rushes the Clay character into the story–but we also didn't need the story to be longer. 
With that said, overall Sing 2 is quite fun and a nice story that Illumination can make another sequel out of because…why not? It's the new Muppets. 
In the End: Sing 2 is a decent and entertaining sequel that you'll watch for the song numbers and the big concert at the end. A nice end-of-the-year holiday fare.