Basically: A superhero movie that's a little bit BIG and a little bit John Hughes.
Like many, I feel the current state of The Worlds of DC (formerly the DCEU) movies has turned a corner. After, the wildly successful and fun, Aquaman taking the world by storm with its bright and colorful adventure the tone changed from Zack Synder's darker toned efforts. Not to talk too much about Aquaman but it has another connection. It's Geoff Johns, the former executive at DC Entertainment, who is also one of the major contributors to the DC Comics continuity of the last eighteen years or so. Both Aquaman and Shazam! are adaptations of Johns' reinterpretations of those almost eighty-year-old characters. Both have been adapted with a light tone even with equally dark backstories as we've seen in earlier efforts. It can be done.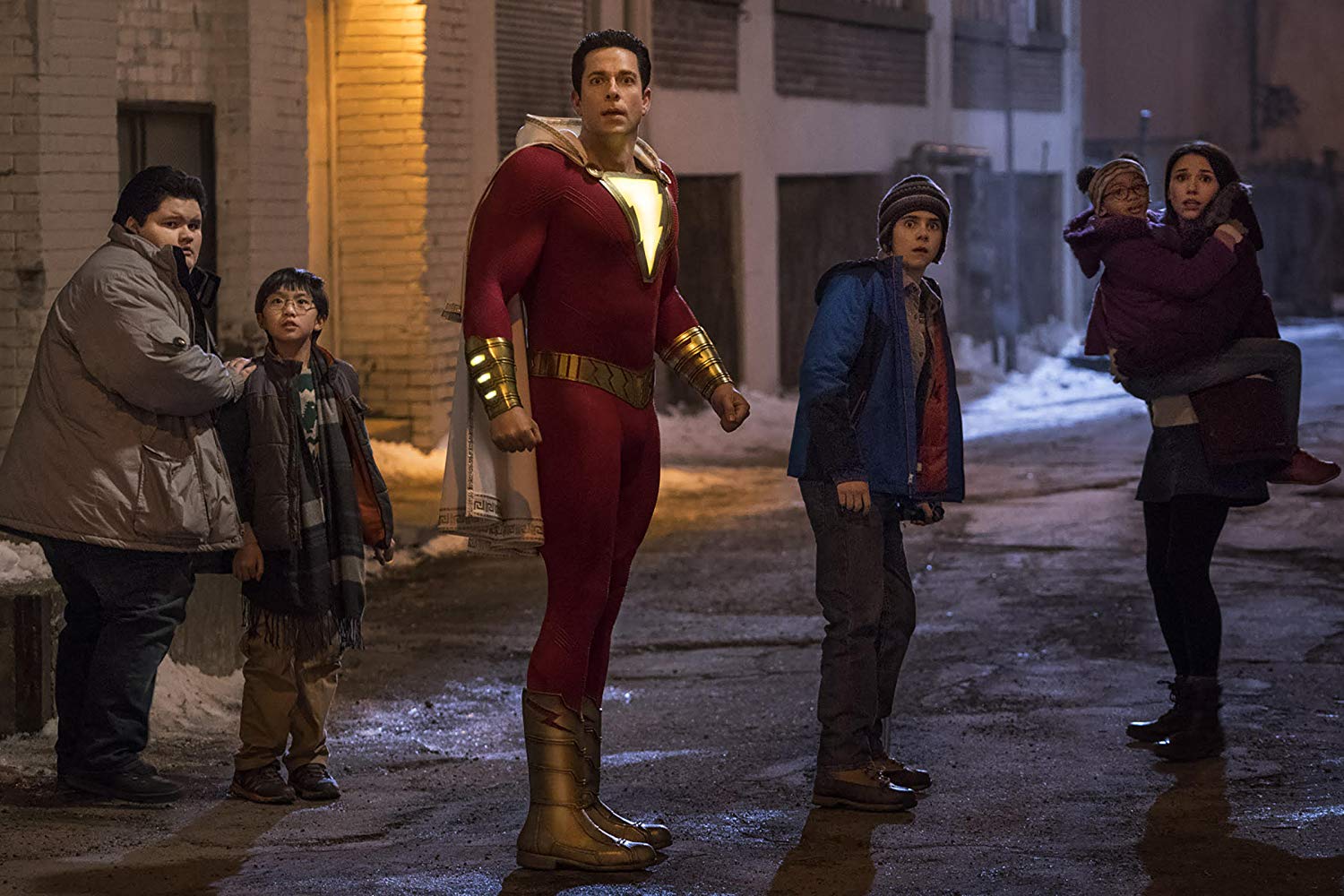 Photo © 2018 Warner Bros. Entertainment Inc.
The classic setup for Shazam! is that ancient wizard Shazam (Djimon Hounsou) is looking for a champion to take over the Rock of Eternity—the center of magic in all the universe. Over the last few thousands of years he's failed to find someone worthy. Eventually, he ends up with the young orphan Billy Batson (Asher Angel). He's a little rough around the edges—as a loner—but has a good heart. After receiving the powers of the wizard, Billy now has to juggle being with a new foster family and these new abilities that transform him into an adult physically (portrayed by Zachary Levi).
Now there has been a ton of comparisons to the 1988 film Big, starring Tom Hanks. Those are valid as the movie seems to go for that setup, and it works well while not being a copy. The performances of Angel and Levi along with the chemistry they have with Jack Dylan Grazer who plays Billy's foster brother Freddy Freeman and his confidant on the ways of a superhero. A bulk of the story is held together by the connection and interactions between Freddy and Billy. They are a very believable and consistent comedy duo throughout the film.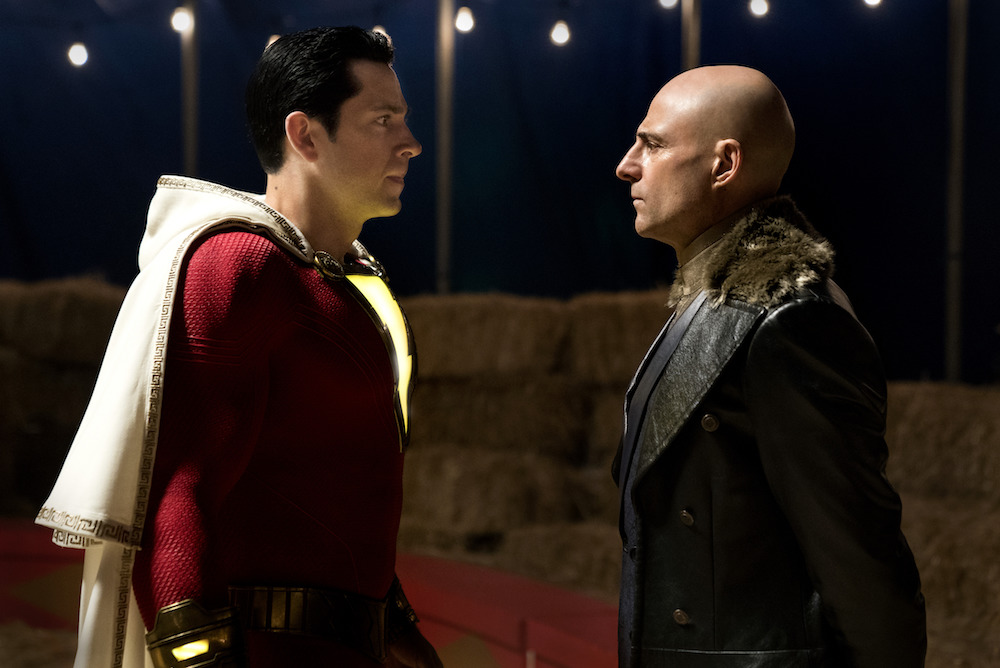 Photo © 2018 Warner Bros. Entertainment Inc.
A superhero is nothing without their villain and this story has one in Dr. Thaddeus Sivana, played by bad guy MVP Mark Strong. There's not much to say here, Strong is such a "strong" actor and a compelling bad guy, even in his sleep. There is nothing else to say. The movie does the job, just like the comic book version, of tying Sivana to the origins of our hero and that should work for audiences.
The movie looks good, it doesn't look amazing—I mean in terms of some of the cinematography and angles and effects. Nothing is confusing but Shazam! uses camera angles you'd mostly see in a comedy rather than a superhero film. This movie is for bigger audiences, ones that include kids. One thing that Shazam! has in common with old PG-13 movies (or classic PG ones) is the kids curse a little, which is perfect when used as a punchline but it's not something we see that much these days.
In The End: Shazam! is a great second act in the new Worlds of DC. It is a fun family superhero movie that never tries too hard to be what it wants to be.