Basically: Some type of neo-noir based around catching a giant tuna fish.
Oh, idobi readers, you have no idea how terrible this movie is. It almost reached a level of bad that's good, but it then whipped itself back to super duper terrible. Serenity is not about the cool sci-fi spaceship or George from Seinfeld trying to release his anger. It's about a man named Baker Dill (Matthew McConaughey), a down on his luck boat captain and fisherman who spends his days trying to catch a huge tuna he's named…JUSTICE. That's right: Tuna…as in fish. (Maybe we should call him Ishmael.) One day Baker's ex-wife Karen (Anne Hathaway) appears, she wants him to help her kill her abusive new husband Frank (Jason Clarke) and save their son Patrick (Rafael Sayegh).
At least that's what you think it's about until it tries to get all weird and metaphysical with Baker and son possibly having a psychic connection. At that point, it's like, What are we doing here, Steven Knight? Knight, the director, has set this movie up with the gritty anti-hero dialogue you'd expect from a noir story but, oh no, Baker isn't a private eye he's Captain Ahab…I mean, he's a daggone fisherman. Baker drinks hard, loves the local hot lady Constance (Diane Lane) hard, and has a scruffy beard. Hathaway's Karen is every femme fatale ever, wrapped up in a performance goofier than the White Queen role she played in those Alice in Wonderland movies. Some of the dialogue is so laughable and terrible, it's like someone tried to make a serious "film" out of a SpongeBob episode. Then for some reason, Serenity changes up and becomes this weird science fiction story, questioning what is real and what is human as it steers into what feels like a Westworld plot that tries to balance the noir thing with a silly Grand Theft Auto-like exploration.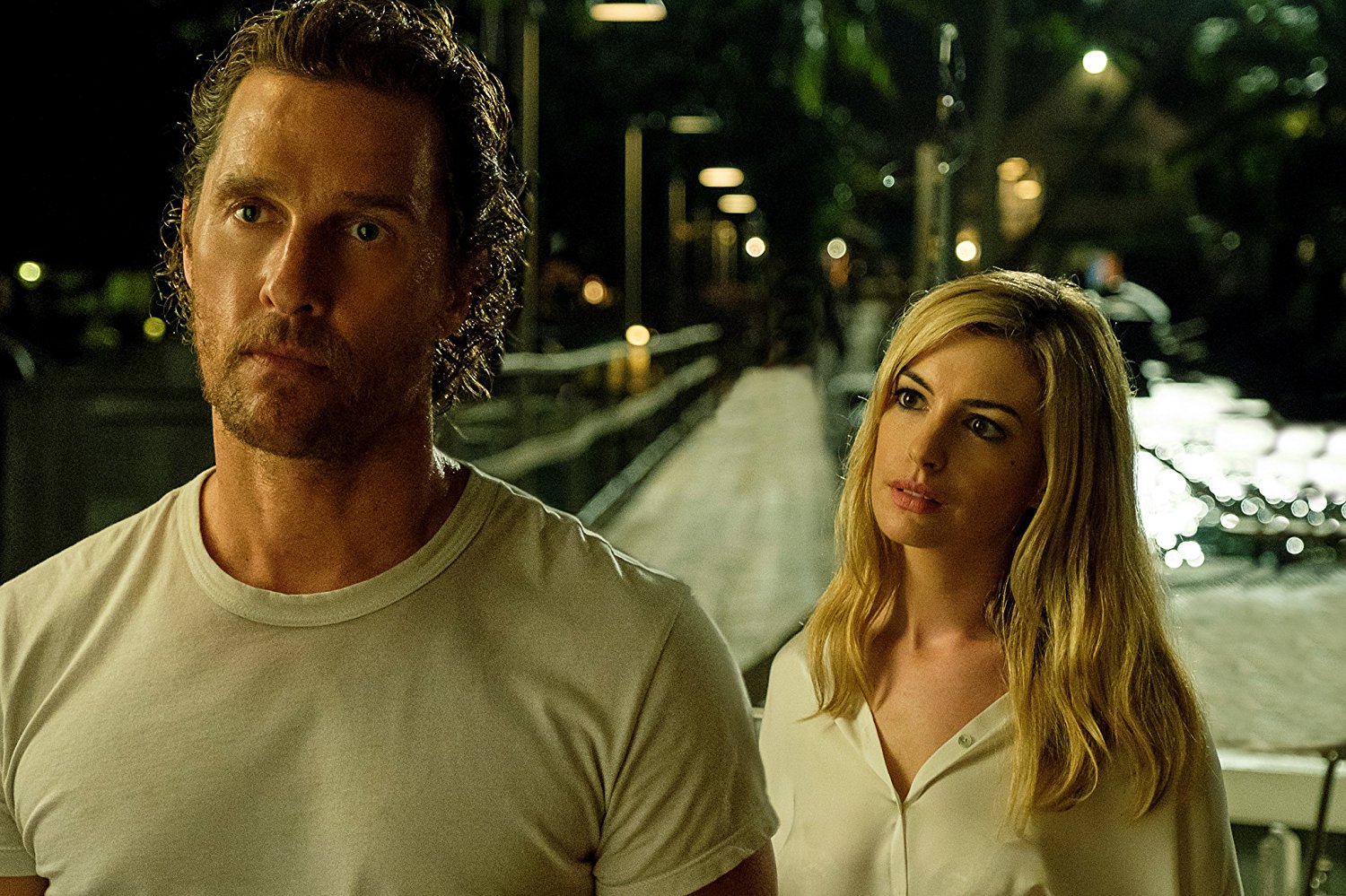 Photo © Graham Bartholomew / Aviron Pictures
Another confusing thing about this movie is, for the most part the photography of the island setting is beautiful but then all of a sudden they add in digital camera edits. It's so ugly and corny, it's one of the first clues to the paranormal story beneath the main one. And that's when Serenity really starts to crack and show you just how wack this joint is.
The rest is nothing to call home about. It's decent camera work and editing. You never really feel lost. It's just a laughably bad movie that wouldn't have made any sense no matter how good the editor might have been. As I mentioned earlier, most of the performances are so over the top the actors must have either hated or enjoyed the hell out of themselves. This is a movie you should stay away from. Let it die on the vine. Don't even watch it on basic cable. Just let it go, it lives up to the legacy of January releases being trash—to its core.
In the End: Serenity is a bad noir effort that wastes all the great names attached to it.