Basically: A ridiculous modern action adventure wrapped up in the legend of Robin of Loxley.
There's an expression: Specificity breeds universality. It means the more specific a story is the more relatable it becomes. It's too bad director Otto Bathurst didn't trust that bit of wisdom when making his wildly anachronistic retelling. So many different time periods collide in this movie that you'd expect the Time Bandits to leap out and declare themselves part of Robin's gang. Robin Hood (2018) is bombastic and ridiculous but not without its charm due to its dynamic cast.
It starts with the love story between Lord Robin of Loxley (Taron Egerton) and Marian, a social justice warrior AKA horse thief (Eve Hewson). Everything is awesome, just like the opening of The Princess Bride, until the Sheriff of Nottingham (Ben Mendelsohn) sends Rob a draft notice and he's off to fight in The Crusades. A few years later, in a scene that plays out like a 12th century Hurt Locker, Rob meets a Moorish warrior in battle. This sequence is bananas and a lot of people die. Which leads our hero and the Moor (Jamie Foxx)—called John because no one can be bothered to pronounce his Arabic name—into forming an alliance. After all, the Sheriff of Nottingham is dirty and that corruption may reach farther and wider than our crusading duo suspects. Amen.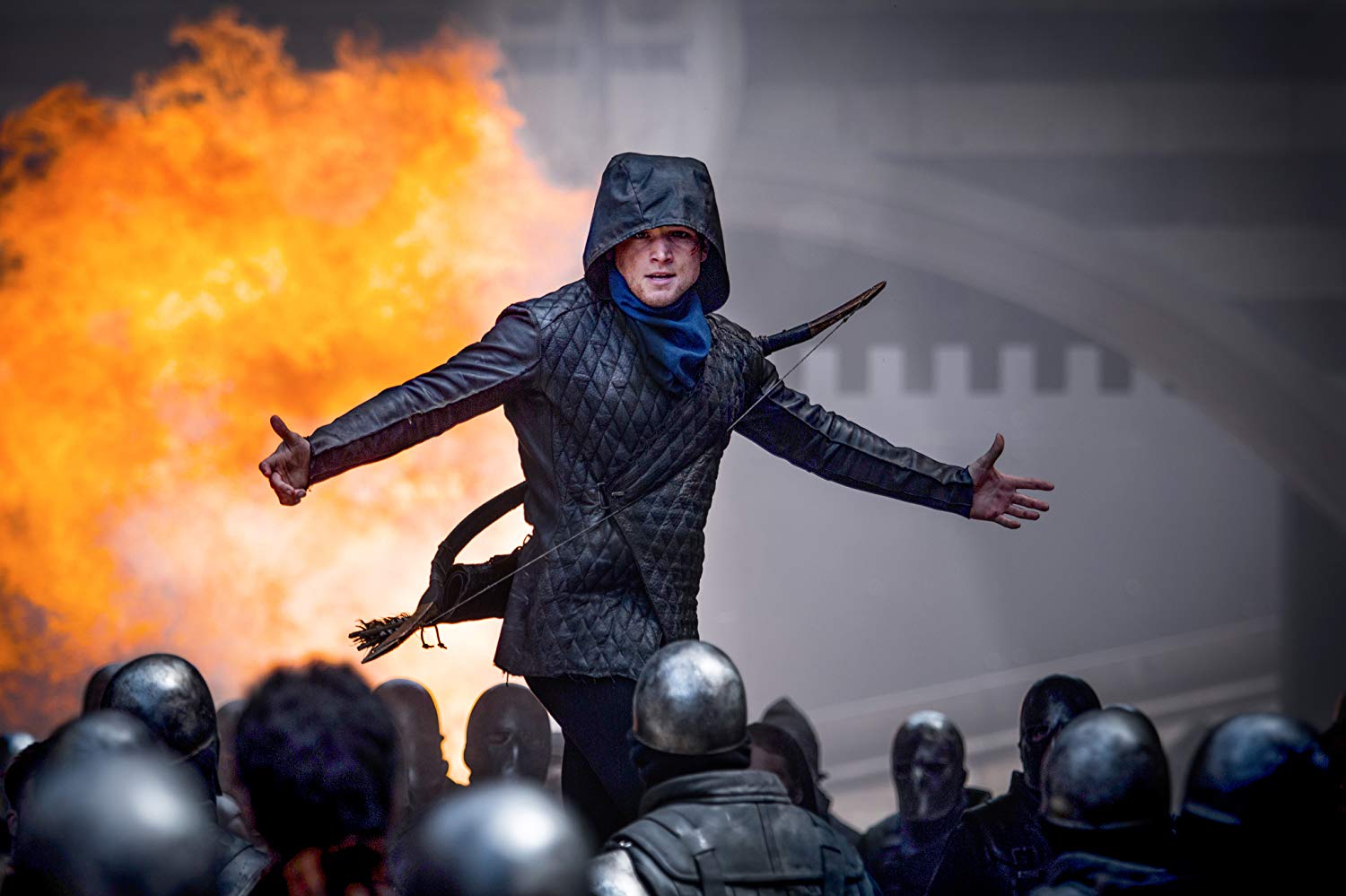 Photo by Larry Horricks - © 2018 - Lionsgate
This isn't a horrible movie—it's actually engaging for most of two hours—but it's just so silly. Even in the harshest moments you feel like there's a punchline coming. At one point Marian explains the title "Lord Loxley" is a facade, The Hood is who Robin really is. I know her words are meant to be a revelation but I couldn't resist leaning over and whispering, "He's Batman," to a fellow critic. It's difficult not to see Robin as Bruce Wayne and Jamie Foxx as Lucius (ahem) Fox. It's really difficult not to see a patchwork of other films all stitched together in Robin Hood.
And now, back to the wildly anachronistic parts. Robin Hood has no idea "when" it's meant to be taking place. At one point you'd swear you're watching a propaganda film from the industrial age. Then you're in a coal mine, but those don't pop-up in England until the 17th century. There's one dude in a beanie and a leather jacket who launches Molotov cocktails (circa the 1930s). Oh and there's security style footage shown from beneath an armored cart…which…what? The costumes, imagery, and dialogue are incongruent with time and place. What's even more befuddling is this was all done on purpose, apparently to be relatable. Instead it yanks you out of the movie because your mind is telling you something is wrong with this wacky time machine.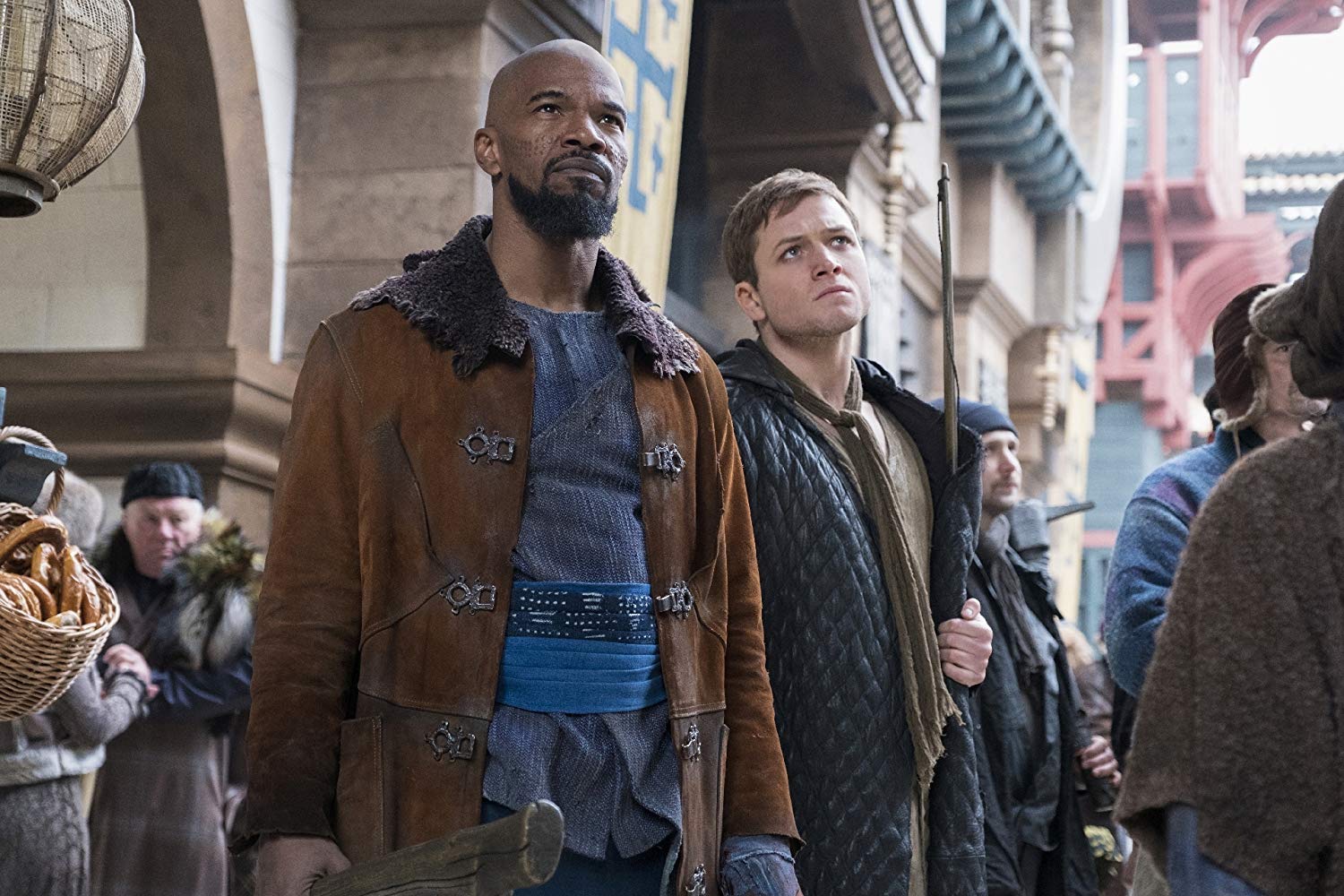 Photo by Larry Horricks - © 2018 - Lionsgate
And now, the action sequences. The filmmakers take every archaic means possible to gives us modern set pieces: car chases but with horse drawn carriages, explosions with giant smelting pots, bow and arrow shootouts with the same fire power as automatic weapons. All of that happens. Clever? Perhaps. Surprisingly underwhelming? Totally.
Thank goodness for this cast. Egerton is dashing. Foxx is intense. Tim Minchin does a great Simon Pegg as Friar Tuck. That sounds like sarcasm but it works well. The cast is committed and talented and therefore they mitigate the silliness (most of the time). Although, they do have trouble making the jokes land. Oh and we cannot forget Marian's cleavage—it gets so much screen time it's now a member of SAG. It would be rude not to warn you that every villainous villain is evil. The eyebrows, the smirks, the scars, the backstories…oh so very evil. It's kind of a waste of F. Murray Abraham and Mendelsohn too. And it probably would've been good to get an actor of African Arab descent to play John…but Jamie Foxx is so good I feel bad for saying it…it's true though…but oh the guilt…because Foxx is so good.
In the End: The jokes fall short of target, the characters struggle to connect, and you end up not caring about the inevitable sequel…but SEE IT anyway because Robin Hood could be fun when you don't have to review it.