Actually: 5.5
Basically: Stranger Things meets Independence Day but with no Fourth of July fireworks.
There's a special place in our hearts for kids' adventure films—growing up with The Goonies does that to you. That golden nostalgia is what made Stranger Things so successful. But it also means we're going to get endless rehashes to try and capture some more hearts [read: wallets].
Enter Rim of the World, Netflix's latest kid sci-fi-adventure movie. It has all the ingredients of previous hits—four misfits are brought together by a catastrophic event and must go on a journey to save the planet. In this story the children meet at summer camp, there's Jack Gore as the NASA-obsessed Alex, Benjamin Flores Jr. as the irrepressible Dariush, Miya Cech as the killer queen of few words, ZhenZhen, and Alessio Scalzotto as Gabriel (presumably named after the archangel…which says it all). But before they can partake in any summer fun, an explosion shakes the earth and alien spaceships start attacking. In the ensuing chaos they're abandoned by the rest of their camp and must head seventy miles down a mountain to Pasadena to deliver a key to NASA (one bequeathed to them by a dying astronaut who crashed nearby). All the way down, they're chased by one very persistent monster-alien-demogorgon (for real, there's no other word for what that thing is).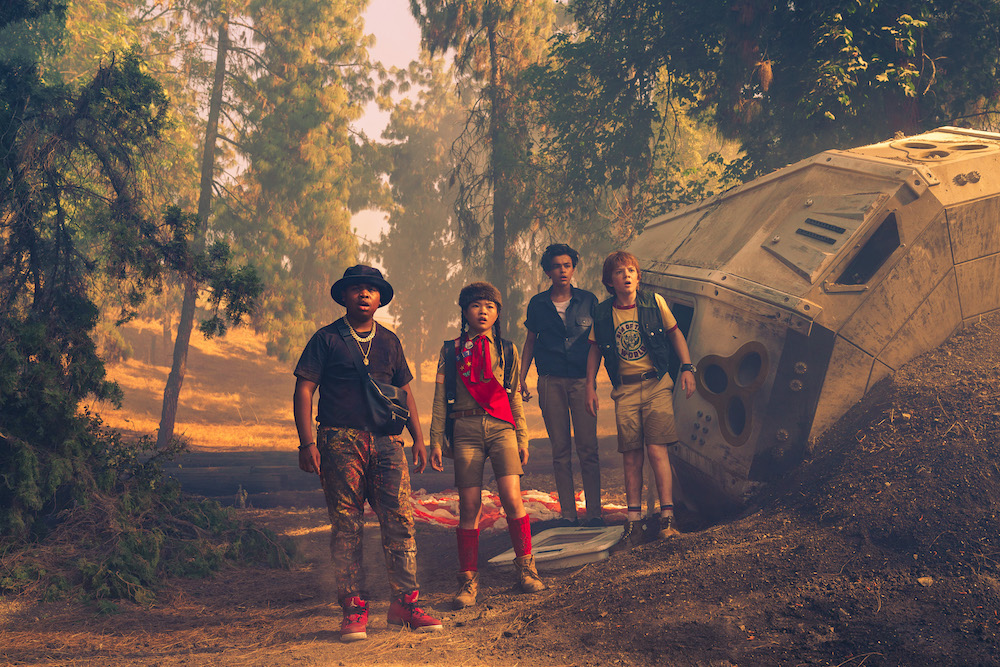 Photo: Aaron Epstein
It's a well-worn setup and the kids do their best to make it work. They're all great in their roles. Unfortunately the story lets them down. They are given stereotypes to play—the black kid is the bully and the liar who says things like "hell no" a lot; the asian girl barely speaks at all but kicks ass at everything. The characters do get arcs which help to break down these clichés but because their flaws are so obvious their journeys sometimes feel unearned. But like we said, the four actors are so good you'll cheer for them in spite of the poor writing.
While Rim of the World is an easy watch and the team-bonding is cute, there isn't anything special in the story to truly pull you in. This film also looks like every childhood adventure film you've ever seen—there's even the classic chase through the kitchen scene (just replace a velociraptor with a demogorgon). Some of these homages will make you smile but they lean on too much that came before for any originality to shine through. Not to mention Rim of the World requires so much suspense of belief it'll make your brain hurt (and we're not talking about the badly animated demogorgons aliens). How do the children survive multiple air force strikes and monster attacks yet no trained military operatives do? How does the key survive (is it made out of a Nokia 3310?)?! And what soldiers would readily give out classified information to children? Yeah, yeah, this is a kids film. Call us jaded all you want but we think the kids deserve better.
In the End: Children might enjoy Rim of the World for the explosions and friendship but it'll probably annoy any adults watching.