Basically: A nation divided must set aside distrust and the lie of prejudice to reclaim their magic and their dragons.
There was once a land called Kumandra where dragons used their magic to create prosperity for humans. In this mythic place, Pan-Asian cultures met and merged in harmony; until the arrival of the druun. The druun were miasmic beings bent on stealing any life they touched. They nearly succeeded, before a dragon named Sisu concentrated her magic into a gemstone and stopped the evil plague. Yet still, Kumandra was broken.
Now, 500 years later, there are 5 chiefdoms. Each is part of the lost dragons: Heart, Fang, Talon, Spine, and Tail. There is relative peace but there is no prosperity—no magic—the five broken lands distrust one another and the dream of Kumandra has faded.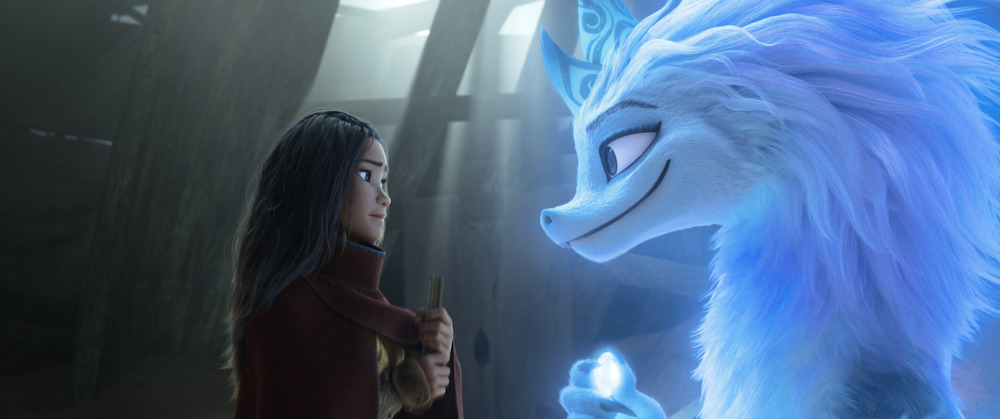 Photo © 2020 Disney 
Enter two girls: Raya (Kelly Marie Tran) and Namaari (Gemma Chan). Raya's people are the dragon warriors of the Heart, entrusted with guarding what remains of Sisu's gem. The other chiefdoms believe the gem brings the Heart the prosperity once shared by all of Kumandra. This distrust and the prejudiced stereotypes it creates are the primary source of dissension between the broken lands. Namaari is from the Fang and although they appear to be doing well they lack resources. With so much jealousy and so many lies abounding, when these two girl butt heads it sets off a chain reaction.
Likewise it is inevitable, the moment the five broken lands are brought together—to speak of reunification—their distrust shatters the fragile peace and threatens ultimate destruction.
So that's fun, right? I mean it, Raya and the Last Dragon is fun! The fight scenes alone had me squealing. The plot is focused and well composed, which leaves lots of room to explore the character development that tends to connect us more deeply to story. Written primarily by Qui Nguyen and Adele Lim, the five broken lands give us wondrous reimagined myths of Pan-Asian magic. Those inspirations are echoed in the design of the film, I am by no means the best educated on such things but I spied influences of ancient Myanmar, Malaysia, Thailand, and Vietnam in the costuming, the architecture, and legends.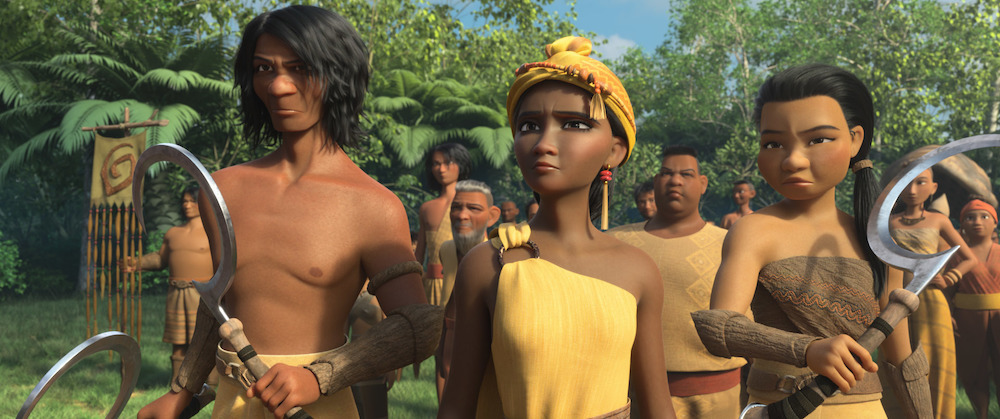 Photo © 2020 Disney 
——–
SIDEBAR: Which makes this a good moment to talk about the massive hunk of pop culture in the room: Avatar the Last Airbender. There's been a lot of talk about whether or not RATD steals from ATLA and Korra. Well, there certainly seems to be a homage to Korra when we first meet Raya, but perhaps we need to dig into a deeper truth. ATLA is based on a fusion of Asian myths, folklore, and cultures that are very real and very old. Raya and the Last Dragon is based on a fusion of Southeast Asian myths, folklore, and cultures that are very real and very old. If you think Raya's lone warrior look is taken from Zuko, you might want to Google: samurai in straw hat. The source material is similar for both but the stories are not. ATLA did not create magic systems based on the elements or on chakra; just like RATD did not create glowing dragon balls or a "nothing" ravaging a land. See what I'm saying?
——–
Annnd we're back.
Awkwafina is wonderful as Sisu. Who knew she had the spirit of a dragon all along? And I want more Kelly Marie Tran, not just her voice but in live action too. Her Raya is intrepid and flawed and yet open to discovery. Just the kind of hero we need. Gemma Chan's Namaari is a nuanced foil, creating an antagonist we want to learn more about. Along for the journey are Izaac Wang as the super-cute ship's captain and congee chef, Boun. Our fave, Benedict Wong is the wall of a warrior and absolutely sweetie known as Tong. And, y'all, there is a Gangster Baby (Thalia Tran) as the leader of a three monkey crime syndicate. Little Noi is a joy.
Photo © 2020 Disney 
Raya and the Last Dragon is a very good, exciting, funny, joyous animation about the power of coming together, truth beyond the legends, and learning to trust when that's the most dangerous thing you can do. I've watched it a few times—no shame—I'm about to watch it again.
More than anything else, this animation speaks to themes of unity we are in dire need of learning right now, and it does it in the most powerful way, by wrapping the truth up in action and sweetness.
In the End: This is a great magical action-adventure to watch with the entire family…and then watch again.