by Day Al-Mohamed and S.C. Mohammad (her mom)
Basically: You've seen it before: The creation of an "underdog" cheerleading squad who learn to pull together with an inspirational leader and succeed at the big competition. The sole difference here is that it is women from a retirement community rather than highschoolers.
Diane Keaton never picks a dull film. She rarely picks a dud film either. In Poms, Keaton takes on the role of Martha, a dying woman who moves into a retirement community and, much to the consternation of the locals, starts a cheerleading squad. They train together, they laugh together and then, at their first public performance, they are humiliated by the local highschool cheerleading team. Do they have the courage to try again?  
In addition to Diane Keaton, the film is replete with some of acting's more mature ladies. None of whom are slouches either: Jacki Weaver, Pam Grier, Rhea Perlman, Celia Weston, and Phyllis Somerville to name a few.
Because of the demographic and because of the similar ages to the leading actresses, ☺ I decided to take my mother with me to the film. While not necessarily verbose, she had distinct opinions about Poms.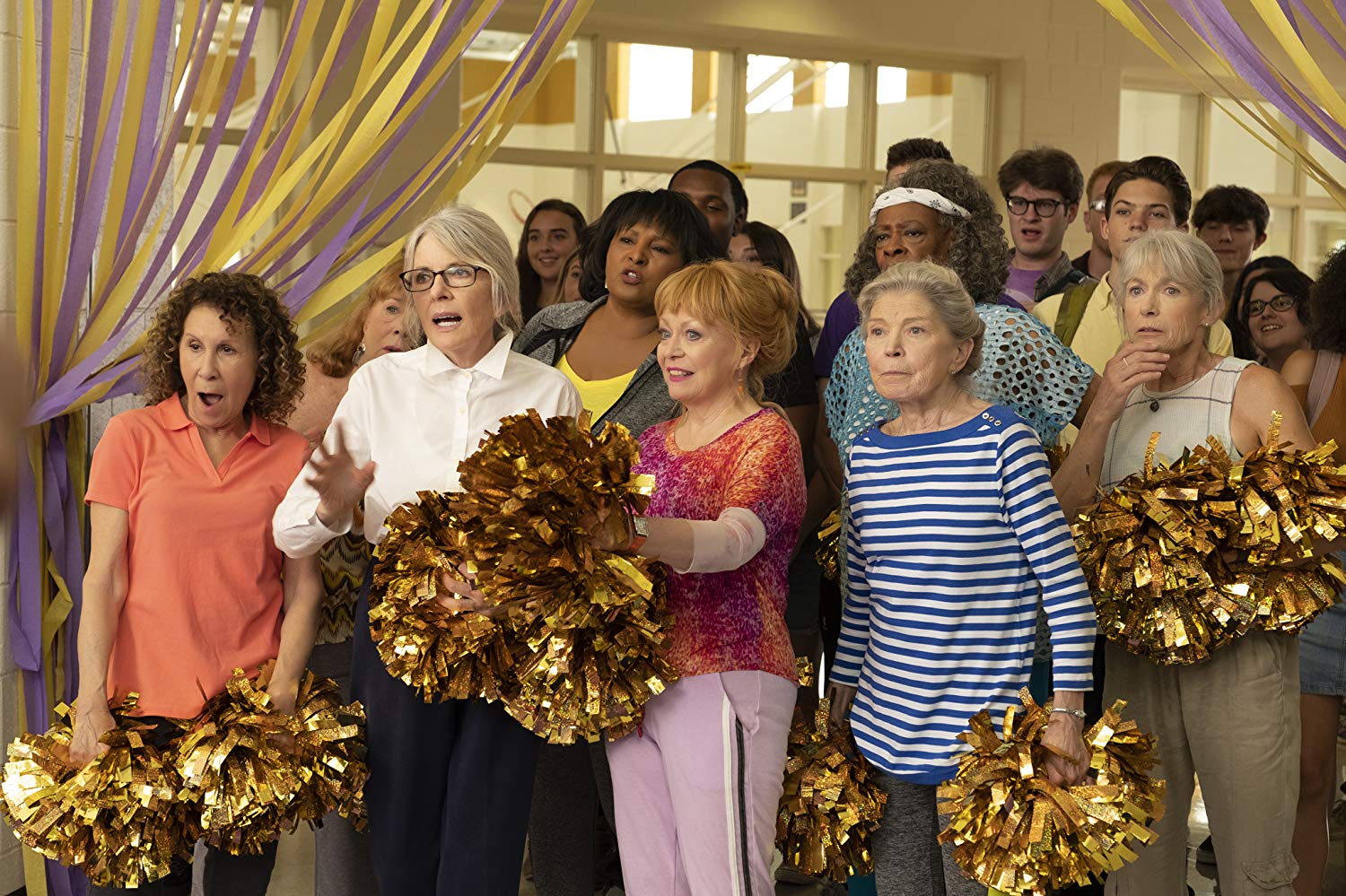 Photo: STX Entertainment
The Acting:
Mom: Those women can act! And it can be hard to find roles as women age. It's good to finally see films being written for older actresses.
Me: Jacki Weaver is a delight as Sheryl, the nosy neighbor who throws late night poker parties. Her energy just comes off the screen. And Celia Weston is killing it playing the role of the uptight Southern Belle and community organizer who disapproves of the cheerleading club.
Mom: Jacki Weaver's really good. I've seen her in other things. I also liked Chief Carl (Bruce McGill). He used to be on with Sarah Chadwick in her drama. It's nice to see him in this movie.
Me: I really loved Rhea Perlman as Alice. The woman whose husband wouldn't let her join unless it was "over his dead body"…and then died.
Mom: She was Danny DeVito's wife.
Me: I didn't know that!
Mom: Oh yeah. They've been together and split up and then together again…she was funny [in the film].
Me: I think my biggest disappointment was that the producers have assembled an amazing group of actresses but, other than Diane Keaton and Jacki Weaver, none of the others really gets any good on screen time.   
Do you remember The Best Exotic Marigold Hotel? That's another film that, in many ways, was crafted to showcase the lives and decisions of older adults and I think it did a better job. It truly was an ensemble film giving each character and actor their moment to shine.
Mom: Yes. It's a much better movie. But this one is still good.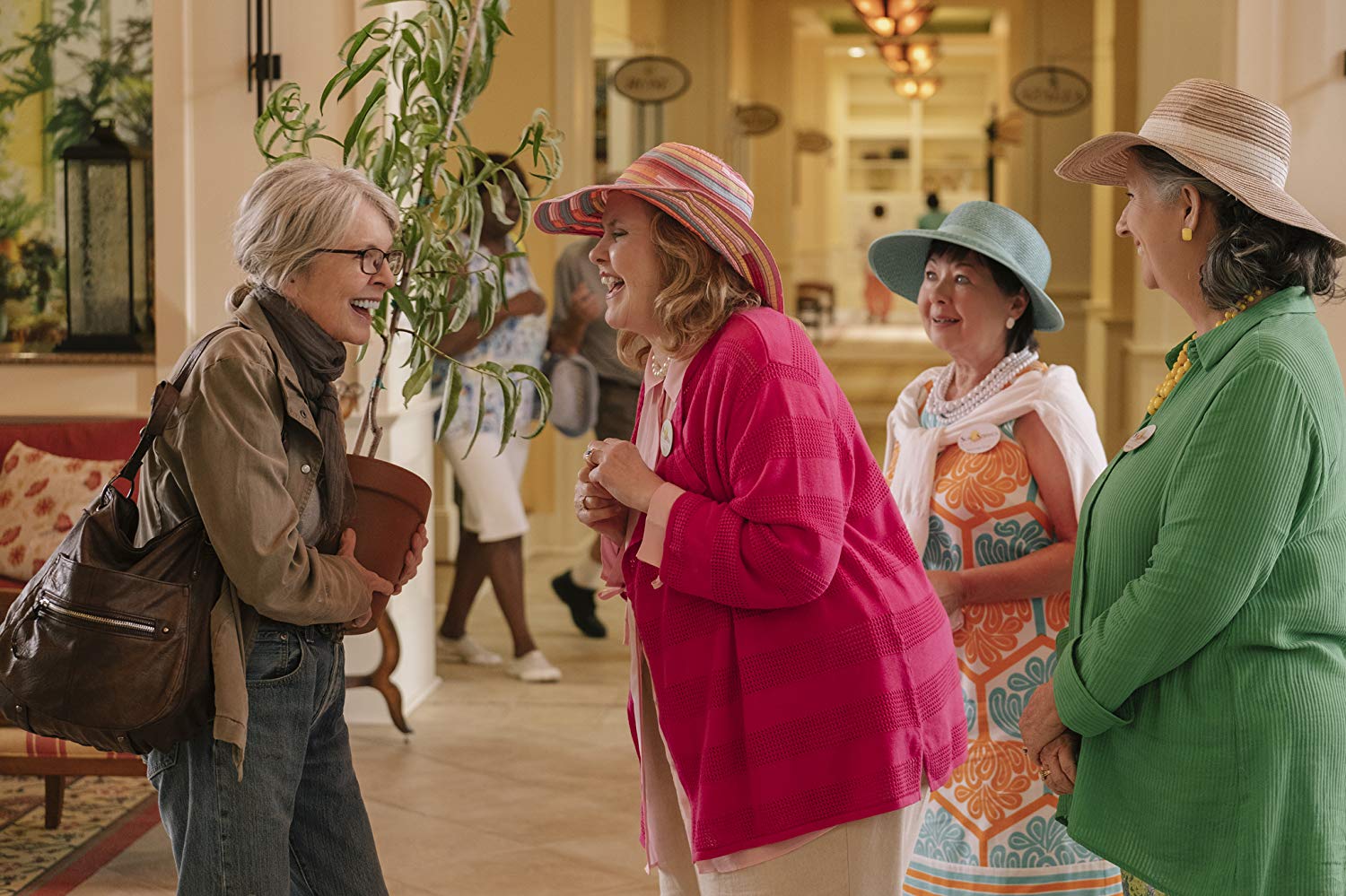 Photo: STX Entertainment
The Writing:
Me: What did you think of the writing? The story was pretty simple.
Mom: It's a short movie. There were a couple of things where I think they just threw stuff in to fill it.
Me: You're right. The film started at 7pm and we were out at 8:30pm. Only an hour and a half. I think by not filling out the other characters, we ended up with a "thin" movie that didn't have a lot of subtext. Here's the premise:
1. I never got to be a cheerleader, but I've always wanted to;
2. Let's start a cheerleading squad;
3. Oh no, we embarrassed ourselves;
4. Different people quit;
5. Now we're pulling together again and practicing NEW moves; and
6. We go on to the big competition where we're a hit.
Usually there are other stories mixed in. This one didn't really HAVE any other stories.
Mom: It points out how spoiled snots some young people are—young people have a lot to learn.
Me: Are you talking about the movie or me? Or both?
Mom: …
Me: …
Mom: It's a cute little movie and I'd see it again.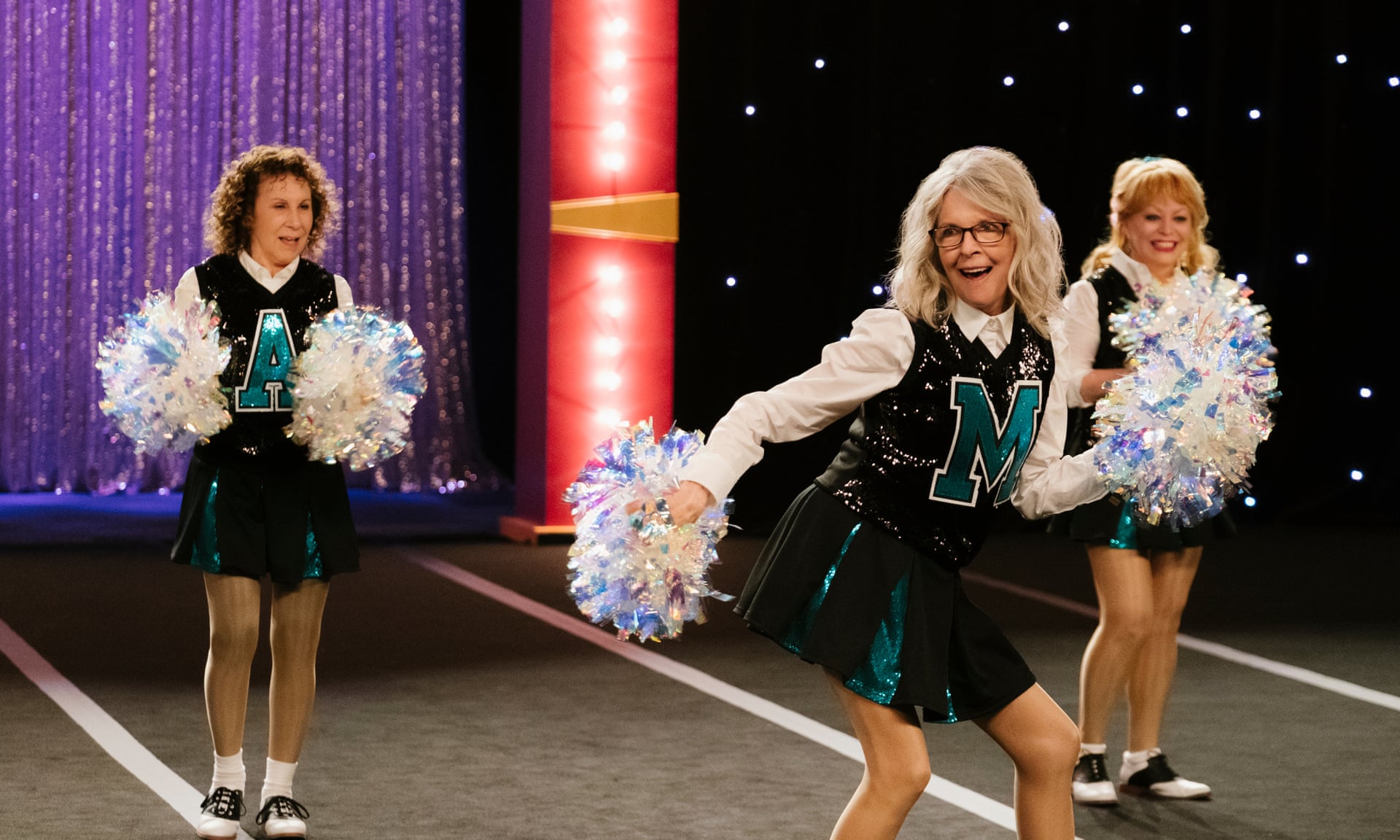 Photo: STX Entertainment
Favorite Scene:
Me: So what was your favorite part?
Mom: I liked the ending, even though it was sad. I may have to consider being put in a firework after I go.
Me: Uh…
Mom: Your favorite part?
Me: I liked the audition. We got to see each of the women a little bit and different kinds of dance.
Mom:  That was cute.  Actually, it was hilarious.
—
Controversy:
Me: In a recent interview, Anjelica Huston said she only wants to make movies "that aren't apologetically humble or humiliating, like 'Band of cheerleaders gets back together for one last hurrah.'"
Mom: I agree with Jacki Weaver. Anjelica Huston can go f*** herself. It's not right. I don't like that comment about any of those women. She's just being a b****. The film was nice and a lot of fun and just a good laugh. We still need that.
Me: Definitely. Comedies never get the credit or respect they deserve.
Mom: So many movies have too much killing and violence. Or lots of sex. Sometimes we just need a good laugh. There's nothing wrong with that.
Me: Agreed. There's absolutely nothing wrong with that.
In the End: While the film is a good laugh with some great inter-generational appeal, it misses out on being amazing because the writing simply didn't take advantage of a brilliant cast.