Rating: Eight carrots out of ten
Basically: Going beyond the well-told story of Peter Rabbit, the new movie delves into Peter's life in surprising ways, giving emotional heft to what might have been a lightweight funny-animal kid's movie.
James Corden, as Peter, strikes a terrific balance between being an incorrigible troublemaker—who indulges his wild side with a self-conscious wink—and a fellow who understands the dangers of what he's doing. He knows invading the old farmer Mr. McGregor's (Sam Neill) garden puts his family at risk but he cannot help himself. When fate delivers him from that particular threat however, a new danger arises—not just to his life but to his emotional well-being.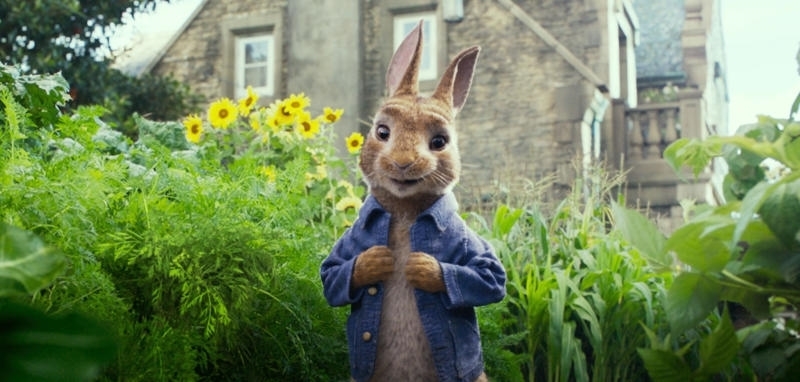 Photo: Sony Pictures Entertainment
Amid Peter's many misadventures, sisters Flopsy (Margot Robbie, who also narrates), Mopsy (Elizabeth Debicki) and Cotton-Tail (Daisy Ridley) contend among themselves. Mopsy bosses the other two around on the basis of having been born a couple of seconds before them, Flopsy struggles to assert herself, and Cotton-Tail adopts a "let me at them!" fierceness that tends to dismay the others. Rounding out the troupe, Colin Moody does yeoman work as Benjamin, Peter's cousin and personal Jiminy Cricket. If Peter's weakness is doing stupid, dangerous things, Benjamin's is following to try and keep him alive…or at least keep him company.
With Farmer McGregor gone, the family farm is inherited by Thomas (Domnhall Gleeson), a starchy and stiff middle-manager who lost out on a promotion. He quickly becomes enemies with Peter and smitten with his bunny-loving artistic neighbor Bea (Rose Byrne). Bea has not only befriended the bunny family but has made several paintings of them, in a knowing wink to the work of Beatrix Potter herself. Thomas and Bea develop a bond, complicated by Peter and Thomas's bitter enmity.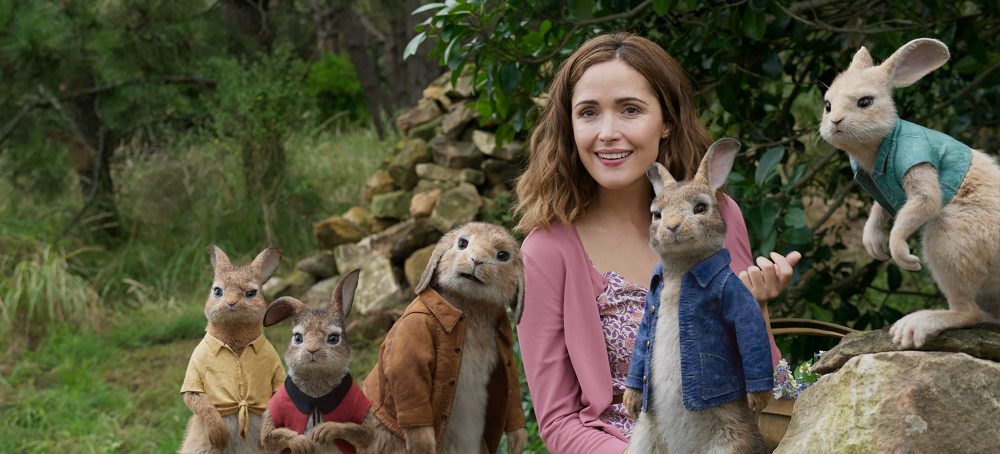 Photo: Sony Pictures Entertainment
The cast is stellar, producing a rich collection of voices with their own quirks and charms. Gleeson proves to be an exceptional physical comedian, which might surprise those who only know him as General Hux from Star Wars. Rose Byrne shows her chameleonic skills by virtually disappearing into the role of Bea, a young woman whose artistic ambitions will never be realized without something of a push.
Although there is plenty of broad physical comedy, involving wrecking the farmhouse and inflicting dire humiliations upon Thomas, the movie's theme of needing to be loved and taking responsibility for wronging others stands out. Corden, Gluck and company make this retelling of Peter Rabbit not only pleasing to the eye and ear but to the heart as well.
In the End: Sony Animation has yet another success to add to their firmament.