Basically: A woman whose life has been interrupted has to decide whether to take it back.
The title of this film delivers on a triplet of themes. Elpida is a woman whose life has been interrupted by an arranged marriage to a self-centered, emotionally vacant husband. That is the first meaning of "pause". At the start of the film, we meet her in a waiting room. Moments later a doctor examines her as though she's a mannequin. He drones on and on while she sits, legs open and eyes averted, in silence. Elpida (Stella Fyrogeni) doesn't speak for the first 10 minutes of the film. Not a word. That silence is the second "pause". The third one is contained within the word "menopause." It's the diagnosis Elpida receives at the doctor's office and it becomes the inciting incident to the rest of the story. PAUSE is the question mark at the end of whether or not she will finally resume living her life by pressing PLAY.
Tonia Mishiali's film is gorgeous in its solemnity. From the use of clinical blues and earthy neutrals, to multiple shots in which Elpida is sandwiched between walls and unmoving, to the long moments when she seems to have no voice at all. Even her husband, Costas, only speaks to demean or to order her around. Most of the sounds he makes are noisy eating or shuffling around their apartment. We're meant to despise him and the actor Andreas Vasileiou makes sure we do. I don't know whether to commend him or to scream. His neglect, disregard, and sexual abuse is the magnifying glass through which we recognize the low hum of anger that shimmers inside Elpida throughout the film.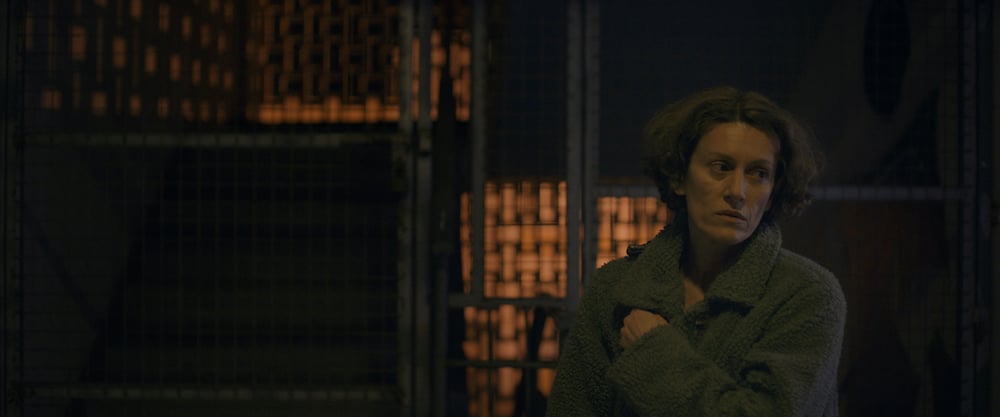 Photo courtesy of Subliminal Films
In response, Elpida begins to imagine small moments of revenge. Most of these are wonderfully petty—giving us a break from the bleakness of her life but also a sense of hope for who she might become. At other times she has sensual fantasies about men she bumps into in the stairwell. The house painter and her neighbor's lover become steamy encounters. At least in Elpida's mind. Or maybe not only in her mind. We can't be sure. These imaginings play out and rewind, then play out differently, so often that we begin to question what Elpida does and does not do. At the end, even she is left wondering.
There are no thrills here but there is a quiet tension that carries you through the film. You'll want Elpida to have a life and you'll stick around until the final credits to find out whether or not she does.
In the End: Indie film fans who revel in the slice-of-life moments that shape our lives will enjoy this lovingly shot and well acted moment in time.