Basically: Two best friends go on an all-day adventure after making a suicide pact for the end of the night.
On the Count of Three is about two terribly sad friends trying to help each other as they both think they want to end their time in the land of the living. Jerrod Carmichael plays Val, a young man who works in a mulch plant and has a most terrible day (which seems to be most days). Completely unhappy, he unsuccessfully tries to kill himself in the work bathroom but is annoyed out of it by a co-worker. Val then goes to the local mental health facility to visit his best friend Kevin (Christopher Abbott), who has been staying there following a more dedicated yet unsuccessful suicide attempt. After helping him escape, Val takes Kevin somewhere so they can kill each other…but Kevin talks Val into doing it at the end of the day after they have one last great time together. 
The film shows off how Carmichael's Val and Abbott's Kevin interact and bounce off each other. Carmichael plays into his dry humor delivery while Abbott has overly earnest reactions to everything. Abbott really is good as the colorful part of the buddy duo. Both actors come off naturally as friends with a sense of closeness and caring. As Val and Kevin try to handle their affairs with the other people in their lives, On the Count of Three balances the comedy and drama of these two very depressed and hurt men.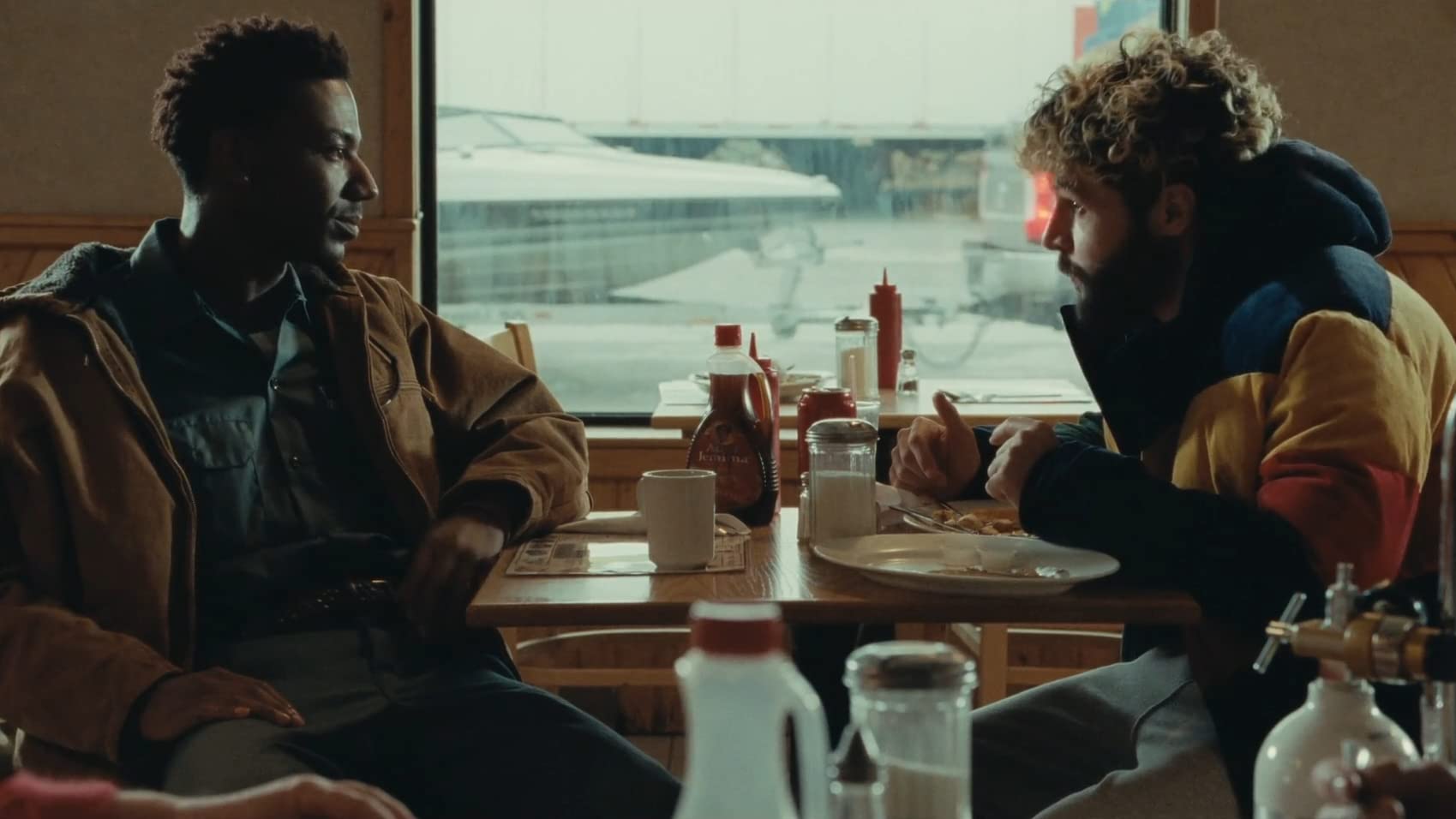 Carmichael is also the film's director, so this is an excellent time to talk about how he shoots the movie and handles scenes with the other characters. J.B. Smoove does well playing Val's father, Lyndell. Smoove and Carmichael build some nice tension between their characters as we watch Val become more and more desperate. Tiffany Haddish also stars as Val's girlfriend, Natasha. She does fine but really isn't in it enough to make you feel much about her character. Carmichael is comfortable with her and their relationship feels natural. At times the film reminds me of Key & Peele because of how it takes an idea and subverts it, much like Peele does with his film work. 
On the Count of Three builds to a climax and moves once it decides to do so; things ratchet up and up as it gets to night time and the characters really change from where they are at the beginning. Keeping the cast small and having them spend a lot of time in a car works to its benefit. It allows the performers and director to focus. Another thing that helps is the fact that the runtime is short. Nothing feels stretched out or like it needs more time. It's nice and tight, which is a big plus given the way films are going. It feels like a full cinematic meal: Just satisfying. On the Count of Three also chooses to have an actual ending that isn't ambiguous. 
In the End: Jerrod Carmichael makes a great debut and all the actors do a great job in this interesting buddy comedy.