Actually: 7.5
Basically: The origin story of the notorious RBG and her first landmark case.
On the Basis of Sex is about Supreme Court Justice Ruth Bader Ginsburg and her work on the case Moritz v. Commissioner of Internal Revenue. This movie is mostly made for people, like me, who really don't know much about her other than being a Supreme Court Justice. The film starts as Ruth (Felicity Jones) enters Harvard Law School, while taking care of her children with her husband Marty (Armie Hammer). She constantly struggles to be taken seriously by all the men in charge at Harvard but ends up becoming a law professor. When the case of a man who can't write off the expenses of taking care of his mother—because the laws on caretaking were intended solely for women—Ruth ends up in the legal battle of her life to challenge the sexist nature of the legal system in the United States.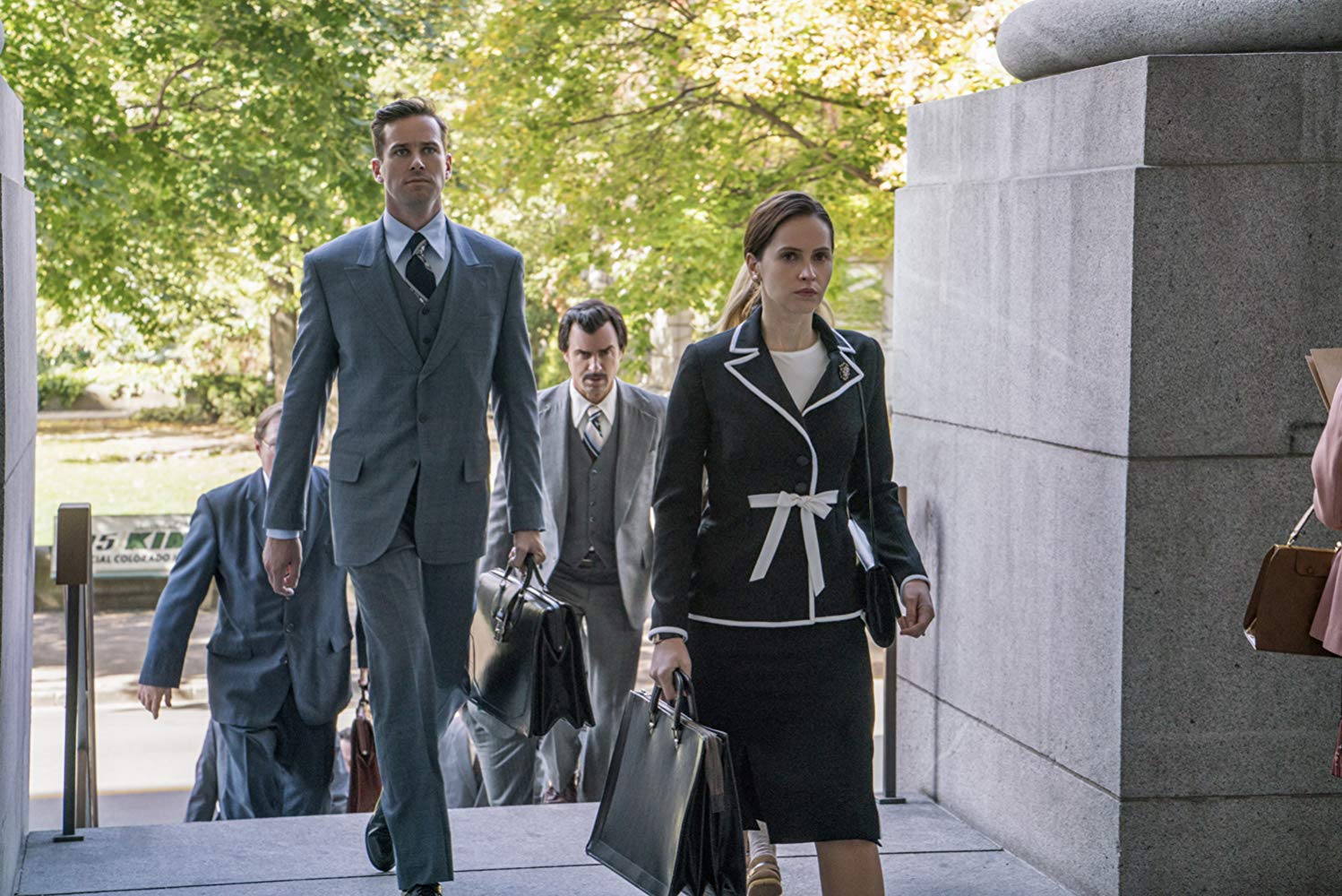 Photo © 2018 Storyteller Distribution Co., LLC. All Rights Reserved.
On the Basis of Sex isn't some deep dive into the internal struggle of Justice Ginsburg. It's a biopic that shows her fighting to overcome the obstacles of her youth that helped make her who she is today. You don't see terrible fights between the Ginsburgs or even every moment of the legal proceedings. Jones does a good job of making you feel and root for RBG (Ruth Bader Ginsberg's millennial nickname). From her very sexist professors to her allies doubting her ability, you're invested. You want to see Ruth win. Hammer is good as one of the most supportive and best movie husbands I've ever seen. There's barely any real conflict between the two but there is a ton between RBG and her daughter Jane (Cailee Spaeny). It's a clash of generations as Jane conflicts with her mother on how to fight.
The interesting thing On the Basis of Sex shows is where the country was at the time and the progress that was being made, yet the sentiment that women are lesser and don't deserve the same rights as men was still present. The case, which specifically involved white males, seems sadly present right now. That might be due to some of the energy from the Magnolia Pictures documentary RBG that came out earlier in the year. It could also be because of the focus on her in the Supreme Court's recent headlines. It's hard not to have those stories in your mind when watching On the Basis of Sex. The actors and filmmakers did well by Ginsburg by making a movie that applies the right amount of myth to her amazing life.
In the End: A good biopic of a deserving living American legend.