Basically: What makes life worth the risk of living?
A little yellow house, surrounded by a white picket fence, built on a sea of sand, encircled by mountains, in the middle of the realm between worlds. This is where Will (Winston Duke) spends his afterlife. His days are filled with watching the lives of various people play out on a wall of analogue TVs. Which he then catalogues on VHS tapes. We immediately know he is lonely but we are also aware of an unspoken anger coiling within him.
Kyo (Benedict Wong) is a helper or perhaps the watcher of the watcher, who seems to be a catalyst for Will's rare honesty as well as his ire. But there is a pattern to their lives, a certain comfort that is too quickly broken by the very real tragedies playing out on those television screens. It is then that Will has to choose an unborn soul to undertake the opportunity of life. And a series of interviews begin.
Within the first few moments of Nine Days, I was reminded of After Life (1998), a film written and directed by Hirokazu Koreeda. If you know the latter, you can see Edson Oda's film has the same artistic DNA. And, happily, Nine Days is a worthy heir. Both films feature a charming bureaucracy that measures the journey of living and tries to contextualize each life in a singular visceral moment. But while Koreeda explored the endings, Oda revels in the beginnings.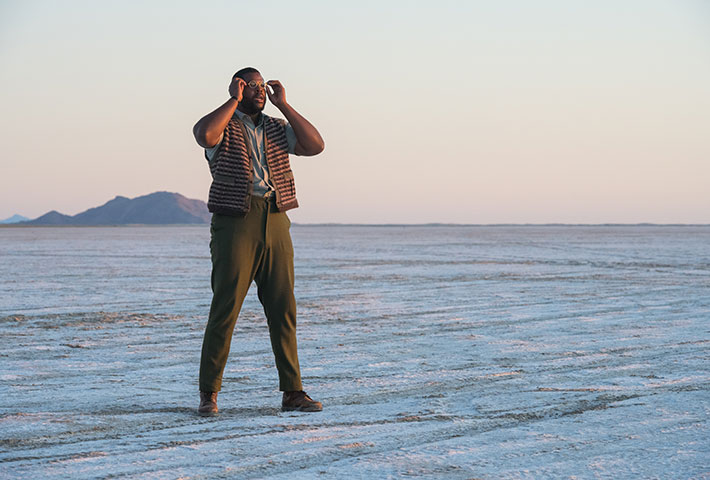 Photo courtesy of Sony Pictures Classics
Nine Days is stunning. At its start it is meditative and slow to reveal its secrets, but it soon enraptures you with a sense of pureness you suspect only unborn souls could share. Among those who are hopeful for a chance at life are Zazie Beetz's tenderly observant Emma, Bill Skarsgård's pragmatic yet righteous Kane, the honest and slightly deplorable Alexander played by Tony Hale, and Arianna Ortiz's gently brash Maria. They are archetypes but they are never clichéd. Each actor knows how to breathe light into their characters so they are as full and faceted as blown glass. It's all so artful you have to wonder at it.
As the story progresses, Beetz's Emma and Skarsgård's Kane come to represent the healing Will is unconsciously hoping to find. His answers are likely to be found in a series of questions I'd imagine we all grapple with: What makes life precious? Who deserves to live? And are the joys enough to balance the pain?
Oda's writing is surprising and intuitive and sometimes purposefully disgusting and deeply astute in unveiling the foibles of humanity. While his directing is sumptuous, bringing a warm surreality to mundane places and things. A peach becomes a taste of heaven. Four sheets and an exercise bike become a ride through the streets of Brazil. And we believe it all.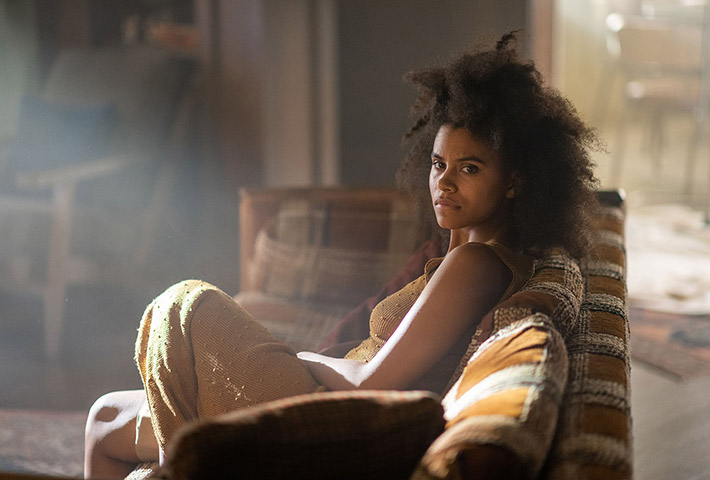 Photo courtesy of Sony Pictures Classics
Zazie Beetz plays her role as though she is reflexing the petals of a flower in order to bring it into full bloom. Her character seeks the truth with such softness she forces our protagonist to blossom too.
Benedict Wong. This man. Wong is secret sauce. Sprinkle him on anything and watch it get better from the presence of his craft. 
And Duke. I expect he will receive an Oscar nod and beyond for best actor. When you see his breathtaking performance at the end of Nine Days, I bet you'll agree. There is something riveting in the way he uses his formidable 6'5" body in juxtaposition to Will's fragile, artistic, and wounded soul. Whew.
The production design by Dan Hermansen is fabulous. It portrays those moments in life that I mentioned earlier with the skill of theater. Yet there are no big sets, no pricey props. Therefore, perhaps, it is the sense of escapism we get from good community theater productions that makes the production design in Nine Days so tangible and emotional.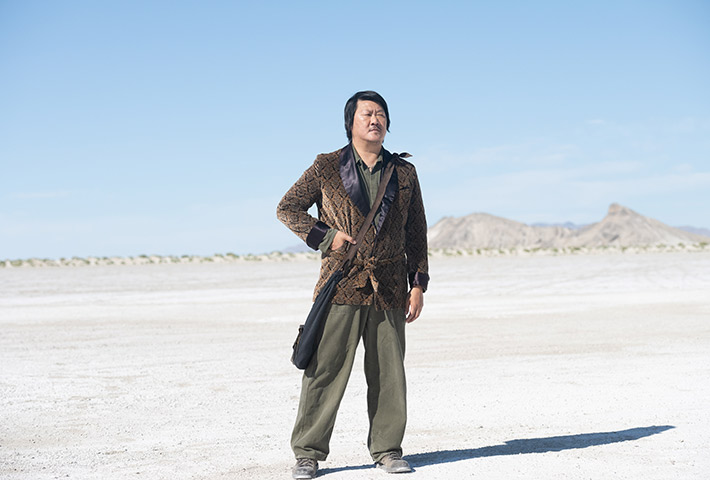 Photo courtesy of Sony Pictures Classics
The costume design orchestrated by Fernando Rodriguez is something you don't realize is whispering the story to you until the end. Duke's button-up sweater vest, suspenders, and round wire-framed glasses. Beetz's marigold dress that hints at transparency. Wong's coveralls that show he is the mechanic who keeps the machine running. Well done.
I could go on for pages and pages about the artistry and humanity held within this film. Some will call it science fiction but it is more magical realism. Nine Days utilizes touches of the fantastical to speak profoundly to the little pleasures that make life worth living. And it closes out with two big scenes I keep replaying in my head. One is a scavenger hunt for the messages life tries to tell us everyday. The other is figuratively and literally a moment of poetry about finding the meaning of life for yourself—with the help of someone who truly sees you.
In the End: Please see it. Nine Days is gorgeous and meaningful.