Grade: C+
Basically: Kevin Hart being Kevin Hart, this time going to Night School. Plus Tiffany Haddish is here. She Ready.
So, what happens in this movie Night School? Well, Kevin Hart plays Teddy Walker an average-seeming high school student in the ancient year of 2001. No thanks to the worst fake cornrows I've seen in forever, Teddy struggles with studying for the mandatory state test. Numbers and letters fly off the page and swirl around for him, which is the giant clue he has a learning disorder, but his father and sister play him out by insisting he isn't working hard enough. Teddy gets frustrated, gives up, and drops out of school while his best friend Marvin (Ben Schwartz) looks on in shock. Before he leaves, Teddy swears he's going to win at life.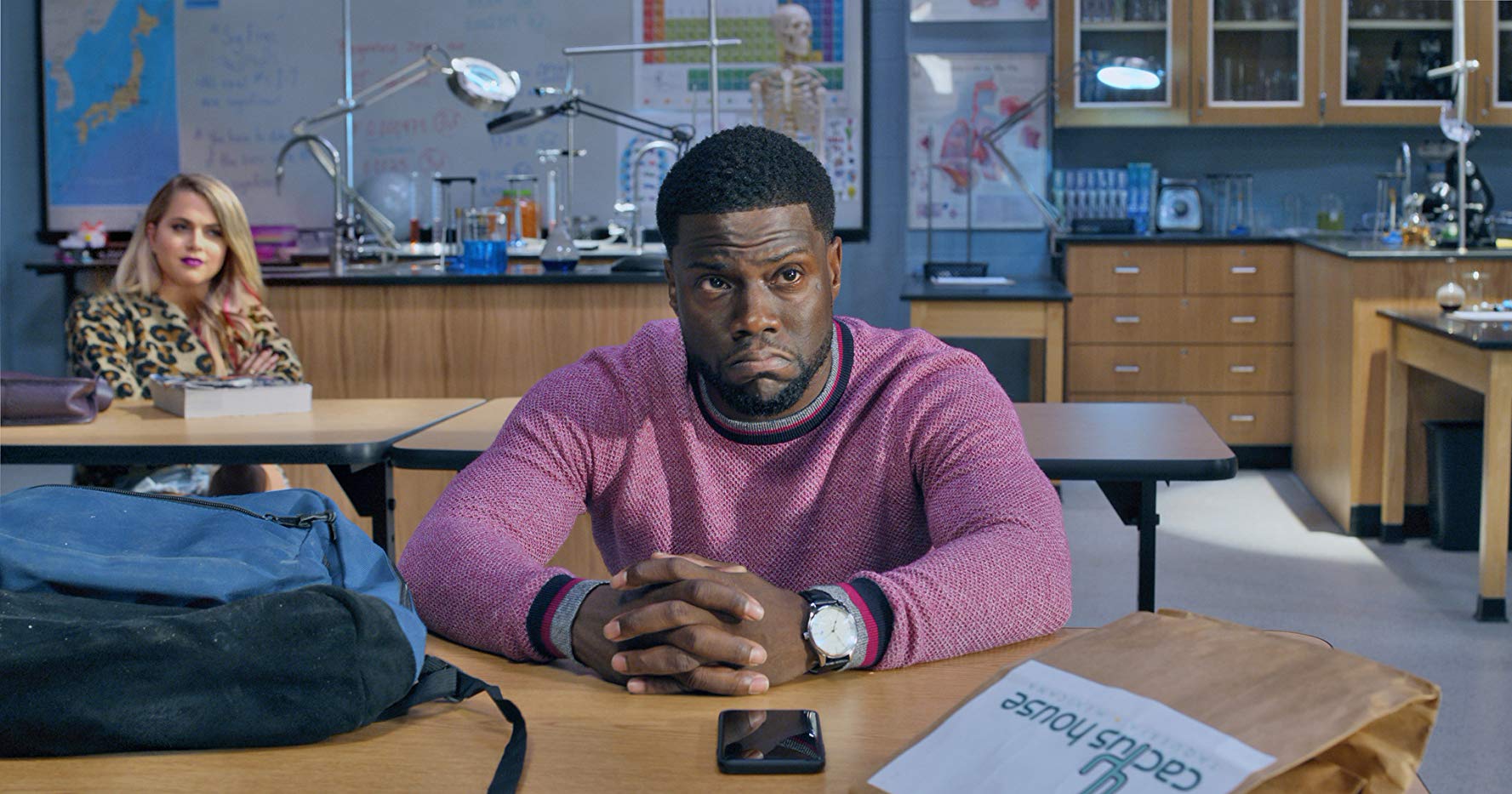 Photo by Eli Ade - © Universal Pictures 
We fast forward to current day to see Teddy out here living his best life. He's driving a Porsche Carrera while his girlfriend Lisa (Megalyn Echikunwoke) rides beside him. Teddy has become the best salesman at a BBQ Grill store. He's so dang good, the store owner plans to leave the business to him over his own son. Everything seems buttery. It's not though. Another one of Teddy's problems is he spends beyond his means to look more successful, even keeping his lack of a diploma a secret from his girlfriend.
Several events happen that cause Teddy to lose his job in the most amazing way ever—EXPLOSIONS—and he's out of work. This sequence features some funny physical gags that Hart Nation-fans will enjoy. Finding work is hard without a high school diploma, especially when you're keeping it secret from people. So when Marvin says he can hook Teddy up with a job we finally head to night school. This long first act is how we get to the point of the movie.
Most of the selling point comes in when Hart clashes with Tiffany Haddish on screen. Haddish plays Carrie, a no-nonsense hard-nosed teacher who leads the GED program. This isn't Haddish's usual take on a character, Carrie isn't the fun-loving but kinda "ratchet" Haddish norm. Here she doesn't take any type of mess and delivers the best barbs of the movie.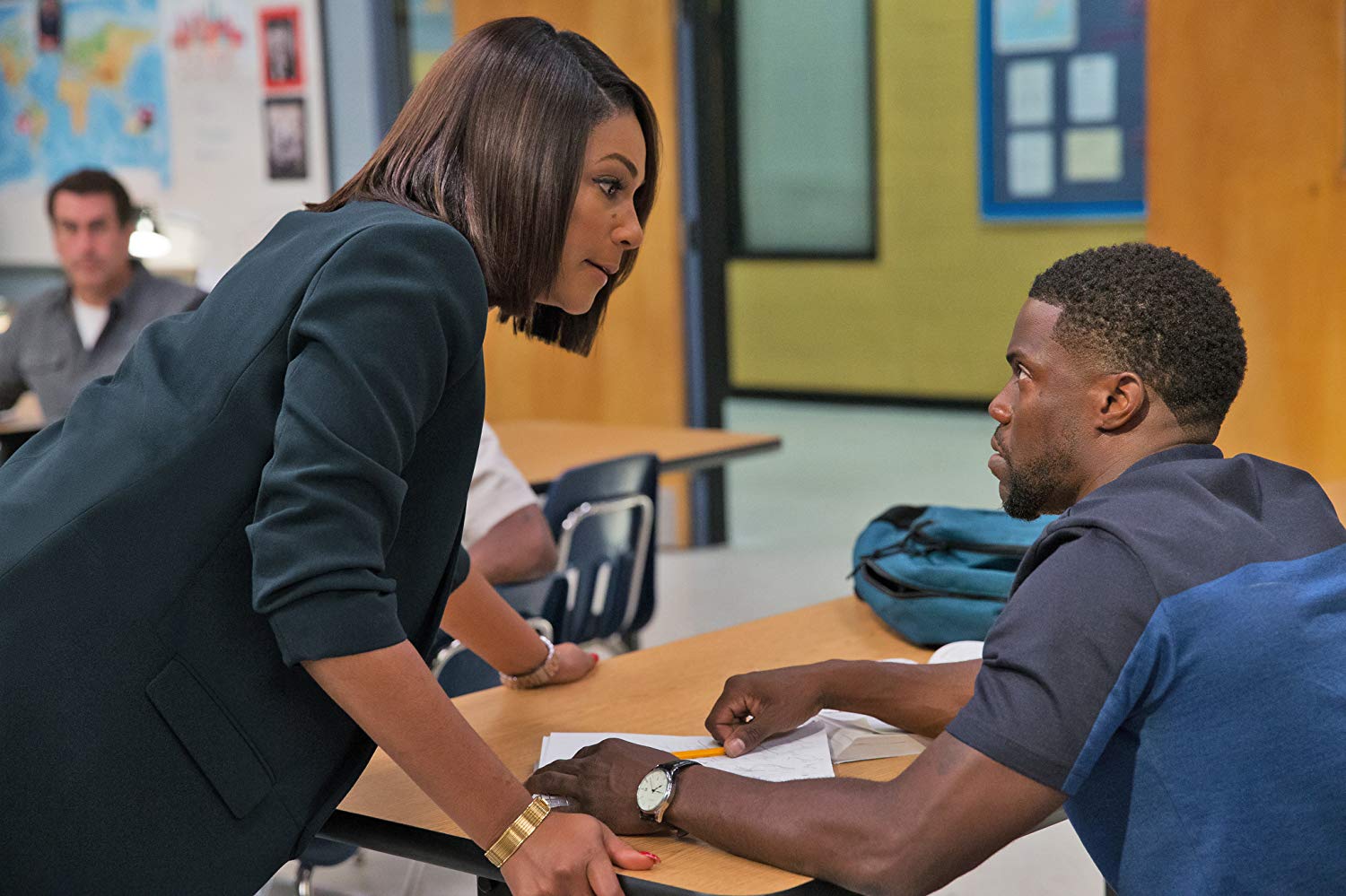 Photo by Eli Ade - © Universal Pictures
Once Teddy is in the night class the bulk of the movie starts to sing but it also drags. Fellow classmates, Rob Riggle and Romany Malco steal a bunch of scenes from the main characters—especially Malco's Jaylen aka Jay who is a personification of hoteps, talking a lot of faux black consciousness mixed up with pimp logic. Every time he opens his mouth it's gold. Mary Lynn Rajskub also does a great job as an overwhelmed housewife. This character lets Rajskub be completely goofy, very different from her most famous role as Chloe on 24 (FOX).
What hurts the movie is it's one hundred and eleven minutes long. A lot of scenes just drag on and on as Teddy tries to find ways to either get over or get beaten up—one time in an MMA ring by Haddish. For what it's worth, this movie isn't going to be a comedic classic in the history of American Cinema. It won't even be the best comedy of the year but it is entertaining and it does have strong laughs…but, folks, you should go in with low expectations. Let's hope HartBeat Productions can go up from here.
In The End: An enjoyable comedy that's held back by too many minutes and poor pacing in the middle.