Actually: B+  /  7.5
Basically: A romance all about falling in love with yourself.
My friend and fellow film-creative, Monique Younger came up with the above description while we were chatting about Nappily Ever After after we'd both seen screenings. I sighed at the truth in it. That single sentence goes to the heart of this new Netflix rom-dram starring Sanaa Lathan and it tells you why Nappily Ever After spoke to us.
For many of us our hair is an important part of our image, for black women your coif is your crown, and for Violet Jones (Lathan) her hair is everything. It represents her power in the workplace, her sexiness, and the tangle-free life she plans to lead. Violet's hair has been synonymous with her self worth for a very long time. As a young girl she spent her summers by the poolside, too afraid to splash around with the other kids because she couldn't risk getting her bone straight tresses wet. Violet's mama (Lynn Whitfield) wouldn't allow that. Perfection was the goal and nappy hair—the tightly coiled strands that make 'fros, twists, locks, and braids look so good—didn't represent perfection. As far as Mrs. Jones is concerned, nappy hair is an embarrassment, which of course gives Violet a complex she never learns to shake.
Photo: Tina Rowden/Netflix
This woman is such a headcase she sneaks off earlier to style her hair before her boyfriend Clint (Ricky Whittle) wakes up in the morning…and then she gets back into bed…even after two years of living together. You can almost hear Beyonce singing, "I woke up like this," in the background. Except Violet didn't and in a loving relationship that should be okay. So should the occasional thunderstorm. Yet our girl dodges rain clouds like most of us dodge telemarketers. In her mind the rain—similar to the swimming pools of her childhood—will make her look like "chia pet". She also speaks in a high-pitched, prettily enunciated voice you'd typically expect from Disney princesses. Yes, she's extra.
I could oversimplify the character and say Violet is pretentious, and she'd come off that way if her struggles weren't so familiar. Many women will recognize the way beauty standards have been weaponized against us, making us think we have to hide our cellulite, eradicate the hair on our bodies, or crush our rib cages with contraptions I'd suspect were created to torture us into ripping our clothes off faster. More specifically, black women will recognize the way the pressures of European beauty standards have often succeeded in making us feel bad about our hair (for no reason whatsoever). So, despite Violet's shortcomings, we ladies can relate.
This is why we want to see her go through the metamorphosis we know is coming. And damn it's a harsh slide to the bottom for our girl. After a series of extremely bad hair AKA life days, Violet starts to unravel. Seriously. There are mishaps with hair dye and slippery moments with honey that'll make you want to give her a hug. Not to mention that transformative moment with the hair clippers from the trailer.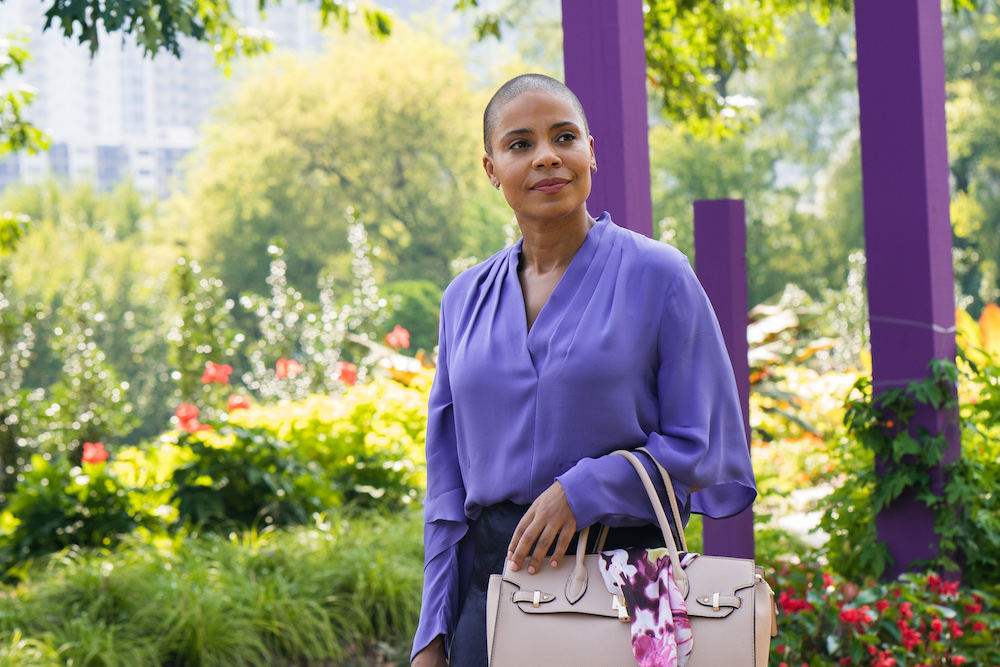 Photo: Tina Rowden/Netflix
From there the best part of Nappily Ever After is how Violet stitches her life back together again. Throw in a bit of imperfect xxoo with two lovelies (Whittle, Lyriq Bent) along with the powerful pull of sisterhood (Brittany S. Hall, Camille Guaty) and you've got an enjoyable watch. You'll definitely smile through the romance and the girl talk; the family drama and the glimpse of the kind of mother Violet might be; but there's also a journey of self-discovery. This movie is as much about letting go as it is about finding your truth and living it out loud.
The central theme of black-American women redefining our identities through our own beauty standards is a fabulous one, but NEA isn't without its snags. Early on, Violet is way too tough on the little girl (Daria Johns) she will later bond with. And it might've added a layer of connectivity if we'd learned what caused Mrs. Jones to have such a caustic relationship with her hair—one that she passes down to Violet. You'll also want a deeper connection between Violet and her father (Ernie Hudson). There's a missed opportunity to mirror the grooming ritual her mother used to disillusion her (hair straightening) with a counter grooming ritual her father could utilize to help heal her (hair cutting). The relationships overall come off a bit shallow but Lathan and Whittle have such depth of feeling, and Bent is such a charmer, you'll drink this movie in like a good cocktail.
In the End: You may not even care who Violet ends up with, Nappily Ever After is the falling-in-love-with-yourself romance you need in your life.
Stream Nappily Ever After on Netflix from Friday.
Want more? Check out the Nappily series by Trisha R. Thomas.