Basically: Second chances turn into infinite redos as a hapless groom is doomed to repeat the same hour over and over, in a nuptial 'Groundhog Day' that totally shows its ass.
Marlon Wayans is working hard; he has a new NBC sitcom and a new Netflix Original comedy. The latter, NAKED, based on the 2000 Swedish film Naken, puts Wayans through a balls-to-wall (see what I did there) gauntlet that he conquers with cute-booty aplomb.
Rob Anderson (Wayans) is all set to marry Megan (Regina Hall), who used to date Cody (Scott Foley), who is the top pick of groom for Megan's father (Dennis Haysbert). Cody is a successful executive. Rob is a substitute teacher who can't commit—to anything other than marrying Megan. He doesn't show up for the rehearsals, the dance lessons, or any of the important moments. CUT TO a hotel elevator where Rob repeatedly wakes up, late for his wedding and naked. He's a total screw-up and if he can't "get it right" he'll never get to the altar on time.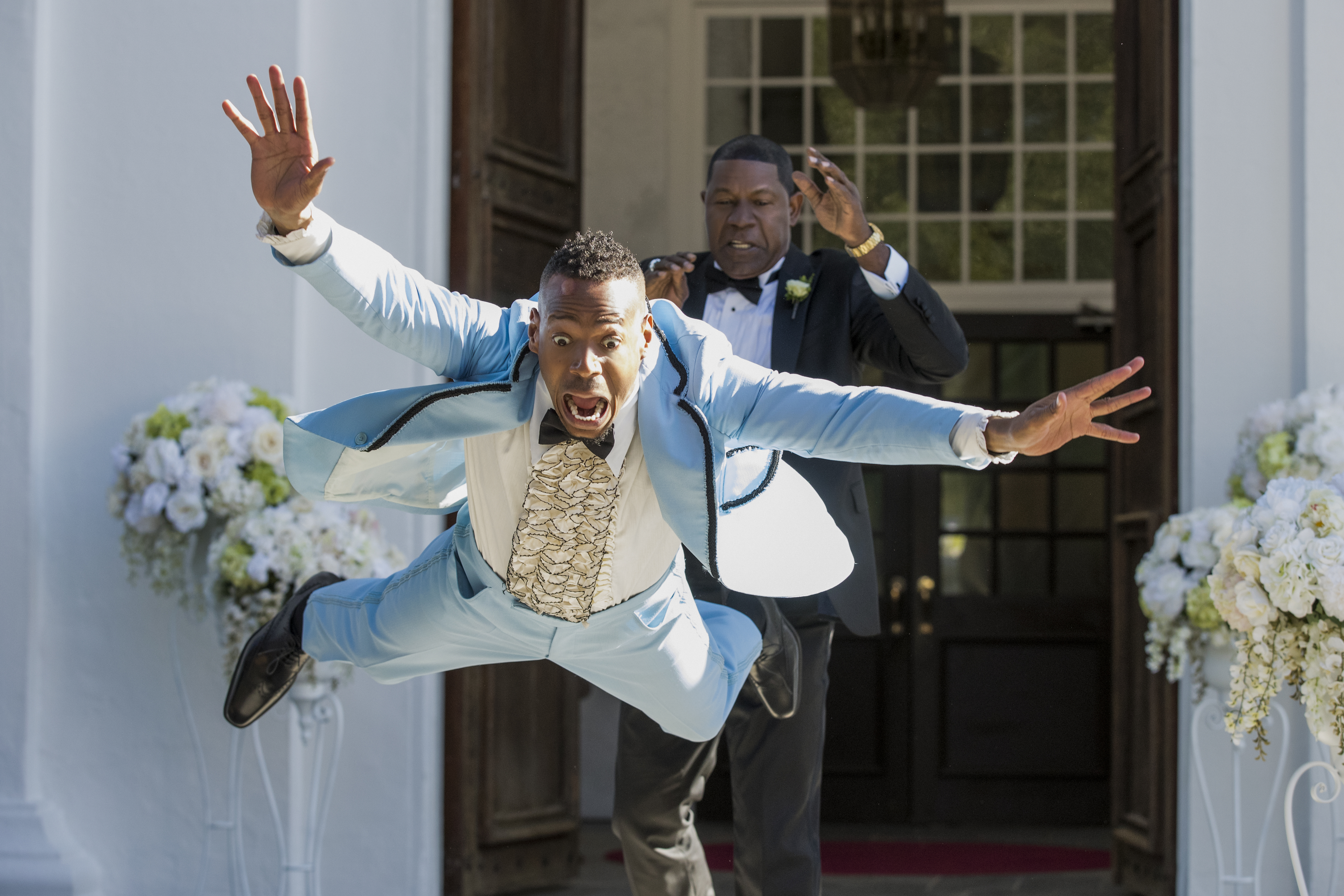 NAKED starts awkwardly—Wayans doesn't seem to have a grasp on a character who is more the victim of hilarity than its source. He settles into the role, though, and once he does we see Rob transform from a clueless but affable screw-up to a considerate but affable screw-up with a ton of extra skills he's picked up along the way. The cast is great. Loretta Devine, as Rob's mother, sparkles as usual, and when Neil Brown Jr. shows up as Officer McBride you have to smile at his sharply timed cynicism and deadpan delivery. Despite the greatness of the cast, there are moments when you know the actors are just as incredulous about their lines as you are.
At first, the movie, like Wayans in the opening moments, hangs together awkwardly. The comedic lunacy should work; the actors, situations, and stunts are up to the task but it doesn't quite gel. Then about halfway through NAKED's runtime something happens, the themes blossom, you suddenly realize where all of this is going, and it's really quite sweet. The trials Rob faces break him down, and strip away his bullshit—laying him bare (see what they did there)—to understand what is required of love: Beyond responsibility, love is more than simply feeling, it's about giving a damn.
In the end: This movie is made for bringing back Netflix and chill; turn out the lights, and take a couple of hours to get 'NAKED'.