Basically: The young Heroes of Class 1A have their first real test without the support of their mentors. 
I'll be honest, I don't watch My Hero Academia. I think I've only seen fifteen minutes of the show along with some clips and memes shared on social media. Now I bet—if you're a fan of the show—you're thinking: Why in the world are you reviewing this? I read the manga. So, for me, watching the series adaptation is like going back when I already know what is going to happen. So when Heroes Rising came up I thought: "Heh, I can watch this. Movie versions are rarely in canon". Like in the old days, none of those Dragonball Z movies ever counted. No matter how much the fandom wanted them to—even when they were AMAZING! This standard is what I feel the filmmakers of My Hero Academia: Heroes Rising were going for.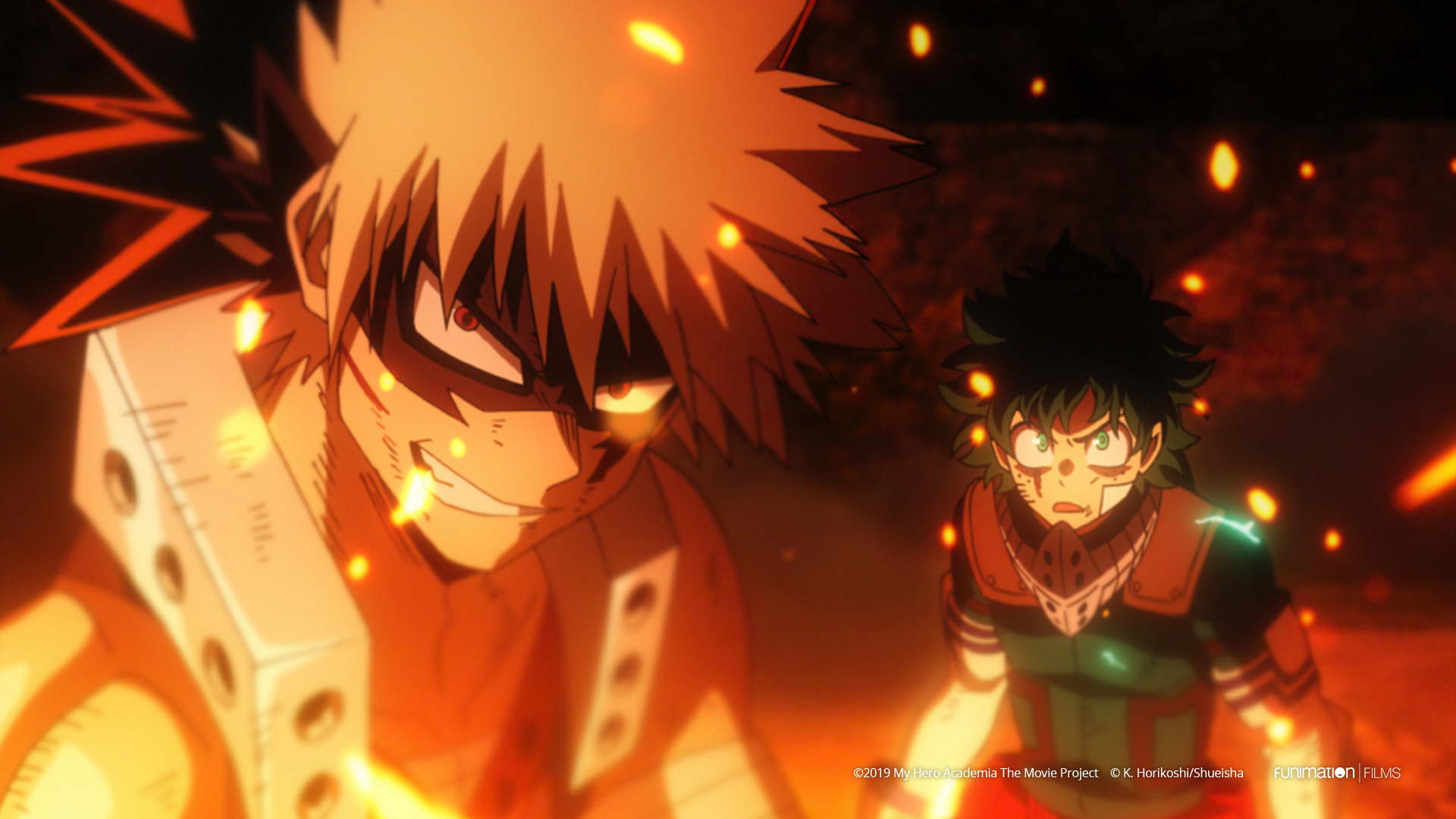 For those not up on My Hero Academia it's the story of a world where tons of people have superpowers. There's superpowered law enforcement along with schools to teach young kids with powers how to be superheroes. The focus is on Izuku Midoriya (Justin Briner), a teen who was born powerless but after a chance meeting with the world's most powerful hero, All Might (Kenta Miyake), he inherited his powers.
Now Midoriya gets to go to superhero high school and learn to live up to All
Might's legacy.
Heroes Rising takes place after the current season of the show (s4 – vol. 18), in the aftermath of a major battle between the teens and their enemies the League of Villains. The story begins with a great car chase like something out of Fast and Furious with the adult pro heroes trying to stop the League of Villains. It has strong pacing and clear action that I don't see too often in 2D animation. It's fast and dynamic, giving you a feel of a James Bond cold open. From there we see our central class, Class 1A, tasked with protecting a small island whose hero is retiring. They have to cover the island for some time until a new pro can take over and things ramp up with an attack. Four new villains arrive and the kids get the strongest test they ever had without All Might or Endeavor (Patrick Seitz)—the villain-turned-anti-hero—to help them finish the day.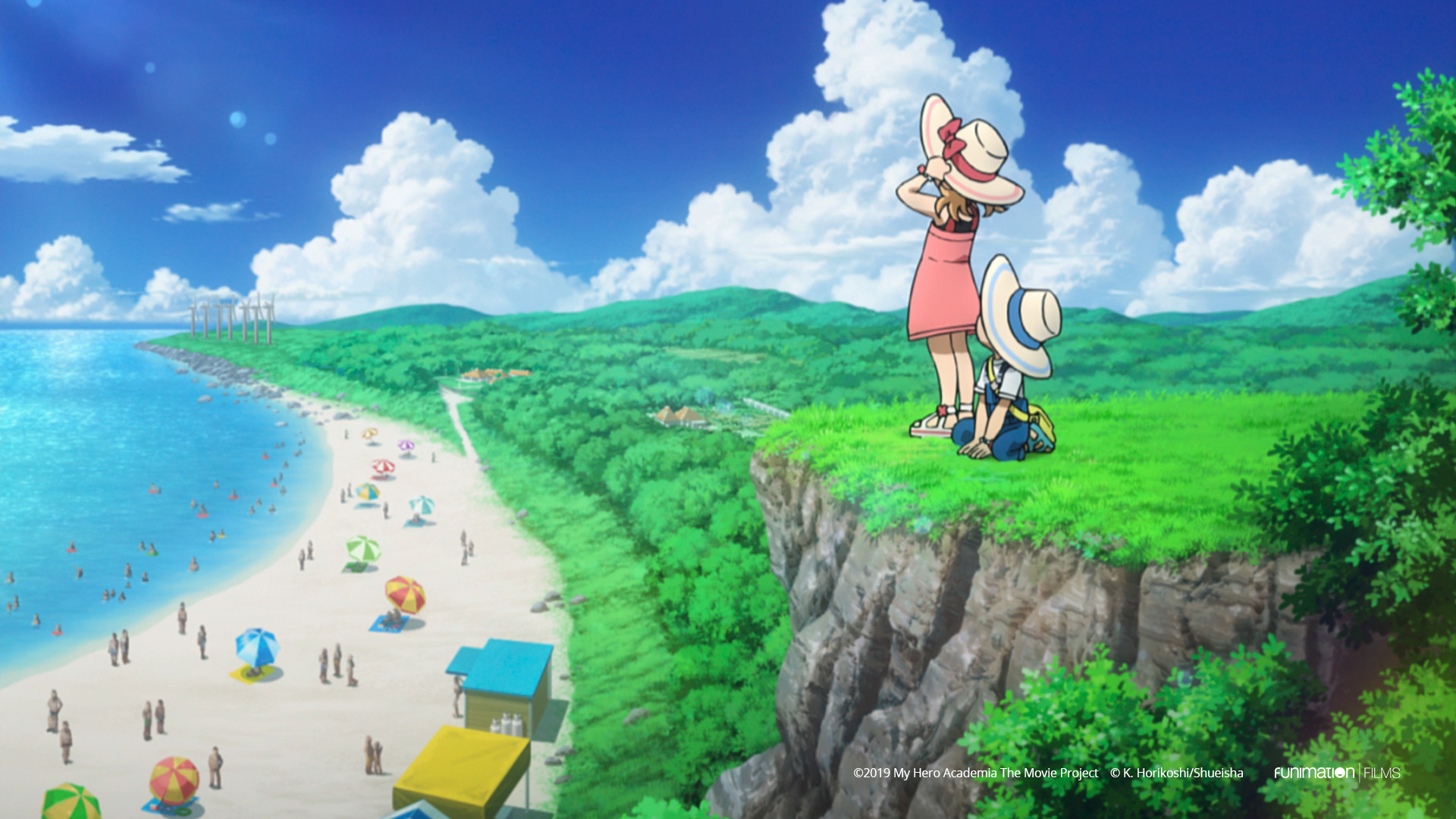 The story moves pretty well. You don't get bored and you get a good understanding of all the characters (even for someone who doesn't read or watch My Hero Academia on a regular basis). The new villain characters feel very dangerous and give the young heroes high stakes to overcome. Their designs are also strong and you won't get confused by them even if you miss their names—their looks and powers are perfect to keep you from feeling lost. The main villain Nine (Johnny Yong Bosch) is a peak cool anime bad guy with long hair, pretty boy eyes, science tubes sticking out of his back, and great animated effects for his powers.
My Hero Academia: Heroes Rising kept me hyped up. Each set piece for the battles against the villains was so well-conceived and executed. I think it does well to help put long-established fans and newcomers on the same level so that all can enjoy it. The animators really killed it and should be applauded. 
In The End: My Hero Academia: Heroes Rising is an anime that gives
you the feeling of shonen anime OVAs from the golden age of 80s and
90s anime.